Ryland Leichert wasn't slowed by snow as he rushed for 390 yards on 52 carries in the Regina Thunder's semi-final win over the Rifles.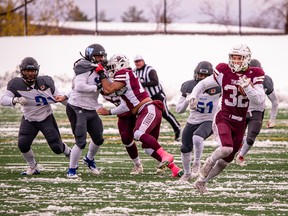 Article content
The stage was set early for Ryland Leichert's record-setting performance with the Regina Thunder.
Article content
A fall storm dumped a load of wet, heavy snow on the Regina area before the Thunder's 23-14 win over the visiting Winnipeg Rifles in a Prairie Football Conference semi-final on Sunday
Article content
There was so much snow that the game was delayed 100 minutes while parents, spectators and volunteers joined together to clear Leibel Field of the white stuff.
In other words, it was perfect weather for Leichert.
"I was excited," the Thunder tailback said when he saw how much snow had fallen. "I know whenever it's a snow game that there will be a lot of run plays. I was prepared to get the ball a lot. I was ready to go."
Was he ever.
The Porcupine Plain product amassed 390 rushing yards on 52 carries as the Thunder advanced to Sunday's PFC final against the Saskatoon Hilltops (1 p.m., Mosaic Stadium). Leichert set PFC and Canadian Junior Football League records for carries and rushing yards in a playoff game.
Article content
"I didn't think it would be that many," he said.
The Hilltops' Ben Abrook set the playoff record for carries (44) on Oct. 27, 2019. Andrew Harris of the Vancouver Island Raiders established the post-season standard for rushing yardage (370) on Oct. 26, 2008.
Harris, who would go on to star in the CFL with the B.C. Lions, Winnipeg Blue Bombers and Toronto Argonauts, then rushed for 410 yards in the 2008 Canadian Bowl. The CJFL's playoff and regular-season records are kept separately from those that are applicable to the national championship.
"Andrew Harris is the one who previously had the record, so to be in that company is obviously exciting," Leichert said. "Our biggest goal is the national championship so I'm excited and ready to roll for our next game."
Article content
Stefan Endsin — the Thunder's offensive co-ordinator and play-caller — knew the conditions, which included strong winds and cold temperatures, were conducive to a ground game.
"From the first carry, we watched how hard he was running and we thought we could be successful with it," Endsin said. "If we kept giving him the ball, we thought they were going to break and we weren't. Rather than outsmart or out-think them, we kept it pretty simple."
Leichert set the tone with an 18-yard gain on the Thunder's first offensive play.
"There was just a physical finish to that run," Endsin recalled. "As the game kept going, there was just more of that over and over and over. It just seemed silly to take the ball out of a guy's hands when he was completely dictating play. So why not just keep giving him the ball?"
Article content
Leichert's longest run on Sunday was 30 yards.
"There were a lot of 15- or 20-yard runs that I started to rack up yards and that's how the yards got up to that," said Leichert, who's in his second season with the Thunder.
Leichert was so focused on the game that he wasn't aware of how many carries and rushing yards he had accumulated until on the bus ride back to the team's clubhouse.
"A lot of the credit goes to our receivers and offensive line," the 6-foot-2, 205-pounder said. "The amount of work they put into blocking and creating those holes made me look good."
Sunday's result set up a rematch of the 2021 PFC final with the Hilltops, the Thunder's perennial rival. The Hilltops defeated the Thunder 29-9 on Nov. 14 to capture their seventh consecutive PFC title, and the 10th in a span of 11 seasons.
Article content
The only blemish for Saskatoon during that time was a loss to Regina in the 2013 conference final. The Thunder went on to win the national crown.
The Thunder heads into the rivalry game on a nine-game winning streak. Regina has posted 8-0 regular-season records for two consecutive seasons. Now the goal is to avenge last year's loss to the Hilltops.
"They are a good team," said Leichert, 19. "We have competitive games so it's always a little more exciting when you're playing your rivals. It just adds to how bad you want it when you're playing a team that you face often and they are your neighbours.
"It definitely makes it an intense matchup that is just something to look forward to."
A Thunder victory would enable the Regina team to play host to the Canadian Bowl on Nov. 12.
The sports world is ever-changing, as are the times. Supplement your steady diet of sports coverage by subscribing to the Regina Leader-Post's 306 Sports Fix newsletter. Each week, sports editor Rob Vanstone will provide additional commentary on the Roughriders, Pats and other teams/sports of interest, along with a peek behind the curtain. Click here to subscribe.
Kevin Mitchell: Sask. fearsome football foursome soars as Riders sink

Schick, McCormick working double duty with Thunder, Roughriders