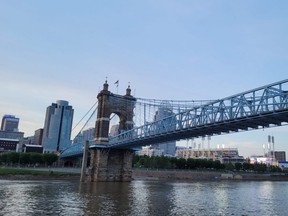 Reviews and recommendations are unbiased and products are independently selected. Postmedia may earn an affiliate commission from purchases made through links on this page.
Article content
Baby, if you've ever wondered,
Article content
wondered, whatever became of me,
Article content
I took a recent trip to Cincinnati,
and its neighbour, northern Kentucky.
(With apologies to the late Hugh Wilson, the creator of WKRP in Cincinnati, who also wrote the lyrics to the show's opening theme)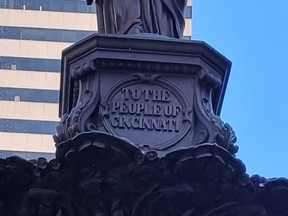 "To the people of Cincinnati."
If you are familiar with the 1978-1982 television show WKRP in Cincinnati, you saw those words, located on the Tyler Davidson Fountain, as the opening theme played.
My wife Ruth and I got to see the fountain as we learned more about downtown Cincinnati, the Ohio River which forms its southern boundary, and the northern Kentucky communities on the other side of the river.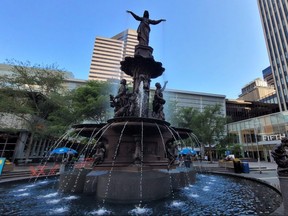 DOWNTOWN CINCINNATI
The Tyler Davidson Fountain, originally dedicated in 1871, is the centrepiece of Fountain Square.
Article content
Fountain Square is a public area similar to Toronto's Yonge-Dundas Square, but without wall-to-wall electronic billboards.
During the warmer months, Fountain Square is home to many free live music performances (we got to see and listen to the Cincinnati Contemporary Jazz Orchestra), salsa dancing nights, and tailgating events (Swifties gathered there before Taylor Swift's Cincinnati concerts, and Bengals fans go there before their NFL team's home games). In the winter, the fountain's water is turned off, but the square itself hosts an ice rink.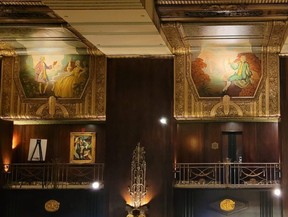 Around Fountain Square are many food and beverage options. We enjoyed a relaxing meal of Italian comfort food at Via Vite. For a money-saving midweek meal at Via Vite, consider the Bolognese Tuesday Special, which comes with a field greens salad, plus bread from Cincinnati's Allez Bakery. For a beverage or a light meal — or just to view the elegant Palm Court and other Art Deco features inside — a visit to the Hilton Netherland Plaza Hotel, a National Historic Landmark less than a block away from Fountain Square, is a must.
Article content
If your accommodations aren't downtown, take advantage of the Fountain Square parking garage and leave your vehicle there for the day. Fountain Square is within walking distance of many of Cincinnati's major downtown venues. It also is near one of the stops of Cincinnati's free Connector streetcar, which passes by every 12-15 minutes and services many top spots in downtown and Over-the-Rhine, the neighbourhood just north of downtown.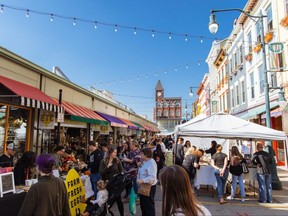 The Connector is an easy way to go north to Findlay Market, which opened in 1852.
Like Toronto's St. Lawrence Market, Findlay Market is an historic urban marketplace where visitors can get fruits, vegetables, meats, etc. Findlay Market's full-time merchants are open six days a week (closed Mondays), with additional "farmers' market" vendors on weekends.
Article content
The Connector also services The Banks, the downtown area directly bordering the Ohio River.
The Banks is home to the Bengals' Paycor Stadium, pleasant greenery-filled walking trails, and Great American Ball Park, which has been the home of MLB's Cincinnati Reds since 2003.
Cincinnati takes the Reds seriously. The team traces its lineage to the first professional baseball team in 1869, and every Opening Day there is a parade to celebrate the return of baseball.
There are tributes to stars of the past and present inside and outside GABP. Statues of 1970s stars such as Pete Rose, Joe Morgan, Tony Perez and Johnny Bench are outside the park, as is a giant poster of current Reds star Joey Votto, a first baseman from Etobicoke.
Article content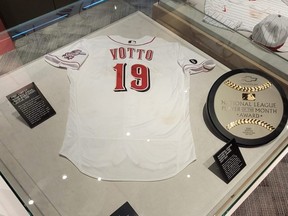 Next to the park is the Reds Hall of Fame and Museum, the largest team museum in Major League Baseball. Inside, you can learn more about the history of the team and see artifacts such as jerseys, caps, trophies, and baseball cards. Some Votto memorabilia is already on display. There's also a statue of 1950s-era player Ted Kluszewski, showing off his muscular shoulders and biceps in a sleeveless jersey.
One exhibit allows you to pose for your own baseball card, a photo of which will be sent to your email address. Another lets you pretend that you're in a TV studio.
And yes, MLB career hits leader Rose is in this Hall of Fame, as opposed to the one in Cooperstown (long story, don't ask). Rose was inducted in 2016 in acknowledgement of his place in Reds history.
Article content
Attending one of the Reds' 81 regular-season home games is fun, but to really get behind the scenes, tours of GABP are available.
Our guide, Jim Farmer, seemed to know everything about the Reds and GABP, including the tiny elements in nearby buildings which saluted parts of team history.
We visited restaurants inside GABP such as "The Handlebar," which offers views of the playing field on one side and the Ohio River on the other, and "Diamond Club," which lets fans peek into the path Reds players take to walk from their clubhouse to the dugout.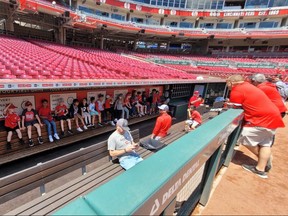 There's a chance to experience what it's like to sit in the front row of the home plate seats, where the batter is closer to you than he is to the pitcher, 60 feet and six inches away.
Article content
The tour usually finishes with a walk on the warning track to the Reds' dugout, with plenty of photo opportunities.
TIP: Farmer suggests fans should choose the last tour available on a game day, when they would have a better chance to see players getting ready for the game.
Across from Great American Ball Park is Moerlein Lager House, which acts both as a restaurant with views of the Ohio River on its patio, and a working microbrewery. "Moerlein" is a tribute to Christian Moerlein, an immigrant from Bavaria who became a successful brewer in Over-the-Rhine in the 19th century. We enjoyed the short rib grilled cheese sandwich on parmesan sourdough bread with garlic fries while watching people walk, bike, or enjoy the giant swings near the river below.
Article content
OHIO RIVER
The Ohio River begins in Pittsburgh and winds its way through the midwestern U.S. before flowing into the Mississippi River. It is a natural boundary between many U.S. states, including Ohio and Kentucky.
To get a sense of the river, and the areas on both sides of it, we went to Newport, Ky., home of BB Riverboats, to spend three hours on a Captain's Dinner Cruise.
Cap'n Mike was there to greet us as we boarded the River Queen. TIP: Be early. Since the buffet dinner (chicken, roast beef, ribs, etc., with cheesecake for dessert) is ready when boarding begins, you can have your meal, perhaps purchase an adult beverage, and then enjoy the view and socialize outside on the riverboat's upper decks.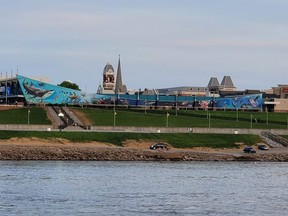 Once we passed by the downtown Cincinnati area, dominated by taller buildings and the sports facilities, we saw the Holy Cross-Immaculata church, built on one of the highest points in Cincinnati.
Article content
On the northern Kentucky side, we marvelled at large murals in Covington (on the floodwalls, depicting moments in the area's history) and Newport (outside the aquarium).
On both sides, we saw that architects have used the natural slope of the land down to the river to create amphitheatres for public events.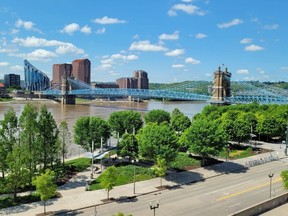 The cruise went under all six bridges which connect Cincinnati and northern Kentucky. One of them, the John Roebling Suspension Bridge, is named after the engineer who designed the bridge and later had a role in the design of the similar Brooklyn Bridge. Another, the Purple People Bridge, is a pedestrian-only river crossing.
BB Riverboats offers daytime and evening sightseeing cruises in addition to its dining cruises.
Article content
NORTHERN KENTUCKY
The German heritage of Cincinnati is hidden somewhat by urbanization, but it's more visible when you cross the Ohio River to get to the northern Kentucky communities of Covington and Newport, which border the river.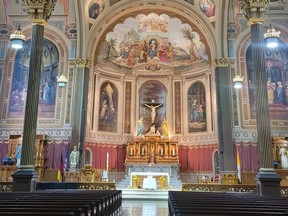 In Covington, local historian Victor Canfield led us on a tour of the Mutter Gottes Kirche, which is German for Mother of God Church, home to a Catholic congregation since 1841.
The church's current building, a large structure built in the Italian Renaissance Revival style and a delight to the eye, was dedicated in 1871. It has two towers rising 61 metres into the sky. Inside, paintings and stained glass (some imported from Munich) are meant to teach various parts of the Christian faith. The building has survived a 1915 tornado, efforts at "urban renewal" in the 1960s, and a 1986 fire.
Article content
The church is open during Sunday masses, plus from 9 a.m. to 4 p.m. on Mondays, Tuesdays, Thursdays and Fridays.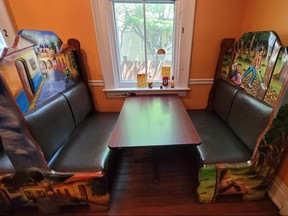 Nearby is MainStrasse Village, a revitalized neighbourhood in which many brick houses from the 19th century have been preserved. Mike Noyes of Riverside Food Tours educated us on the village as we walked along West 6th street, a boulevard with trees on both sides that formerly was used as a farmers' market.
We started at the Cock & Bull Public House ("an English pub in a German building," Noyes said), sampling hot pretzels, with beer from Braxton (a Covington brewer), continued at El Rincon, a Mexican restaurant with walls (and booths!) that are works of art, and finished with ice cream from Piper's Cafe. Along the way, we learned about the "Goose Girl" statue and fountain (similar to one in Göttingen, Germany) on West 6th street, and the bell tower in Goebel Park.
Article content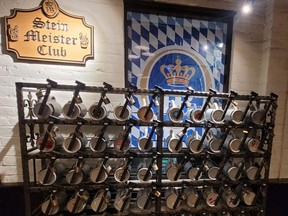 In Newport, stepping into Hofbräuhaus might convince you that you have entered the Hofbräuhaus in Munich. There is a stage for music and monthly keg-tappings, long tables, waitresses in dirndls, tasty German food (try the apfel strudel), and beer brewed on the premises (which has to be approved in Munich before it can be served). Members of their Stein Meister Club get to leave their personal 1-litre ceramic stein inside, under lock and key. Many Germanic societies in the area gather there.
"We do everything we can to be as authentic as possible," Hofbräuhaus manager Scott Grubbs said.
This Hofbräuhaus was the first of its kind in the United States. It celebrated its 20th anniversary earlier this year.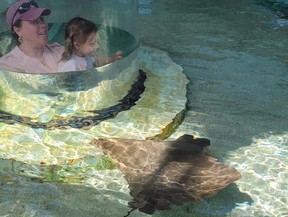 Newport is also home to the Newport Aquarium, where you can introduce children and teenagers to some of the creatures of the sea. Worried that the kids will get bored or cranky? There is a playground (Reeftown Adventure) in the aquarium where they can climb and play.
Article content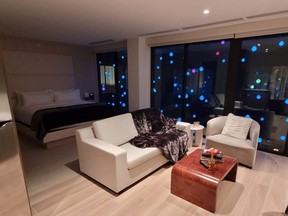 WHERE TO STAY
We stayed in Covington, Ky., at North by Hotel Covington, a recent expansion of Hotel Covington. Both boutique hotels are in buildings converted from their original uses — Hotel Covington was a Coppin's department store, built in 1910, while North, next door and now attached to Hotel Covington by an enclosed walkway, was the Covington YMCA, built in 1913. There is still some "Y" art on hallway walls. The units in North are apartment-style, and most have a kitchenette, great for longer stays.
The overall complex also has wedding and banquet facilities, including an outdoor courtyard, meeting rooms, bars, and restaurants. At North, a display of dozens of small LED lights, which change colour every few seconds, hangs above the dance floor of an event space called The Lightwell. The lights also can be seen from many of the hotel rooms.
Recommended from Editorial
In Lexington, Ky. it's horses, hospitality and much more

Step into Henry Ford's time machine at Greenfield Village in Dearborn, Mich.
GETTING THERE
By plane, Air Canada provides direct flights between Toronto (YYZ) and The Cincinnati/Northern Kentucky International Airport (CVG), which is in Hebron, Ky., about a 20-minute drive from downtown Cincinnati. The rental car facility, conveniently connected to the baggage claim area, opened in 2021.
By car, expect about an eight-hour drive from downtown Toronto to Cincinnati.
IF YOU GO
Find out more at visitcincy.com and meetnky.com.