The judge pointed to the recent increase in crimes involving firearms in Montreal as a reason to keep the men detained.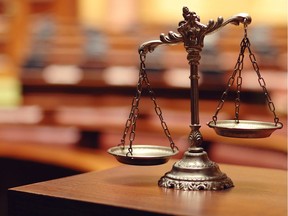 Article content
A Quebec Court judge denied bail on Friday to three men charged with trafficking in firearms while dealing with a person who turned out to be an undercover cop. Judge Joëlle Roy cited Montreal's current problem with guns as one of the reasons for denying their release.
Article content
The three men — Kelly Nicky "Pendo" Bien-Aimé, 29, Cherif Mahamat Ali, 20, both of Town of Mont Royal, and Farsi Abdelnouk, 19, of Montreal — were arrested earlier in September as part of a Montreal police investigation. Another man arrested in the same case is detained as well.
Article content
"I consider it to be an organization. I consider it to be a group of people who got together to supply firearms within the Montreal context, which should not be ignored," Roy said.
"It would go against the interests of justice to release Mr. Bien-Aimé."
The judge noted that Bien-Aimé also has a criminal record that includes a five-year sentence he received in 2016 for an armed robbery he carried out with four other men at a jewelry store on the South Shore.
Article content
Roy said Abdelnouk and Mahamat Ali are very young and, under normal circumstances, might have been granted bail. But she cited "the Montreal context," which involves the many homicides and other violence involving firearms witnessed in the city recently, as the reason to keep them behind bars.
During the past summer, the undercover agent contacted Jacky St-Jean, 25, the other man arrested weeks ago in the investigation, to buy crack. While the agent made one purchase in St-Jean's car, the latter noticed how the agent appeared to be injured and recommended he buy a "Glizzy," a street term for a gun. St-Jean is alleged to have recommended Bien-Aimé as someone who could supply one.
While summarizing the evidence she heard during the bail hearing, Roy said the undercover agent was shown photos of six different firearms as options to purchase.
Article content
According to a written summary of the investigation, Bien-Aimé eventually offered the undercover agent a "dirty" firearm, one that had been used in a crime, for $4,500 and a "clean" one for $5,600. During the negotiations, Bien-Aimé said his brother-in-law was a police officer with the Sûreté du Québec. Bien-Aimé also shared details of what happened during the armed robbery at the jewelry store.
When Bien-Aimé and the agent finally reached an agreement on a "clean" 9 mm revolver for $4,300, they agreed to meet at a gas station in downtown Montreal on Aug. 17. All three of the men involved in Friday's decision showed up for the delivery and they were arrested by a SWAT team.
The judge said that another thing that is concerning in the case is that while the agent was about to purchase the firearm, Mahamat Ali said he could supply more.
Article content
It took a while for the three men to be brought to rooms at the Montreal and Rivière-des-Prairies detention centres equipped with cameras to hold a video conference before Roy on Friday.
The judge expressed frustration with the delay it caused in her courtroom as she had several other cases on her roll to deal with. She criticized detention centre guards for causing several delays this week, including a significant delay in a jury trial. She also noted that detention centre guards had failed to carry out court orders to have some detainees brought to the courthouse to appear in person.
Up to $500 million more to Montreal police to fight gun violence

Laval police announce two arrests during gun-crime crackdown