The three were in a party of nine tourists and a guide heli-skiing near the Panorama Mountain Resorts ski facility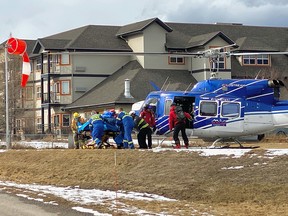 Article content
What was supposed to be a celebratory ski trip to British Columbia for a German father, his friend and two sons, ended in tragedy Wednesday when three of the men died in an avalanche.
Article content
Bavarian news outlet Passauer Neue Presse reported management consultant Thomas Kräh, 57, and his son-in-law Henning, 34, were with 57-year-old politician Christian Altmann when the slide occurred 30 kilometres southwest of Invermere.
Article content
The men had travelled from the village of Eging, in Bavaria's Passau County, with Kräh's son Thomas, 25, to celebrate the completion of his degree, Global News reported.
Thomas Kräh was the sole survivor of the group, which was made up of nine foreigners helicoptered into the backcountry Wednesday by heli-skiing company RK Heliski with a company guide. The tourists had been staying at Panorama Mountain Resort.
By 11:45 a.m., B.C. Emergency Health Services were notified an avalanche had swept up 10 skiers, including the RK Heliski guide.
Article content
"Rescue efforts were carried out by search and rescue (and) Panorama ski patrol, in co-ordination with heli-skiing companies directly involved," RCMP Cpl. James Grandy said in a news release on Thursday.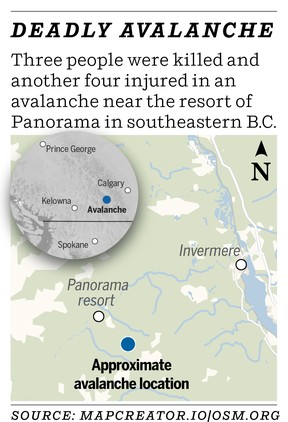 By the time Columbia Valley Search and Rescue arrived, the three buried bodies had been located. Four others, including the guide, were flown to Invermere hospital and are expected to recover.
"We haven't yet confirmed each of the families has been notified," said Grandy.
Graham Holt, general manager of RK Heliski, identified the event as a Class 3 avalanche that was triggered by a skier a quarter of the way down the run.
Despite the company's staff being trained in avalanche safety, Holt told reporters "with any outdoor activity, you cannot eliminate 100 per cent of the risk."
Article content
Before being led into wild terrain, RK Heliski tour participants sign liability waivers acknowledging the frequent occurrence and the unpredictable nature of avalanches. Guides, as well as participants, are each equipped with a probe, shovel and radio, which Holt said allowed rescue crews to locate those who were buried faster.
"The guide is in stable condition and is being well looked after," he added. "Any time one of your team members goes down it is tragic. This is the most difficult day of my life."
The three deaths are the latest in B.C.'s mounting toll of 12 fatalities that have occurred at the hands of avalanches so far this year.
Premier David Eby warned people who are thinking of enlisting in similar adventures Thursday at an unrelated press conference.
Article content
"This has been a horrific avalanche season for British Columbia. For people who are thinking about going into the backcountry, please be extremely cautious."
Avalanche Canada has been warning backcountry users about unstable conditions across the province, saying the snowpack in the Interior has been some of the most difficult to manage in decades.
"Wind slabs are expected to remain reactive to human triggers. Avoid thin and rocky start zones, especially in the alpine and upper treeline where deeply buried weak layers remain concerning," forecaster Mike Conlan reported Thursday. "Slopes that previously avalanched this season have the capacity to produce more large avalanches when reloaded with new snow."
The weather in Invermere Wednesday was -10 C, with light to moderate winds and nearly three centimetres of new snow.
Two people dead in avalanche near Golden

Resist urge to 'tickle' the snowpack, B.C. avalanche survivor says

B.C. school district under fire for limiting avalanche training to ski resorts