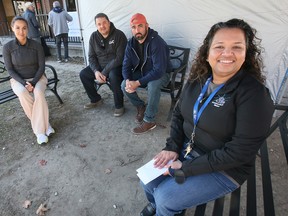 Article content
Downtown Mission of Windsor executive director Rukshini Ponniah-Gouilin admits it would be more crowded than ever if the city's homeless population took a seat with her for the mission's annual 24-hour bench event that began Thursday.
Article content
The event is in its sixth year and highlights the plight of the homeless.
Article content
"It's an opportunity for us to thank the community for their support and it helps us show people what we do at the mission," Ponniah-Goulin said.
The steady stream of visitors to her bench ranged from Windsor Police officers, volunteers with other service organizations, members of the public and the homeless themselves.
We're always looking for new, compassionate people to provide support
"It's been a real cross-section of society stopping by and we're grateful for that," Ponniah-Goulin said.
Ponniah-Goulin took her place on a bench near the mission's home at 875 Ouellette at 11 a.m. Thursday and will stay there until the same time Friday morning.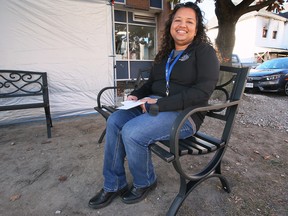 Joining here was mission board member Abram Banman, along with long-standing community supporters of the mission Greg Lemay and Natalie Bourgoin.
Article content
"It's a little bit daunting," Ponniah-Goulin admitted.
"I won't be alone, but this will be my first time out there for the whole time."
This year is the 50th anniversary of the founding of the mission and Ponniah-Goulin said unfortunately the need is greater than ever.
Inflation is driving up prices of groceries, housing and utilities putting pressure on even more individuals and families.
"We have people coming to the food bank who have never needed a food bank ever before," Ponniah-Goulin said.
"In January we had 1,100-plus using the food bank. In September it averaged 1,900.
"At the same time as there's more need for food banks, rising food costs are resulting in a drop in donations."
Ponniah-Goulin said one of the real benefits of the 24-hour bench event is the opportunity to educate people on all the different things the Mission does.
Article content
What started 50 years ago with an invitation to the small group of the homeless gathered on the steps of Central United Church in downtown Windsor to get out of the cold for some coffee and donuts, has grown to the mission offering a buffet of services.
Less space, more demand — Downtown Mission feeling the squeeze

Bikers cruise through Essex County to support Downtown Mission

Windsor's Downtown Mission offers overnight warming centre
Among its offerings are help with job searches, addiction recovery, healthcare and connecting people to community services.
Ponniah-Goulin said her organization can only help Windsor's most vulnerable population through the help of the community itself.
"People can help with donations of food, toiletries, financially, volunteering in the food bank, kitchen or they can apply to join our staff team," Ponniah-Goulin said.
"We're always looking for new, compassionate people to provide support."
[email protected]
twitter.com/winstarwaddell