Dr. Max Stern also put on Emily Carr's only commercially successful exhibition in her lifetime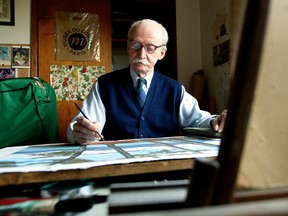 Article content
In 1951, artist E.J. Hughes was so broke he was thinking about getting a job at the post office or going back into the army.
Article content
But then Montreal art dealer Dr. Max Stern went to lunch with artist Lawren Harris at the UBC Faculty Club.
Article content
Hanging on the walls were two Hughes paintings, and Stern was intrigued.
"Both were of ships," said a Sept. 22, 1951 story in The Vancouver Sun. "One was of fishing boats, the other was a ferry approaching land."
Harris told Stern that Hughes lived in Victoria, and Stern took a ferry there to try to find him. In the B.C. capital, he "piled up a huge taxi bill" going to several addresses searching for Hughes, to no avail.
But Stern was determined, telling the Sun's art writer Gwen Cash, "I'm going to catch him if it takes me to the North Pole."
Cash suggested Stern try the RCMP, which found Hughes was living in Shawnigan Lake, about 50 km north of Victoria.
Article content
Cash went along for the search.
"We drove there on a stinking hot afternoon and found Hughes painting in the attic of a tall old board and batten house built on a ledge behind some cottonwood trees overlooking the lake," she wrote.
Cash wrote Hughes was "a tall slim young fellow with intense blue eyes, a thin black moustache and an air of great, if somewhat meandering, sincerity."
Stern purchased every artwork Hughes had, 14 oil paintings, four oil sketches and 32 "lovely broad pencil sketches." The price was $500.
But it wasn't a one-off deal. Stern agreed to buy every painting Hughes produced in the future, providing the artist with some much-needed financial security.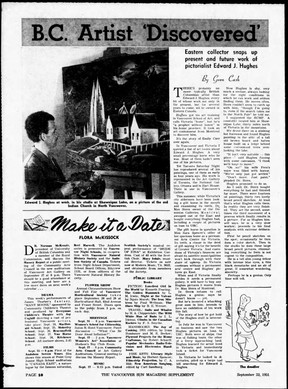 Stern would remain Hughes' dealer until Stern died in 1988, and worked with Stern's Dominion Gallery until it folded in 2000. Hughes went on to become one of Canada's most prominent artists — one of the paintings hanging at UBC, "Fish Boats, Rivers Inlet," sold for $2,041,250 at a Heffel auction in 2018.
Article content
Cash wrote that "there's probably no more typically British Columbian artist than Edward J. Hughes," but he had been "a prophet without honour" in his home province until Stern came along — "It took an art connoisseur from Montreal to discover him."
"It's the story of Emily Carr all over again," Cash wrote.
Indeed, Stern was Emily Carr's art dealer as well. In 1944, he met a 72-year-old Carr in Victoria, and persuaded her to have an exhibition in Montreal.
"I took a taxi and drove out to her house and found her sitting in the sun, cat on her lap," he told Maclean's magazine in 1966. "I said 'I would love to see your paintings.' These were in a large room with one wall entirely stacked with them — there were more than 400 there. We took them out and I was speechless."
Article content
Carr predicted he would "not sell one painting" because "my paintings do not sell." But Stern sold 54 of the 60 works he took back East and quickly sent Carr a cheque.
"She wired back, 'NEVER SEEN SUCH A FAT CHEQUE,' and in a following letter described it as a 'joyful shock,'" wrote Dorothy Eber in Macleans. "She died the following March. Her Stern show was the only public (commercial) success she knew as a painter."
Stern was born and raised in Germany, where his father owned a prominent art gallery in Duesseldorf. Stern earned a doctorate in art studies before joining his father at the gallery, but after the Nazis came to power in 1933, the Jewish family was persecuted and had to close the gallery and liquidate its assets.
Article content
Stern fled to England in 1937 and Canada in 1940, but was interned as an "enemy alien" until 1941, when a member of the Birks jewelry family sponsored him and obtained his release.
In Montreal, he joined the Dominion Gallery and decided to promote Canadian artists, rather than the European artists that were popular at the time.
He and his wife had no children and most of their estate was donated to McGill and Concordia Universities in Montreal and the Hebrew University of Jerusalem. The estate began the Max Stern Restitution Project, which aims to recover 400 works of art that Stern lost during the Nazi era.