Postmedia arts writers share their recommendations on things to do in the Ottawa area the first week of March.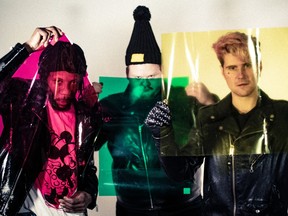 Reviews and recommendations are unbiased and products are independently selected. Postmedia may earn an affiliate commission from purchases made through links on this page.
Article content
ROCK
Adrian Sutherland, the frontman of all-Cree rockers Midnight Shine, recently came out with When The Magic Hits, his debut solo album, and has embarked on his first solo tour, which pulls into Shenkman Theatre on March 4. He has a repertoire of original roots-rock songs informed by life in Attawapiskat on James Bay, where he's a traditional knowledge keeper and cultural leader, but he's also the artist who did a beautiful cover version of Neil Young's Heart of Gold that includes a verse or two in Sutherland's native language, Mushkegowuk Cree. Tickets are $40, available at shenkmanarts.ca. The concert starts at 7:30 p.m.
Article content
ART
A new exhibition at the National Gallery of Canada celebrates the contributions of female painters, photographers, weavers, beadworkers and sculptors of a century ago. Uninvited: Canadian Women Artists in the Modern Moment consists of close to 200 works of art, including 30 from the gallery's collection, that represent both settler and Indigenous traditions. Artists featured range from painters Pegi Nicol MacLeod and Emily Carr to sculptor Elizabeth Wyn Wood and the historic Inuk beadworker Attatsiaq. The show is organized by the McMichael Canadian Art Collection and curated by its chief curator, Sarah Milroy. It opens March 2 and runs until Aug. 20. Regular gallery admission applies. More info at gallery.ca.
Article content
FUNK
A band that originated in New York City's subway system, Too Many Zooz, brings its kaleidoscopic show to Ottawa's Bronson Centre on March 3. The trio of Leo Pellegrino on bari sax, Matt Muirhead on trumpet and David Parks on drums came together as music students, but busking led them to create a sound unlike any other, full of funk, jazz, Afro-Cuban rhythms, hip hop and dance music, not to mention an energetic stage show that's impossible to resist. Opening the show is the Toronto electro-pop duo Featurette. Tickets are $25 plus fees, available at bronsoncentremusictheatre.com. Doors open at 7 p.m.
CIRCUS
Just a handful of tickets remain for the March 3 show by Cirque Kalabanté, the Montreal-based African arts company founded by Guinea-born artist Yamoussa Bangoura. Their eye-popping performances combine traditional African music and dance with modern circus arts to create a dazzling spectacle that's fun for the whole family. Before the 7:30 p.m. main event at Centrepointe Theatre, ticketholders can also see a pre-show demonstration of kpatsa, a style of dance that makes room for storytelling through movement. Tickets are $27.50, available at meridiancentrepointe.com.
Article content
FOOD
To mark International Women's Day this Sunday, March 5, six chefs and a mixologist are teaming up to create a six-course takeout menu that will raise funds for the shelter Interval House Ottawa. Contributing their skills are Danielle Manrique Lucca, Katie Ardington, Harriet Clunie, Coco De Leo, Kali Fawcett, Mariel Legere and Sophie Bertrand. Highlights of the menu include an Iberico ham tasting, grilled broccolini salad, stuffed pasta shells with lobster bisque, braised short ribs and a lime and white chocolate entremet dessert. The dinner for two, which costs $150 and includes a cocktail, can be ordered at: womens-day-take-home-dinner.myshopify.com/, where more menu details are also available.
Article content
JAZZ
In pursuit of his doctorate at McGill University, Montreal guitarist Carlos Jiménez has been delving deep into the music of Ralph Towner, one of his heroes. Jiménez calls Towner's music "complete and beautiful" and says his research is focused on how Towner combines "the sonic and textural elements of jazz and classical music." Jiménez will present the fruits of his studies to date in an intimate concert with bassist Fraser Hollins at GigSpace, the cozy, 40-seat venue on Gladstone Avenue, on Saturday, March 4. The music starts at 7:30 p.m. and tickets are $25 (in-person) or $19 (livestream), available at gigspaceottawa.com.