'I wish we're in a better state, we're worse off than we were last year. You don't have a warm-up shelter, we don't have the temporary shelter.'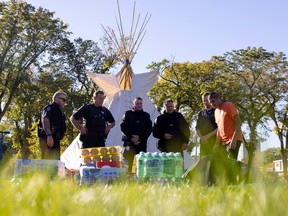 Article content
Pepsi Park in Regina's Heritage Neighbourhood, where Camp Hope stood last year for 40 days is mostly empty, but many of the 100 people who found shelter at the tent city are still trying to find a safe place to stay.
Article content
Camp Hope first went up Oct. 8, 2021, and was initially known as Camp Marjorie, after Marjorie McKay. McKay passed away in Victoria Park just as a public talk was taking place nearby on how to address homelessness and addictions in the city. At the time McKay was homeless and was going through the process of getting into housing.
Article content
On Thursday, McKay's family came to visit the Pepsi Park during a ceremony held by volunteers who first established the camp.
Howard McKay, Marjorie's eldest son, said he was heartened to see what his mother's passing inspired in Regina. "Now everybody sees what's going on for the homeless," he said.
"It's really great, a good turnout. I know my mother, she would like it. She was a very good mother, friend, woman."
Article content
24-hour shelter Awasiw closing June 30 due to lack of funding

Camp Hope clears out of Regina park as new shelter space opens for former residents
McKay remembers his mother as a strong person who looked out for her friends and community, taking people in when she had a home and offering shelter to those that needed it. He felt it was fitting that her name was attached to a place where others found support and protection.
"She's an angel watching over us. I miss my mom, I hope she sees us today," said McKay.
Shylo Stevenson helped to organize Thursday's feast and set up the first tents at the camp back in 2021. For him, seeing the people gathered on the grounds that once offered community and safety to so many was bittersweet.
Article content
"I wish we were in a better state; we're worse off than we were last year. You don't have a warm-up shelter, we don't have the temporary shelter," said Stevenson.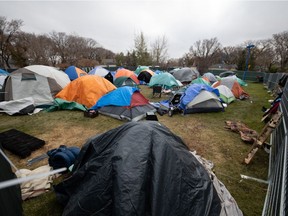 In June a warm-up shelter, called Awasiw, run by All Nations Hope Network shut operations due to a lack of funding. When Camp Hope came down in November 2021, a 40-bed emergency shelter popped up in the city to handle those displaced by the camp coming down. That shelter ended operations in May.
"There's calls for us to set up tents again, but that's one thing I won't do," said Stevenson.
After it all came down, Stevenson said he had to take a step back from being on the frontlines of homelessness in the city, from organizing and trying to make a change in the city.
"I had a stroke after camp," said Stevenson. "I can't lead anymore but I'll always be here to support our lost, hungry and forgotten," said Stevenson.
Article content
A 29-bed facility offering wrap-around support for people experiencing homelessness is in the works, but construction is not slated for completion until 2023.
"That's a winter away," said Stevenson.
"Our cars don't even start in our winters but we expect people to survive in tents and on park benches and it's just sad and unfortunate."
Alysia Johnson, with Rally Around Homelessness, said about a tenth of those who stayed at the camp last year have since passed away.
"Things are worse," said Johnson. "We're losing so many people."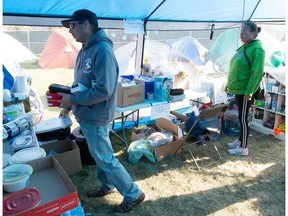 During the feast, members of the Regina Police Service, Regine Fire and Protective Services, Mayor Sandra Masters and MLAs Meara Conway and Aleana Young were in attendance as were members of the Heritage community.
Article content
Johnson said there are things in the works right now to address homelessness but "what that does for the here and now is not a lot." Especially with cold weather on the way.
Johnson said while the big camp is gone, small encampments have popped up all around Regina. On Saturday evening, a drive for toques, mitts and warm clothing is taking place in the park.
Right now Johnson is encouraging people to sign a petition calling on the city to implement current plans and ideas to address homelessness instead of issuing another study or consultation process.
"We have a five-year plan to end homelessness that's currently about to have its sixth birthday," she said.
In an emailed statement, the City of Regina said it was committed to community and public safety when asked to respond to what measures were in place to assist people experiencing homelessness as winter approaches.
Article content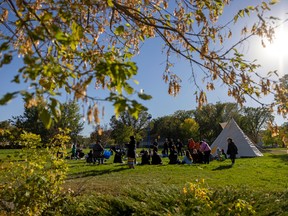 "We are in contact with organizations who support our community's most vulnerable residents to assess needs and to identify capacity issues of existing houselessness support services," a spokesperson wrote in an email.
"The City also continues to work with other levels of government to build solutions, in the short and long term, to ensure every resident of Regina has access to warm, safe shelter throughout winter. As tent encampments are identified, the City will monitor them to maintain community and public safety, and will support efforts towards alternatives."
According to the Ministry of Social Services, in Regina there are "around 700 units are vacant" within local Saskatchewan Housing Corporation stock. For Stevenson, he says there are solutions here and now, and time is of the essence.
"Do something," said Stevenson.