Take in the sights as the U.K. prepares for a celebration fit for a Queen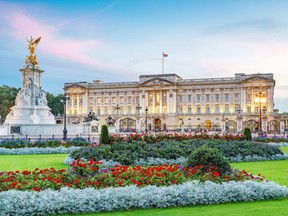 Article content
All eyes will be on the United Kingdom this summer as we commemorate the 70th anniversary of the accession of Queen Elizabeth II. Jubilees offer a chance to mark a monarch's milestones, and while the official celebrations run June 2 to 5 during the Platinum Jubilee Weekend, public events take place from spring until fall.
Article content
Here's a regal romp through three special spots that celebrate crown and country.
WINDSOR
It makes sense to start in Windsor, not only is the charming town a short distance from Heathrow Airport, it's also Her Majesty's new primary residence. Founded by William the Conqueror in the 11th century, Windsor Castle is the world's oldest and largest lived-in castle, and has been the home of 39 monarchs.
Jubilee exhibits at Windsor Castle focus on the Queen's 1953 coronation, with her sparkling Norman Hartnell dress and coronation robe on display in July.
Visitors can also tour the castle's state rooms, including the Grand Reception Room and St George's Hall, both of which were used during Prince Harry and Meghan Markle's wedding reception.
If you're in the country during the Platinum Jubilee weekend, swing by the Long Walk in Windsor Great Park on June 5 for The Big Jubilee Lunch, a world record attempt of the world's longest picnic table.
Any time of year, you'll want to wet your whistle at The George, an atmospheric pub just off the Windsor and Eton pedestrian bridge. They always brew a special batch of craft beer for notable occasions and this year's creation is Castle Hill beer by Windsor & Eton Brewery.
Where to Stay
A short drive from Windsor, Cliveden House has both very historic and quite current royal connections. Built in 1666 by the 2nd Duke of Buckingham, this luxurious hotel is where Meghan Markle spent the night before her wedding to Prince Harry in 2018.
Article content
Celebrating the Queens Platinum Jubilee all year long, executive chef Christopher Hannon has created an exquisite afternoon tea consisting of traditional dishes from across the United Kingdom.
LONDON
While the Queen has officially moved out of Buckingham Palace, it's still very much considered the heart of royal business. Its magnificent State Rooms (open July 22 to Oct. 2) shine the spotlight on the Queen's accession to the throne with portraits of Her Majesty in the early years of her reign.
Since 1066, Westminster Abbey has been the site of all coronation ceremonies. Try to stroll through the gothic World Heritage Site in late afternoon so you can catch Evensong, a service with choral music, occurring most days at 5 p.m.
Lovers of bling will want to swing by Sotheby's where 50 rarely seen aristocratic tiaras are on display from May 28 to June 15. But if it's the Monarch's jewels you're after, then a trip to the Tower of London is in order. Not only can you admire the Crown Jewels, but the moat surrounding the tower will be flooded with flowers in a Super Bloom display blossoming from June until September.
Meanwhile at Kensington Palace, royal buffs can explore the connection between crown and camera in Life Through a Royal Lens, a photography exhibit on until October. Afterward, walk in the footsteps of royalty through the State Apartments of William III and Mary II.
If souvenir shopping is on the agenda, consider picking up a few specialty items the Queen uses in her household. Burlington Arcade is a historic, covered shopping gallery with several shops holding Royal Warrants.
Article content
Nearby is Fortnum & Mason, and their Diamond Jubilee Tea Salon is just the spot to revive the spirit after a long day of touring royal sites. Here, tea totalers can choose between classic afternoon tea, savoury afternoon tea or high tea, which is really like a pre-theatre dinner.
Where to stay
Offering manor house vibes in the heart of the city, Rosewood London is a grand, urban sanctuary that visitors with traditional tastebuds are sure to appreciate. Beef Wellington is on the menu every Wednesday, but any day, guests can learn to make traditional British meat pies in their Pie Room.
EDINBURGH, SCOTLAND
Scotland has held a place close to the monarchy's heart ever since Queen Victoria and Prince Albert purchased Balmoral Castle. The Monarch's official residence in Scotland, however, is the Palace of Holyroodhouse. Situated at the end of Edinburgh's Royal Mile, it's open throughout the year and is worth visiting to learn about historic Scottish figures such as Mary, Queen of Scots and Bonnie Prince Charlie.
As for Jubilee celebrations, Holyroodhouse is hosting a display of ensembles worn by Her Majesty during the previous Jubilee celebrations in 1977, 2002 and 2012.
For lovers of tartan, not to miss is Kinloch Anderson, a sixth-generation family business with three Royal Warrants as tailors and kiltmakers to the Royal Family. Renowned as the foremost experts in tartan and highland dress since 1868, wander through their museum to discover why the Royal Family wears certain tartans. Afterward, you can get kilted out yourself.
Article content
Sailing over one million miles to become the most famous ship in the world, the Royal Yacht Britannia was in service of the Royal Family from 1953 until 1997.
This palace at sea is now an accessible, five-star visitor attraction permanently moored in Edinburgh. Tourists can stroll the decks, sussing out the Queen and Philip's separate bedrooms and the honeymoon suite.
Where to stay
Sister ship to the Royal Yacht Britannia, Fingal is a floating luxury hotel berthed on Edinburgh's vibrant waterfront.
Sporting all the style and glamour of a super yacht, it's reported to be a favourite bolthole of Princess Anne's.
— Jody Robbins