The audience quickly becoming as raucous as the stage at Hot Brown Honey — The Remix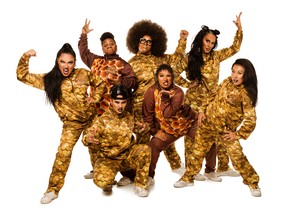 Reviews and recommendations are unbiased and products are independently selected. Postmedia may earn an affiliate commission from purchases made through links on this page.
Article content
Hot Brown Honey — The Remix
Article content
When: To Oct. 8
Article content
Where: York Theatre, Vancouver
Tickets & Info: From $49 at thecultch.com
The Honeys are back: seven beautiful, loud, proud Indigenous women from the South Pacific who aim to flip the script, shift the paradigm, and rock your boat.
Playing the Cultch in those long ago days before COVID-19, Hot Brown Honey was one of the best shows of 2018. The Remix brings back key performers from that cast plus impressive newbies in a dynamic combination of driving hip hop, feminist racial politics, high-powered acrobatics, comedy and dance.
Once again co-writer, musical director and MC Kim "Busty Beatz" Bowers stands high atop the honeycomb set with its flashing lights, narrating the action below and encouraging the audience to make noise — not just as a familiar concert cliché but as a political act, undoing the historical silencing that women of colour have experienced.
Article content
Audience engagement is essential to the show. Busty Beatz leads call-and-response chants like "When I say love, you say respect." And we do, the audience quickly becoming as raucous as the stage.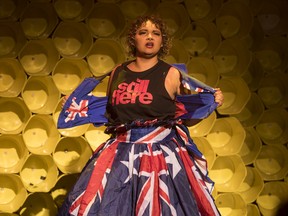 The rhetoric works best when integrated into the performances. All the women radiate a fierce presence, showing off muscular dance moves, unafraid to bare their bodies. Their politics are embedded in their strong, unapologetic womanhood as per their motto: Decolonize and Moisturize. The remarkable transformative costumes also make a statement. Co-writer and director Lisa Fa'alafi gets partial credit for the choreography and costume design, too.
A centrepiece of the show features back-to-back contrasting hip hop dance routines. Dressed like men in a music video, the women exaggerate their sexy moves to the recording of Bell Biv DeVoe's misogynistic That Girl Is Poison, becoming more and more ridiculous until they're literally swinging their faux male members like lariats.
Article content
They quickly transition to a chorus of women whose dance moves are even lewder than the men's, miming various sex acts, flashing pussy cat-faced underwear, and pounding masks of Trudeau and Trump with gigantic inflated breasts. Anything you can do, I can do better.
Another sketch features Alinta McGrady as a badass mother, singing, "Your turn to listen, my turn to speak." It introduces Polynesian coconut women who struggle to work and feed their children, dramatically embodying the repeated slogan, "The revolution cannot happen without childcare."
Three of the most spectacular individual performances are back from the 2018 production. Lilikoi Kaos returns with her astonishing hula hoop act, beatboxer Matehaere Hope Haami does amazing things with a microphone again, and Fa'alafi reprises her powerful dance demolishing the dusky Polynesian maiden stereotype.
Energetic newcomers Ghenoa Gela and Mayu Muto join the ensemble, with Muto adding a breathtaking Cirque du Soleil-worthy aerial routine on a rope.
This show is not for everyone. Minus the politics, it sometimes feels like a heavy metal concert, a high-tempo bombardment of blaring noise and blinding lights.
But its timing is perfect. Coinciding with our National Day of Truth and Reconciliation, it exposes us to another set of Indigenous perspectives on the nature of truth and the necessary prerequisites for reconciliation. Entertainment with a serious bonus.