The McGill researcher found stress is largely in the eye of the beholder; it is not so much what happens to you as it is how you respond.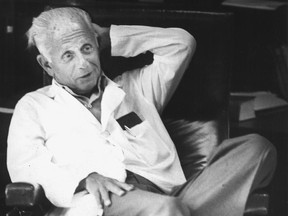 Article content
In 2000, Canada issued a set of four stamps honouring "medical innovators." These included Sir Frederick Banting who pioneered the use of insulin in diabetes, Dr. Maud Abbott, expert in congenital heart disease and one of the first women to graduate from medical school in Canada, Dr. Armand Frappier, Québécois promoter of vaccination, and Dr. Hans Selye, the "father of stress research." The Selye stamp featured his portrait, a partial molecular structure of a steroid molecule, the letters A, B and C, and the word "STRESS." 
Article content
I purchased the set, mostly because I have a special regard for Selye. Back in the early 1960s, my parents dragged me to a public lecture he gave at McGill University, not because they were particularly interested in the topic, but because Selye, like us, had a Hungarian background. I don't remember much of what he said. Talk of stress hormones was surely above my head at the time. But he did make a point that became etched in my mind. "You could leave here today," he began, "get back a tad late to your car, and find a parking ticket on the windshield." "Then you have a choice. You can rant and rave about the unfairness of it all, or you can just accept that you should have looked at the time more carefully. In either case," he concluded, "the cost to your wallet will be the same, but not the cost to your health." The message was that anger could trigger biochemical changes with adverse effects on health. 
Article content
I have often recalled that example as the spark that ignited my interest in the connection between the body and the mind and my fascination with Selye's career. That began with his earning diplomas both in medicine and organic chemistry in Prague. It was during his medical school days that he made an interesting observation. Besides exhibiting symptoms of their particular disease, patients also shared identical symptoms regardless of their specific condition. They all had coated tongues, diffuse joint aches and pains, intestinal disturbances as well as loss of appetite and muscular strength. Selye wondered if there was a scientific explanation for the "syndrome of just being sick." 
Years later, as a young researcher in biochemistry at McGill, he would propose an explanation based on his studies with rats. Selye described this work in a landmark paper — "A Syndrome Produced by Various Nocuous Agents" — published in 1936 in the prestigious journal Nature. That paper is widely regarded as the seminal work that would eventually lead to Selye's name being forever associated with "stress."  
Article content
At McGill his research focused on hormones and involved injecting extracts of cattle ovaries into rats. He reported that the thymus gland, spleen and liver shrank, while the cortex of the adrenal gland enlarged. Acute erosions appeared in the animals' digestive tract, their body temperature fell, and there was a loss of muscular tone. No great surprise here, but Selye was astonished to find that injections of sublethal doses of other "nocouous" agents such as atropine or formaldehyde produced exactly the same changes! Ditto for subjecting the rats to excessive muscular exercise on the treadmill, or exposing them to cold, heat or surgical injury. It didn't matter to what trauma the rats were subjected, the response was the same. Selye realized he had chanced upon an experimental replication of the "syndrome of just being sick" he had observed in humans back in medical school.
Article content
As he pursued this research, Selye discovered that continued treatment with relatively small doses of toxins or other stressors results in the animals building resistance to the insult. Beginning around 48 hours after the injury, the appearance and function of their organs returned to normal. But if the low level insults were continued for months, the animals lost their ability to adapt, and the initial symptoms returned, often with a vengeance. Selye called this the  "exhaustion stage."  
He went on to describe that "stress syndrome" was characterized by three stages, thereby explaining why the letters A, B and C appear on the stamp. The initial, or "alarm" stage, is the "fight or flight" response, first described in 1915 by Harvard physiologist Walter Cannon. The second stage is adaptation to the stressor, and in the third stage, as a result of continued stress, adaptation energy runs out and health suffers.   
Article content
Eventually, the biochemistry involved was worked out. In the first stage, adrenalin and cortisol are released from the adrenal glands causing a quickening of the pulse and respiration so that more oxygen is delivered to tissues. Blood sugar rises to energize muscles, and blood platelets aggregate as the body anticipates possible bleeding from an injury. At first, cortisol sustains the stress reaction, but then slows it down so the body returns to normal. However, if cortisol stays elevated, it suppresses the immune system, keeps blood sugar and blood pressure elevated, and causes what Selye called "wear and tear" on the body.  
Selye proposed that people can control how they adapt to stress and thereby can exert control over cortisol levels. He gave the example of a drunk, clearly unable to do any harm, hurling insults at someone. That person has a choice. Walk away, ignoring the insults, or get all riled up and start some sort of confrontation. In the latter case, adrenalin and cortisol will kick in, and if there is some faulty biochemistry, the second stage of the reaction, the adaptation stage, will be skipped and the exhaustion stage with its dire consequences will quickly set in. The result may be a cortisol-triggered heart attack that Selye claimed was caused by choosing the wrong reaction. He summed it all up by saying that stress is largely in the eye of the beholder; it is not so much what happens to you as it is how you respond. You have to decide whether "fight or flight," or "just relax," is appropriate. In yet other words, don't sweat the small stuff. As Kenny Rogers reminded us: "You've got to know when to hold 'em / Know when to fold 'em / Know when to walk away / And know when to run."
Joe Schwarcz is director of McGill University's Office for Science & Society (mcgill.ca/oss). He hosts The Dr. Joe Show on CJAD Radio 800 AM every Sunday from 3 to 4 p.m. 
The Right Chemistry: Why I have a special regard for homeopathy's founder

The Right Chemistry: Purdue Pharma's OxyContin

The Right Chemistry: The mandrake mystique, from Genesis to Harry Potter