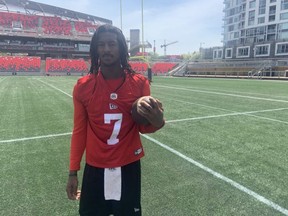 Article content
It's team first for the guy they call Houdini. But Ottawa Redblacks quarterback Tyrie Adams, using what he calls a "pilot's mindset," is also looking ahead at what he thinks could be a really good Canadian Football League career.
Article content
Adams will be on the Redblacks' game-day roster Saturday against the Hamilton Tiger-Cats. He may or may not play – the Redblacks have lost 22 of their past 23 home dates and are itching to get that monkey off their back. While he believes he can one day soon be a starting quarterback, it's baby steps for Adams, who will back up Caleb Evans Saturday. And if Adams, who has been on the game-day roster five times in 2022, gets a chance to throw his first CFL pass, that's the icing on the cake.
Article content
"I just want to do my part," he said. "It's no different than when I was active earlier this year. It's no different than when I'm on the practice roster. I expect C5 (Evans) to play great. I told him, 'The only way I get in the game is if we put up 50 points on them in the first half. Go play your game, have fun and if I don't get a rep, don't worry about me.'
Article content
"One hundred and 10 per cent, I believe I can be a starting quarterback in this league. I feel like once I get my chance to show I can do something, it's going be hard to take me off that field. That's just me trying to say it with as much confidence and as humbly as possible. I'm not a cocky person that talks myself up like that. But when it's go time, I turn into something else. I guess that's why they call me Houdini. Now you see me, now you don't."
His resume is impressive. The 25-year-old Adams had a standout career at Western Carolina University, where he became the all-time leader in passing yards (8,978 yards), passing touchdowns (64) and total offence (11,525 yards). Before being signed by the Redblacks prior to this season, the 6-foot-2, 185-lb. Adams was making a couple of hundred bucks a week with the Indoor Football League's Salina Liberty. It was there he earned the nickname Houdini.
Article content
"Tyrie has been fantastic," said Redblacks coach Bob Dyce. "Probably the thing I like best is he asks questions. Sometimes players will ask fluff questions they know the answer to. They want to show they know the answer. Tyrie is asking really thought-provoking questions and making sure he has a great understanding of everything we're doing. He brings a great level of energy. He's a very smart young guy. He makes fast decisions and gets the ball out of his hands quickly."
Since training camp, Adams has improved his feel for the game; it's more natural, not forced. He's learned from his mistakes. He threw interceptions in each of his team's two pre-season games. In the first one, he led the Redblacks to a 23-17 win over Toronto after being picked off by Jamal Peters, who ran 58 yards for a touchdown. Adams, who had 68 passing yards, bounced back with a touchdown pass and a run for a touchdown.
Article content
"I'm not (afraid of failure)," he said. "(Tuesday) in practice, we had that same exact play that I threw an interception on and kind of had the same look on defence. But the spot I put the ball in, it was just very different from my first interception. That's the growth. Don't be scared to take that long pass, just throw the deep shot where either (your receiver) can get it or no one can get it.
"I'm able to push the ball downfield more. I'm more comfortable with the length of the field. So, 70 yards down the field doesn't feel like 70 yards like it did my first week of training camp. Starting from the left and throwing to the right sideline doesn't feel like a such a long throw anymore. The moment you're scared of taking the risk is when you're going to leave it all on the table. My quarterbacks coach Brad Glenn always told us to have a  pilot's mindset. If you think about a pilot, when they fly, if the plane is about to crash, the one thing they're told in flight school is 'Just fly the plane.' If it's a malfunction or something is going on, all you can do is fly the plane. You may still crash, but you may be able to land that plane with very minimal damage. You're not a superhero, just fly the plane. The mentality is don't get too high and, if I throw an interception, don't get too low."
Article content
Adams says he got some great advice from former head coach Paul LaPolice, who told the quarterback to make better use of his time at the stadium.
"Coach LaPo said to me, 'You're doing good things on the field and everything, but we need to see you at the stadium more.' I felt I was at the stadium enough already, but whatever they wanted to see, that's what I was going to give them. I was always coming in early at 6:30, but I would come in and just be here. I wasn't really doing anything. I would come get here, go get my breakfast and just kind of wait around until the 8 o'clock meetings. So now I get here, maybe go to the hot tub. Then I throw from 7-7:20, about 20 minutes."
MOST OUTSTANDING!: Mauldin a double winner as Redblacks award nominees announced

THE SENS PANEL: Chris Phillips dishes on his new role, an improved team and rookie Jake Sanderson