Four games remain in the regular season, and the B.C. Lions have taken the inside track on the race with the Calgary Stampeders for second in the West Division after dominating Ottawa at home.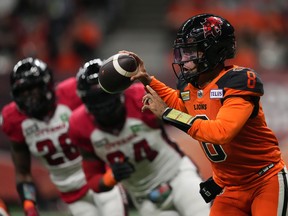 Article content
Vernon Adams Jr. rolled out to his right, spotted Keon Hatcher break off his route and sit in open space in the end zone, and fired a strike.
Article content
Touchdown.
Article content
It took 59 pass attempts, but the B.C. Lions quarterback finally has a passing major for his new team.
"It feels awesome to get a win for the home crowd. Electric tonight," Adams said after throwing for 305 yards and two touchdowns on 17-of-22 passing.
"They gave us what we expected, and Hatch did a great job kind of shutting down his route — he had a corner route, but the safety or the halfback was over there, and he kind of shut it down — and he was wide open and made a great catch. It's just a great feeling."
Adams helped a result that the Lions (10-4) needed badly. It eliminated the chance of having to play in a crossover playoff game, and secured the first winning season since 2016.
It also puts the pressure on the Calgary Stampeders (9-5) to keep pace in the race for second in the West, with the Stamps hosting the Toronto Argonauts on Saturday.
Article content
His second passing touchdown was one that James Butler will add to his own highlight reel. He hauled in an Adams pass that was behind him one-handed, then scampered around and through the Redblacks defence and into the end zone.
"James Butler with that one-hander, boom, turn around and go score. He did everything on that one," Adams said. "You don't see running backs do a lot of those. He's just a great back all around, running, blocking and obviously catching as well."
"We just know what (No.) eight is capable of. We give him an opportunity to make plays and he's going to make plays," countered Butler. "His IG is @bigplay_va, so he's going to make big plays; we just gotta get an opportunity to let that happen."
BUTLER BUILDING UP STEAM
Article content
Butler had 89 yards rushing on 16 carries Friday night, with three runs of 10+ yards. He also caught all four targets for another 30 yards and a touchdown.
A player that was seemingly forgotten for long stretches last season, and at times in the middle of this one, is rounding into form when they need it most — when it gets cold. Well, it wasn't cold in the Dome Saturday, but the Lions running back was already looking ahead to playoff football and the prospect of a game in Winnipeg in November.
"(Weather) is starting to get little colder, so we're starting to run the ball a little bit more and just just starting to click more on offence," he said. "We haven't given up on it. Last year, the beginning of the year it was kinda it was kind of tough on us. But as we just kind of hit our stride, we got a little bit more comfortable with how the run game goes and different styles, we were able to stay more consistent."
Article content
Butler also got the shoutout from head coach Rick Campbell in his post-game presser.
"I thought James Butler made some really good cuts tonight," he said. "I haven't been able to watch the film, but he got through some pretty tiny cracks there. .. Also, the after the yards after contact, it was was always going forward after he got hit, not the other way.
"He's a really important player for us. I know our offensive coaches say that their favourite thing they like about him is his pass pro (protection). That's not the exciting part, but it's an important part of it."
POCKET PROTECTORS
If there was a cause for concern for the Lions — or at least, to watch some more film to correct it — is the fact Adams was sacked five times on Saturday. It would have been six, but for a horse-collar penalty call on Kene Onyeka in the fourth quarter.
Article content
Adams was sacked five times by the Stampeders last week, as well. The Lions had been neck-and-neck with Calgary for the fewest allowed, but have slid down to sixth with 30 total, pending the outcome of the rest of the weekend's games.
"I'm gonna put it on me," said the QB. "I know a few of them, at least three or four of them, I'm like 'yeah, that's on me, coach. That's on me. The checkdown's right there.' I see it on the film right after."
Part of it is Adams not wanted to turn the ball over, and part of it is playing against some decent defensive lines in Calgary and Ottawa, the latter who boast the league's leading sackmaster in Lorenzo Maudlin.
Whatever the cause, it has to change, or risk having to search for another QB while Adams occupies a spot on the injured roster.
Article content
"I'm glad that we're protecting the football," added Campbell. "We certainly don't want to take sacks. But Vernon will tell you he wants to get the ball out quicker and all that stuff. So when the ball's out fast, the sacks just become a non-issue because they can't get there in time. Also, at the same time, I don't want to force things and I want to make sure we're protecting the football."
Article content
The Lions coaches tend to bristle a bit when their defence is deemed a "bend but don't break" unit, but when you give up 419 yards of offence, but just a single (garbage time) touchdown, it has to be seen as a pretty accurate label.
"The important thing is we made the stops, right?" said defensive lineman David Menard. "But we gave away too many yards. They ran the ball too much (68 yards), they passed the ball at the end of the game way too much (363 yards) … we got to get better get better.
"We won a game that we need to win. We're doing good, but we're not good enough. We've got to make the stops when they're deep down in their territory and be able to give our offence the ball in a better position. But overall, we made the stops when we needed to.
Article content
"Bend don't break is fair, but it's not great. And I know all the guys want to be great."
The Redblacks went inside the Lions 40 six times, and to the red zone four times, but settled for five field goal attempts and had a garbage time touchdown.
The Lions did notch their first takeaway in three games with a Garry Peters interception that snuffed out an Ottawa drive that had reached the B.C. 30-yard line.
One more positive? The Lions, after coming close many, many times over the past three games, finally got to an opposition quarterback, with Menard notching his third multi-sack game of the year.
"We were close couple times a the past couple weeks. We got there tonight," said Menard, who is one away from tying his career single-season high of eight sacks.
Article content
"So it feels pretty good. Feels pretty good. It helps the defence a lot when we put a pressure on the quarterback like we did tonight.
"And honestly, when the team is able to extend drives and give us a little break, obviously we go on the field and we run to the ball a little faster, we pass rush faster, DBs cover tighter … so I mean everything is better when the offence is extending drives. We saw that tonight.
"We're feeling great. Even when we lost honestly, we've we've been feeling pretty good about ourself because we know we've got what we need to be able to go a long way."
Article content
UNLUCKY NO. 7
When Lucky Whitehead had his ankle rolled up on by Shaheed Salmon near the start of the third quarter, people assumed the worst. The replays showed his right leg getting bent unnaturally behind him as the Redblacks linebacker fell into him from behind, and Whitehead had to be nearly carried off the field. 
The team announced he was "questionable" to return, but the reality was instead a questionable return.
With the Lions leading 27-12, Whitehead returned to the game but was running routes clearly at half speed. A few plays after he went back in, the Lions extended their lead to 34-12, and Whitehead was retired from the game — this time, for good.
There is no questioning his heart — Whitehead has demonstrated several times over this season and last that he is willing to be a decoy if he's hurt and can't be the game-buster he usually is. But with several games lost to an ankle injury this year, one would think discretion would be the better part of valour, especially with a playoff game looming within the next month.
Article content
But coach Rick Campbell defended the move, saying Whitehead had been cleared by team doctors and wanted to go back in the game, and that the final score was far from being decided.
"We didn't want to take our foot off the gas," he said. "If a good player like him is available and it's safe for him to play, then then we'll play him. But we certainly didn't want him to have put him in any type of risk.
"We're going to try to win a football game. We're always going to be smart, but you can see in the CFL, the game's never over."
Twitter.com/TheRealJJAdams
---
NEXT GAME
Saturday
B.C. Lions vs. Toronto Argonauts
1 p.m., BMO Field. TV: TSN. Radio: AM730
---
Check out our sports section for the latest news and analysis. Care for a wager? Head to our sports betting section for news and odds.