"We talked about not being perfect, but we want to live in a world of five penalties or less. When we take three or four or five penalties, that means we're playing fast and some mistakes happen." Lions head coach Rick Campbell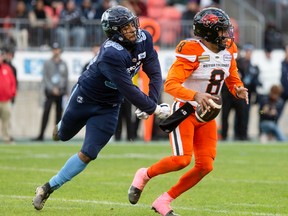 Article content
The zero blitz is the riskiest defensive play in football. The D brings the house, but it leaves the back door wide open.
Article content
It's a risk-reward type of play. You either bury the QB before he can get the ball off, or leave yourself vulnerable to big plays if your blitzers can't get to the him in time.
Article content
"When you zero blitz, we call it a hero/zero type deal," said B.C. Lions coach Rick Campbell. "It can be really good for the defence … or not."
With the clock ticking down on Saturday night's game against the Toronto Argonauts at BMO Field, and holding a four-point lead, the Lions elected to zero blitz. The result: A 37-yard touchdown for Argos receiver Tommy Neild.
He was the hero for the Argos' on Saturday, making just his sixth catch of the year, pulling in his first touchdown in two CFL seasons, and providing the winning points in a 23-20 victory over the Lions. 
Article content
And it wasn't just that play the Lions were caught out. That drive covered 70 yards on three plays, all passes. All sellout blitzes.
A Markeith Ambles 21-yard catch over the middle. He fumbled it on an attempted tackle by TJ Lee, but the ball fortuitously bounced back into his hands. 
A 12-yard pass to Kurleigh Kittens, Jr.
---
NEXT GAME
Saturday
Winnipeg Blue Bombers vs. B.C. Lions
7 p.m., B.C. Place. TV: TSN. Radio: AM730
---
Then the fateful pass to Neild, who got behind Marcus Sayles in coverage.
"As a defence, we're just trying to dictate, you know, it's just one of those ones where they made the play. If not, they would have been sacked. We went aggressive and they took advantage of it," Lee said after the game.
"We just got to make plays; we didn't make plays down the stretch. We took turns giving up plays when it mattered down the stretch and that's what equals a loss.
Article content
"It's give and take, and football, man, sometimes the ball doesn't go your way, the ball doesn't bounce your way. 
"We want to accept it. We want to get better and use the scars to come back and battle for the next few games. We know it's not over. So that's the blessing of it all. We're ready to come back and use this as a learning opportunity to play better in the next game, for the next opponent."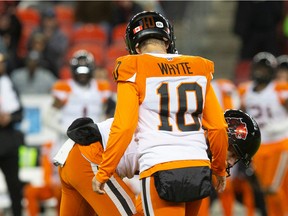 THE DOINK AND THE BOINK
Despite the touchdown, the Lions got into position to tie the game with a 1:36 remaining, sending Sean Whyte out to attempt a 41-yard field goal. He'd hit from 17 and 30 already in the game, as well as both 32-yard converts. He was on a 17-of-17 field goal streak dating back to July 29.
You know where this is going.
Whyte's wobbling kick seemed to gravitate toward the left upright, doinking off the stick and out. Dead ball.
Article content
Argonauts defensive back Chris Edwards did some pogo-stick trash-talking through the Lions players before getting in the face of Whyte, who was walking back to the sidelines. The Surrey native did his best to sell the close contact like he'd been boinked in the head, but all that resulted in was some misconduct penalties to two Lions and Edwards.
Article content
EARNING THEIR STRIPES
That crew of officials is probably short of breath with the amount of whistles they blew on Saturday. Not to mention sore, aching arms from all the flags.
The Lions were flagged 16 times resulting in 130 yards in penalties. Toronto was 9/52, but that's of no consequence here.
It came on offence, with holding penalties wiping out a 63-yard catch by Alex Hollins, 20-yard completions to Jacob Scarfone and Jevon Cottoy, as well as a 10-yard run by James Butler. There were also plenty of first down flags that put the Lions in long down and distances.
They came on defence, the most galling being the two first-quarter offsides on Emmanuel Rugamba and Sione Teuhema, who both fell for third-down hard counts — three plays apart, no less — by the Argos on plays inside the five. Toronto scored a touchdown on the series.
Article content
They even came on special teams, with the normally accurate and robot-legged Stefan Flintoft shanking a punt directly out of bounds, setting Toronto up on the B.C. 29-yard line.
It was uncharacteristic for the Lions, who average 7.1 penalties per game — second-fewest in the league.
"The penalties are what was really frustrating," said head coach Rick Campbell. "It was a game at halftime and we bounced back in the second half, but there's too many penalties, too much going backwards. That it makes it harder when you get in those first and 20 situations on offence, which didn't help the cause.
"We talked about not being perfect, but we want to live in a world of five penalties or less. When we take three or four or five penalties, that means we're playing fast and some mistakes happen. I don't know what the total was tonight, but I know it's big. That part was frustrating. So we need to get back to what we always talk about; keeping the money that we earn and not giving it away."
Article content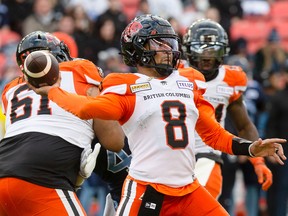 SLO-MO START
Vernon Adams Jr. had a rough start, which was almost as bad as the Toronto Blue Jays' finish.
He was sacked twice on his first two series, which netted -16 yards. Of his first five drives, four were two-and-outs; the other saw them get a first down, but promptly hand the ball back to Toronto when James Butler III was popped by Toronto's Bobby Priester.
His sixth drive netted 18 yards, but ended in a turnover on downs. By that point, the Argos had a 13-0 lead, which could have been more if the defence hadn't stiffened up in the red zone.
Toronto had been forced to start some different bodies on offence with key personnel out to injury, and threw some new looks at B.C. that they hadn't previously left on game film this year. It took time for Adams to settle in, but settle he did, throwing for 258 yards and two touchdowns on 21-of-32 passing.
Article content
"They gave me a few different looks — it doesn't matter about the personnel; they're just bodies out there — I just kind of started slow," said Adams. "They kind of got into different looks. I just got to be ready for my hot throws and different things like that. I had a couple guys open there, I just didn't get to them. I just started a little bit too late.
"There's no moral victories, man. I just got to start faster … (and) help his defence out. Our defence is freaking amazing, man. Our special teams is amazing. Sean Whyte is amazing, man. I've got to be better early on, give us a chance, and not even make the game that close."
Article content
MORAL VICTORIES
There's always going to be some bright spots to pull from a loss.
Butler had 82 yards rushing on nine carries, with five of them going for 10 yards or more.
The defence held Toronto to just a single touchdown on four trips to the red zone, despite giving up 392 net yards of offence.
With Bryan Burnham and Lucky Whitehead out, the domino effect saw Jacob Scarfone and rookie Alex Hollins rotate into the starting lineup. They had 37 and 47 yards respectively, and Hollins had the highlight of the night on his touchdown, outjumping two Argos defenders in the end zone for a 33-yard touchdown grab. He also had a 63 yarder — 33 on YAC for the Yazoo alum — called back on a holding play.
He took Whitehead's spot in the lineup with the star receiver out with an ankle injury, being elevated from the practice roster.
"He's a dude, man. He puts in the work and the time," said Adams. "From my first day here, my first few weeks, he always stays after with Pip (Antonio Pipkin) and gets work every single day. He just stays ready. And he was waiting for his moment today. Yeah, man, I'm so happy for him."
Article content
Twitter.com/TheRealJJAdams
Check out our sports section for the latest news and analysis. Care for a wager? Head to our sports betting section for news and odds.