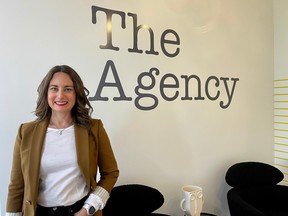 Article content
On Oct. 6, Calgary will welcome Gov. Gen. Mary Simon on her first official visit to deliver the first LaFontaine-Baldwin Lecture in this city since it was co-founded in 2000 by former governor general Adrienne Clarkson and John Ralston Saul. Both will be in attendance.
Article content
The lecture is a presentation of the Institute for Canadian Citizenship (ICC) that works to unlock Canada for newcomers, facilitating and encouraging full and active citizenship.
Article content
The marketing and public relations for the event, to be held in the Jack Singer Concert Hall, was awarded to Calgary-based The Agency, following recommendations to the ICC by its Calgary clients.
Founder and managing director Arleigh Vasconcellos has built a team of specialists in B2B, technology and innovation, but she has a personal communications history that covers many other sectors, including international travel, tourism and hospitality.
After earning her degree in communications at the University of Ottawa, after a short time back home in Calgary the keen skier left again for the slopes of Whistler and worked there for five years in PR and media relations, organizing trips for more than 350 journalists from around the world.
Article content
She says it was an educational and fun time working with Whistler-Blackcomb and Tourism Whistler, but wanting to spread her career wings broader she moved to London, England, where she was employed by Reed Exhibitions, a 60-year-old company with a portfolio of about 500 events produced in 39 countries.
Vasconcellos honed her skills and added to her experience working with accounts such as the World Bank, major airlines, ministers of tourism and hotels from around the world, but after three years felt the pull of family — and mountains — back in Calgary and launched The Agency 13 years ago as the lone employee. She hired her second in 2011.
Today it has a team of 12 working out of modern, character office space in the Woodstone Manor building on 13th Street S.E. in Inglewood.
Article content
They spend most of their creative time helping companies do business with other companies, through public relations services and more recently with an expanding marketing support.
Able to boast a staff that "speak geek," The Agency has served a multitude of startups, scale-ups and established firms in Cleantech, Agtech, Climatetech and a number of other techs as a key member of the innovation ecosystem.
Vasconcellos says The Agency's sweet spot is working as a partner, winning clients both here and beyond Alberta's borders.
ECO Canada — a Calgary-headquartered national company known as the steward of the environmental workforce that provides HR solutions tailored to students, professionals and businesses engaged in the environmental sector — is a longtime PR client.
Article content
Farther afield, BlueNode, a client based in Halifax, N.S., is a company that is revolutionizing the shipping industry by helping container ports reduce operational costs associated with data wrangling, cleansing and report generation.
In Calgary, the team has supported the Calgary Stampede, CASA and CPRS, and is currently involved in promoting YYC Food Security Fund. Founded by philanthropist Zai Mamdani, it is a charitable initiative with a belief that there are better, more holistic ways of addressing food access in Calgary and surrounding communities.
Successes by The Agency have not gone unnoticed by its industry; in 2018 and 2019 it was recognized by New Jersey-based Bulldog Awards with a silver in the Best Boutique Agency in North America Award, and this year with a silver in the Best Agency Team in North America category.
Article content
The Agency has set its sights on growth, primarily with B2B companies, delivering integrated strategic communications campaigns.
Notes:
You are invited to afternoon tea at the Fairmont Palliser hotel on Oct. 16 — a Pink Tea to celebrate the courage of the Famous 5, who in the same month 93 years ago campaigned to secure the right to vote and the right to seek elected office for women. Often their meetings were violently disrupted by opponents, until the leaders decided to call their gatherings pink teas, and opposition disappeared. Ticket info at www.famous5.ca
David Parker appears regularly in the Herald. Read online at calgaryherald.com/business. He can be reached at 403-830-4622 or by email at [email protected].