The digital storytelling initiative Window of Quebec shares stories of overcoming obstacles.
Article content
It took Bernard Pierre Messing six years and cost him thousands of dollars acquire his Canadian residency. Along the way, life as an immigrant tested his sense of dignity.
Article content
Back in Cameroon, he had directed community health organizations. He was his own boss, overseeing a team of volunteers.
Article content
Upon arriving in Canada, he ended up without work, with a growing pile of bills to pay. He found a good-paying job in construction but soon realized that despite his strong work ethic, he kept getting the cold shoulder from his fellow workers.
"I got my CCQ (Commission de la construction du Québec) card, but in my company I was the only Black man," Messing said Wednesday afternoon. "They brought me around the site, because people wanted to see the only Black man. My boss was never in a good mood. He said, 'I don't like Black people, you're all liars.' He said all kinds of things."
Messing was speaking on a panel before a mixed crowd assembled at a coworking space on St-Denis St. Wednesday, for the launch of Window of Quebec, an initiative by an NGO called ZMQ Global to help promote diversity and inclusion by sharing stories of racism in the workplace.
Article content
Messing eventually complained to management, but never received a reply. He went to his union, where he was told he would have to take the matter to court, which he wasn't prepared to do. He returned to work, but things didn't improve. Instead of being integrated into the team, he was given a broom and told to sweep up after his peers.
"To me, that's discrimination," Messing said, explaining that the experience prompted him to take action through words. "I'm here to tell stories, of working in this country. You have to work hard. We don't come because we choose to; we come with a dream to give our children an education so they can work on any continent, which is an opportunity I didn't have.
"People have to understand, we have to be respected like anyone else. Politicians and legislators need to welcome us."
Article content
Messing no longer works in construction, yet he doesn't let his treatment affect his vision of his adoptive country.
"I know it's not the values of Canada," he said, "which is why I agreed to tell my story."
Khalid, a filmmaker, says discrimination can arise in surprising places. He recalled working in a youth centre a few years ago, and hearing the centre's director express Islamophobic views. He's not Muslim, but was offended nonetheless. When he challenged the director on it, he was fired. Khalid eventually took the matter to court, and won his case just a few weeks ago.
"It was extremely tiring," he told the audience. "Once again, it's a divide-and-conquer attitude. The system is set up in a way that makes you feel completely alone."
Article content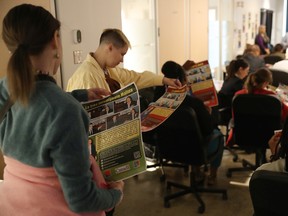 Window of Quebec is described as "an innovative technology program" intended "to create awareness on racism and discrimination in society using digital stories."
Tales of challenges and of overcoming obstacles are shared in the series. Those experiences are turned into digital stories that are shared within the participants' own communities and the society at large, as a way of validating the experiences of Indigenous and racialized people in order to bring about change, according to Dr. Ilmana Fasih of ZMQ Global.
"We wondered: 'What is going to change the attitudes of people?'" she explained. "After searching, we realized society creates stories and they affect generation after generation, setting generations on the path of change.
"The only way things can change is if you create empathy in the mind of another person, and make them think about how it feels to be in someone else's shoes."
For more information, visit windowofquebec.com
Report into systemic racism at MUHC includes chilling testimonials

Montreal's report card on anti-racism efforts panned by critics

Systemic racism a priority for Montreal's next police chief, report and study say