Lynda Gray's national bestseller is back with 16 new chapters ready to help with the journey forward to reconciliation.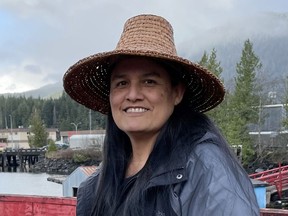 Reviews and recommendations are unbiased and products are independently selected. Postmedia may earn an affiliate commission from purchases made through links on this page.
Article content
Now in its updated second edition, First Nations 101 by Lynda Gray gave the 18-year-old Nisga'a student an opportunity to learn about contemporary Indigenous issues from a First Nations author. Gray, a Prince George native who calls East Vancouver home, is a member of the Ts'msyen Nation (Gisbutwada/Killerwhale clan) on the northwest coast of the province.
"I think it's really cool because it shows a more personal viewpoint. It's more localized. I'm really connected with my culture. I'm Nisga'a, and I'm very passionate about learning about my culture," said St. Louis in a recent email. "It's really important to have books by Indigenous people, to bring that awareness to these issues."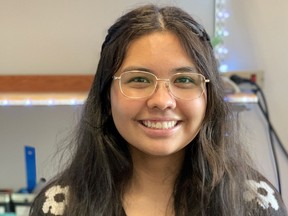 Faith Long, who is not Indigenous, echoes her Charles Hays classmate's belief that an Indigenous voice writing on Indigenous topics is paramount.
Article content
"(It's better to) learn about Indigenous people from Indigenous people," said Long in an email. "Don't just go on the Internet and look at articles that white people have written about Indigenous people.
"Here in Prince Rupert, it's easier because there are so many opportunities to meet with elders, and people to talk about this stuff with. But there are so many people who don't get that opportunity, so having a book like this is a great start to learn from an Indigenous person and from an Indigenous perspective."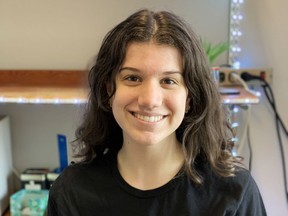 First Nations 101 is a contemporary primer that offers a clear, very readable overview of Indigenous issues, past and present. It is also a guidebook for Indigenous and non-Indigenous people on how to help build and walk a path toward true reconciliation.
Article content
"I love how she included ways to become an Indigenous activist and ally, and they are all really easy things that anyone can do. It's great because not everyone can just stop all racism around them, but by doing small steps, you can make an impact," said St. Louis.
Long and St. Louis were exposed to First Nations 101 thanks to their teacher Danielle Dueck.
"I have taught First Nations 101 in my classroom because it is a book written by an Indigenous woman from the area that I am basically teaching on, which is the Ts'msyen territory. That is very important," said Dueck, who teaches Grades 9-12. "For a lot of my students, I think it is very important because a lot of them are just starting their journey of decolonizing their thinking and how that looks in a classroom and how that looks outside the classroom. I felt that the book was a beautiful way to unpack that."
Article content
Dueck's "passion class" is her Grade 11 and 12 social justice course.
Through that class she outlines how to become a better person and the basics of fighting for equity. She says First Nations 101 delivers ideas and offers steps forward to making some real boots on the ground changes.
"It's great that there is so much information in it, but my favourite part of the book is what can you do about it. Especially as an educator, that is one big question I ask myself and my students," said Dueck, who has been teaching in Prince Rupert for eight years.
"Something has to be done. That's a big philosophy in my social justice classes. It's all fine and dandy to talk about this stuff. It's really important, but there needs to be action."
Article content
First Nations 101 was originally published in 2011. The recent version, which Gray began working on four years ago, has 16 new chapters, including How to Become a Great Ally, which will be free to access on Gray's website. There is also study guide for Grade 7 and up.
The original idea for this project came about because Gray herself realized she needed more information on big issues that had big impacts on her life.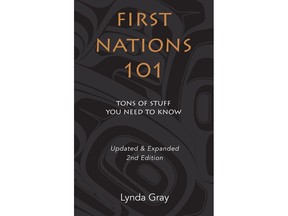 "There was just such a lack of knowledge," said Gray, who currently serves on the National Indigenous Cultural Safety Advisory Circle. "When I realized about residential schools and other assimilation policies, my life made sense. Like I realized I didn't have to grow up in poverty and having addiction issues in our households and being separated from our homelands and not knowing what nation I was until I was in my teens."
Article content
When she got to university, Gray discovered that people around her didn't know much either, but that didn't stop them from being curious about Indigenous lives and issues.
"I saw that there was a real hunger for information. So I thought if I don't think what is out there in the public is accurate, then I need to do something about it," said Gray by phone recently. "I never planned on being an author, but I just thought it was so important to do.
"So many people expect Indigenous people to be the authority on every question, and when you read the book you understand why we don't know a lot of this stuff."
Over the last decade, Gray has heard from educators, youth leaders, policy makers and others about the impact her book has had.
Article content
"There was one young woman who used to work at the Museum of Anthropology and she was a guide and she came up to me one day and said, 'I do this job and people ask me questions and I would just be stuck, but now I have the words to be able to answer those questions and to know that I understand the issues,'" said Gray when asked about feedback she has received.
Gray said this latest edition of the book is an important project for her because she wants to be a part of positive change, but she also wants to honour others who have come forward to share their stories and help build a road forward.
"The survivors that talked at the Truth and Reconciliation Commission and then the survivors and the families of the Missing and Murdered Women's Inquiry, they really set a path for us," said Gray, who was the executive director Urban Native Youth Association for eight years. "They said, 'No, here's the truth. You can't hide it anymore. Now let's do something about it.' So, they kind of laid a path for us to walk toward reconciliation, to work toward it.
"It is our job now to take that baton and go on with it. We can't let them down. I am really proud that I am contributing to that, that I am helping to ensure people keep going."
Part of the proceeds from the book will be given to Ts'msyen Revolution Fund.