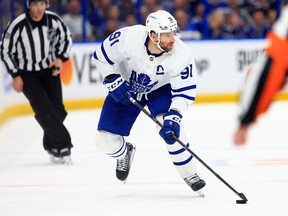 Article content
John Tavares would be thrilled to report for work in Montreal on Wednesday.
Article content
At the same time, the Maple Leafs captain knows that getting a doctor's note might be prudent.
Article content
On Saturday, Tavares took another crucial step in his return from an oblique injury, initially taking part in an optional skate at Scotiabank Arena and then staying on the ice with non-game players for practice.
Article content
We'll learn in the next few days whether Tavares will be ready for the 2022-23 regular season opener against the Canadiens on Wednesday night at the Bell Centre. Following a day off for all the Leafs on Sunday, Tavares is expected to be a greater participant in practice on Monday, even if it's in a non-contact role.
"I would love to be ready to go for Wednesday," Tavares said in his first media availability since Sept. 26. "I don't think there's any hockey player or athlete that wouldn't want to be available anytime there's a chance to compete, especially at the start of the year.
Article content
"But at the same time, you have to look at the big picture. There are four (Leafs) games in six nights (to start the season), we have an 82-game grind and hopefully a two-month grind after that. 
"I'll continue to hit my checkpoints day by day, get the feedback and we'll assess each day where I'm at and hopefully that's the case (that he plays in Montreal). 
"If not, that's all right and we'll continue to get ready."
The Leafs are unlikely to practise this Friday after a back-to-back set to kick off the season, and then play host to the Ottawa Senators on Saturday. It could be that Tavares makes his season debut on Oct. 17 against Arizona.
In 2019, Tavares suffered an oblique injury while preparing to play for Canada at the world championship and missed the tournament. His ailment now is different, he said. 
Article content
Tavares initially was hurt in a pre-season game against Ottawa on Sept. 24, and had a second issue during practice two days later. 
"I took a cross-check (against the Sens), but it wasn't hard and just got me in the right spot," Tavares said. "I was sore and stiff, but thought it was a little bit of soreness, (from playing) in the first game in (several) months.
"Partway through practice that Monday I just felt something grab on me and it got progressively sore as the day went on.
"(The injury in 2019) took some time. I wasn't moving very well for a couple of weeks. This one just felt more like a bruise. 
"We noticed a strain on top of that, but I was able to get right back into the gym and not have to go through slow stages of a diligent rehab. I was able to get after things right away and progress was good, so we've been able to push it and gets me to this point."
Article content
Tavares — who took a moment with media to congratulate his uncle, lacrosse legend John Tavares, and Leafs assistant general manager Dr. Hayley Wickenheiser on their induction this past week into Canada's Sports Hall of Fame — has had various injuries during a National Hockey League career that started in 2009, but not one that kept him out of the majority of training camp and the pre-season. As such, he knows that when he does return, he's going to have to hit the ground running.
"You're being judged and expectations are there (before the season starts), so you lose that," Tavares said. "I have to use my experience and what I have available to me to do the best I can to adapt."
One bonus with Tavares out is that Leafs coach Sheldon Keefe has been able to get a further look at William Nylander at centre. Overall, Tavares has been encouraged by the competitive nature of the past couple of weeks.
"It has been extremely competitive and guys want to be a part of this (team)," Tavares said. "It has been tough watching. You want to be out there and be a part of it.
"It inspires me to do everything I can to get back as soon as possible."
twitter.com/koshtorontosun