Despite the proven electoral success of big-tent parties, some in Saskatchewan seem to think a bunch of pup-tent parties is preferable.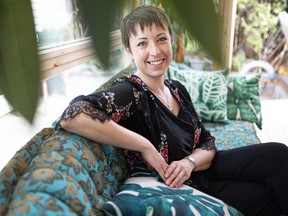 Article content
It looks like it's party time in Saskatchewan's political sphere.
Article content
That is, the solution to a difference of opinions now seems to be to establish a brand new party.
NDP leadership candidate Kaitlyn Harvey, who faces off Sunday with Carla Beck for the Opposition party's top job, became the latest to reveal — or is it mildly threaten? — talk of a new party where progressives would feel more comfortable.
Harvey suggested the NDP establishment helped force former leader Ryan Meili out and resists the influence of people like her, who want more action on environmental issues. She mentioned discussions about a labour party.
That likely produced eye rolls for political observers who are skeptical of the prospect of further fragmenting the support for a party that won 13 seats and got 32 per cent of votes in the 2020 election.
Nothing could make the governing Saskatchewan Party happier — except maybe that similar thinking seems to be taking place on the right side of the political spectrum.
Forget the big tent party, despite its proven electoral success; current thinking in Saskatchewan seems to be that a bunch of pup-tent parties is preferable.
Two groups are competing to become the first to register as a right-wing alternative to the Saskatchewan Party: the Saskatchewan United Party and True North Saskatchewan.
In addition, the Buffalo Party was formed in 2020 for this same reason after starting as Wexit Saskatchewan.
Party time, indeed.
What's perplexing is why anyone would feel the need for a new party in Saskatchewan. The province already has six registered political parties, the same as Manitoba, which has a larger population.
Article content
Alberta has 12 parties with nearly four times the population of this province and British Columbia has 15 with well over four times as many people.
The other Western provinces all have registered communist parties. Maybe that's what Saskatchewan is missing.
Also puzzling is that splintering is well established as an impediment to electoral success.
Yet both progressive and conservative parties and voters engage in what seems an eternal debate over whether to serve true believers regardless of success or to sacrifice some principles in pursuit of power.
The Saskatchewan Party, formed 25 years ago this summer by uniting Progressive Conservatives and Liberals to defeat the NDP, established a winning template by uniting rather than dividing.
But if there are any remaining Liberals or liberals supporting the governing party who still feel well served as it lurches to the right to appease the folks determined to challenge it, they need to explain how and why.
In case Harvey is unaware, Saskatchewan has a Green Party, which focuses on environmental issues. That party fielded 60 candidates in the last election and got 2.25 per cent of the vote.
As for the right, if you're skeptical of the Buffalo Party, and especially its dubious leadership race, for which it has never released results, there's still the good old Progressive Conservatives.
The surviving PC party regards itself as located to the right of the Saskatchewan Party. And, as far as we know, the party still maintains control of a $3.3-million trust fund that would be the envy of any of these startups.
Article content
The PCs were supposed to elect a new leader this year to replace Ken Grey, who left after the last election, warning of "terrifying" elements inside the party driven by far-right conspiracies. Under Grey, the PCs fielded 31 candidates, the most since the Saskatchewan Party was formed, but failed to crack two per cent in 2020.
Intriguingly, information about the upcoming PC leadership contest has been removed from the party's website — only a single candidate is believed to have declared — and a policy convention planned for this month in Saskatoon was cancelled.
The party did not reply to a message seeking an explanation, but it does not take much imagination to wonder whether the PCs have entered into talks with one of the new political entities on the right.
Imagine focusing on unity instead of division. That doesn't sound like the Saskatchewan way, at least recently.
Tank: It's time to abandon Saskatchewan's fixed election date farce

Tank: Slumping Saskatchewan NDP serves up lacklustre leadership race
Want to know how we decide what to cover and how editorial decisions are made at the Saskatoon StarPhoenix and Regina Leader-Post? Get the weekly Letter From the Editor newsletter from the Editor in Chief Russell Wangersky and join the discussion on what goes into covering news and delivering commentary, both in print and online. Click here to subscribe.