You're not dreaming if you think you see castles in the West Island, but you are if you think there'll be an open house.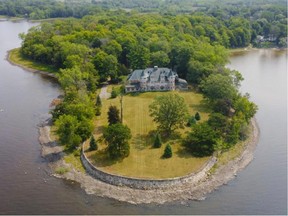 Article content
They say your home is your castle, and now you can actually buy one — complete with turrets, stone walls and manicured grounds, and be the king or queen of all that you survey.
Article content
The southern West Island is known for mansions along the lakeshore and seven-figure price tags. Eight-figure properties are a rarity, yet two waterfront estates described as castles are listed on Centris, the online database of Quebec property listings: one in Senneville, the other in Dorval. Last year, a 2.4-hectare Senneville estate set a record for the highest publicly listed residential property sale in Quebec. It was listed at $19,885,000.
Article content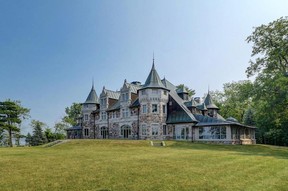 It appears the West Island has a leg up on in-demand features that are hard to come by in town — waterfront and a lot of land. The property on Senneville Rd. is listed at $19 million and sits on just over 7.6 hectares of land on a private peninsula overlooking Lake of Two Mountains. The Dorval property on St-Charles Ave. is listed at $19.5 million and is on about half a hectare of waterfront. Last year's record-breaking sale was also a waterfront estate.
Article content
The Senneville residence is listed by Sotheby's International Realty Québec brokers Susanne Stelmashuk Chernin, Diane Stelmashuk and Louise Jackson, also known as the Power Sisters.  It has a municipal property evaluation of $13,730,000 and has been on the market for several months. The castle boasts nine bedrooms, seven bathrooms, three powder rooms and a total of 37 rooms in 18,400 square feet of living space.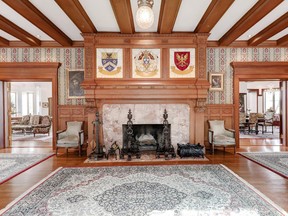 "The location is sensational on the island of Montreal, it's about 10 kilometres from Highway 40, yet you're on Lake of Two Mountains. You have a gated entrance and a long, private, wooded driveway; it's like living in your own little world. It's quite the lifestyle," Stelmashuk said.
The stone castle is also known as Bois-de-la-Roche. It was completed in 1899 for Louis J. Forget, who was a businessman and senator. The interior has been completely renovated, while the stone exterior and copper roof, inspired by castles in the Loire Valley, France, have been preserved. The castle comes with a modern kitchen, sunroom, elevator, 12 fireplaces, an office, grand hall and indoor pool.
Article content
---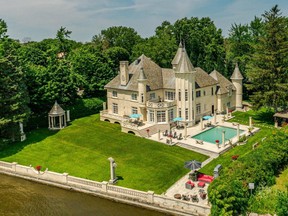 The other castle is a relative newcomer. Built in 1999, it has a hotel-size in-ground pool overlooking Lac-St-Louis. The interior has 14 rooms, including four bedrooms and bathrooms, two powder rooms, stone interior walls, a chef's kitchen, an office and a basement with old masonry stone walls and ceilings of stone and wood planks. The cut-limestone castle has a property evaluation of $4,425,900 and has been on the market since August.
"The owners were inspired by French châteaux and had the residence built by artisans who build castles in France," said listing agent Joseph Montanaro of Re/Max Action Westmount. "There's a tower about five storeys high and it's a self-supporting structure with an integrated spiral staircase, just like European castles." He added that "the home can't be built today for $20 million between the land acquisition and the material and labour that went into building the home."
Article content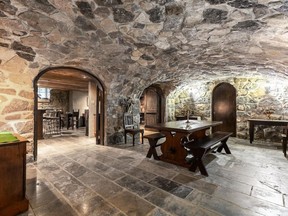 The sellers are the original owners who raised their family in the 7,000-square-foot residence and are now empty-nesters, said Montanaro, who noted the property could attract another family or an executive who wants to be close to the airport. The property is not under a flight path.
"Typically, a buyer of a West Island luxury estate is someone who doesn't have to drive into the city for work, somebody who might be a little older or is self-employed or who doesn't need to work any more," Montanaro said.
You're not dreaming if you think you see castles in the West Island, but you are if you think there'll be an open house.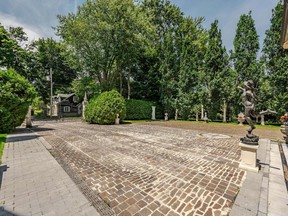 West Island cities face soaring property valuations in 2023

Senneville mansion is most expensive home sold through MLS in Quebec