A police notice that oleoresin capsicum — the inflammatory substance in pepper spray — had been used was posted on the door of the second-floor unit where the incident took place, but that information was not distributed to other residents of the 84-unit building.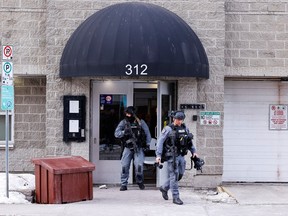 Article content
"Hi everyone. Do you think we should go down and see if the police would like us to put (on) a pot of coffee for them?"
Article content
"In my experience, the SWAT team does not want a cup of coffee. They will tell you to get back," Amy Beth Allan replied.
Article content
"Nice idea, though."
It was 9:28 a.m. on Feb. 21, and tenants of 312 Cumberland St. had for hours been the unplanned hosts of a tactical police operation after a 64-year-old man was fatally shot elsewhere in their ByWard Market neighbourhood. Five floors above the unit sheltering the suspects, Brian Baskerville was in his apartment, messaging fellow members of the "tenants' circle" about showing the cops some hospitality. 
Baskerville asked Allan if she and her husband, residents of the building's sixth and second-highest floor, were experiencing any trouble breathing. 
"We on the seventh floor are coughing our heads off!" Baskerville said. He would later explain that, although he quickly learned through his own initiative that a pepper-spray vapour had been released, his reaction in the early minutes had been one of confused anxiety: that something was up with his remaining lung, the other removed following a cancer diagnosis.
Article content
With the suspects safely taken into custody, a successful police operation wound down. But consternation was building in the group chat between the volunteer tenant leaders. The deployment of the chemical agent in their Ottawa Community Housing building was a concern. "Marta was sore throat, eyes burning, cough all the time," Luis Santos messaged about his wife, who was home when it happened.
But the real kicker was the lack of follow-up from authorities. There was no formal notification of residents that a substance had been deployed, according to the tenants' circle, even though it wreaking respiratory havoc on occupants of the top floors. The building has approximately 130 tenants, including seniors, children and individuals with mental and physical health challenges. 
Article content
"The coughing is a big problem, and they should've let people (know) by going door to door," Baskerville, 61, argued in the group chat.
"My wheelchair is broken. I can't (exit) the building," Allan messaged back. She has heart disease and ssays she's on a list of vulnerable tenants, maintained for the purpose of providing assistance in emergencies like fire. "No one came to check."
On the dented door of the second-floor unit at the centre of the Feb. 21 operation, this newspaper found a notice left behind advising that oleoresin capsicum — the inflammatory substance in pepper spray — had been used as part of a police response. It listed potential, temporary symptoms from exposure and advised that, if any of them persisted, people should seek medical attention. It also suggested they consider talking to doctors about any pre-existing medical conditions that might be aggravated by the chemical agent. 
Article content
That information was not distributed to other residents of the 84-unit building, the tenants' circle said, while the first widespread tenant check-ins by Ottawa police and community housing came two days after the fact.
"Too late," Baskerville and Allan said.
While this newspaper's request for an interview was not granted, the Ottawa Police Service said via emailed statement that, in addition to being posted on the second-floor unit's door, a copy of the notice about use of a chemical agent was "given to the apartment building's security team, including updating them on the effects of the OC vapour so that they could respond to any tenant concerns.
"Additionally, prior to leaving, our officers ensured that there was adequate ventilation in the area, which resulted in the air quality returning to normal levels."
Article content
It's unclear just how many tenants were impacted by the vapour release. This newspaper spoke to some who experienced symptoms — all on the highest floors — and others who didn't. OPS did not respond to questions about whether anything happened improperly and why residents floors away from the targeted unit had been impacted.
Dale Grant, a fourth-floor resident, said he wasn't impacted by the vapour, but had spoken to a neighbour on the fifth floor who was. "He felt the fumes and everything come up … He said, 'I couldn't see, I couldn't breathe, I was coughing, my eyes were watering … It was the worst thing that I've ever experienced in my life.'"
Ottawa Community Housing also declined to make someone available for an interview for this story. Responding to emailed questions, OCH manager of public and stakeholder relations Danielle McGee said anyone "who connected with OCH expressing health concerns related to the police operation was advised to call 911 immediately."
Article content
Ottawa Paramedic Service spokesperson Marc-Antoine Deschamps said it did receive one call at 312 Cumberland St. at 9:55 a.m. on Feb. 21. One patient was assessed and released at the scene.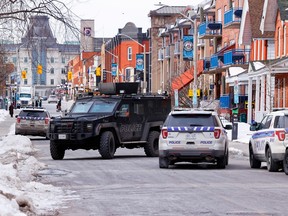 As soon as the police operation concluded, McGee said OCH initiated a "post-incident protocol" that involved "connecting with community partners and tenants," while OCH staff "provided resources for residents" that same day. The two specifics she listed were an information sheet with Lowertown-area crisis resources and another on coping with a traumatic event, which Baskerville said he taped up at locations around the building.
Two days after the OPS tactical team cleared out, an OCH staff member, police and community support workers went door-to-door to check in with residents of 312 Cumberland. Afterwards, they sat down to debrief with members of the tenants' circle.
Article content
It didn't pacify the building's volunteer tenant leaders. Sitting in their community room and sporadically coughing more than 48 hours following the vapour deployment, Baskerville said he saw a continued job for the tenants' circle — "pure passion work," Allan called it — to keep pushing OCH and police to lay out their plan for any future event of this sort. Their volunteer group has a close relationship with contacts at both parties, he explained, but that doesn't mean they won't be critical when feeling they've "dropped the ball."
Allan said it have meant the world for an OCH representative to be present at the building on Feb. 21, even if they couldn't say much, given the ongoing nature of the police investigation.
"Just show up," Allan said, "and we'll put a pot of coffee on."
Unions and veterans decry privatization of rehabilitation services

OPH warning parents to make sure children's vaccinations are up to date amid rising measles concerns