Alberta Health Services said Wednesday that water quality has returned to acceptable levels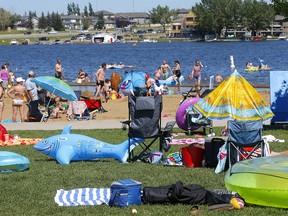 Article content
Swimming is again permitted at three Chestermere Lake beaches after health officials lifted an advisory triggered by high levels of fecal bacteria found in the water.
Article content
Alberta Health Services said Wednesday that water quality has returned to acceptable levels at Anniversary Park Beach, Cove Park Beach and Sunset Park Beach.
The City of Chestermere closed access to the water June 17 as a precaution after high levels of fecal bacteria attributed to spring runoff and heavy rains were recorded. The three beaches had remained open.
AHS now says the health risk is low for recreational users of the water.
"As always, visitors and residents are reminded to never drink or cook with untreated water directly from any lake or reservoir, at any time," it said in a release.