RCMP say brandishing imitation firearms is dangerous because the public and police often can't tell they're not real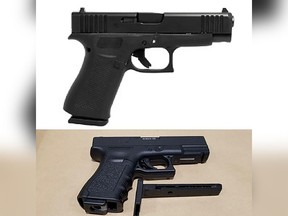 Article content
Police in Surrey are once again reminding the public not to wander around with imitation firearms that look like real guns.
Article content
Surrey RCMP are highlighting two recent investigations: One in which a youth was seen brandishing what looked like a handgun in a busy shopping mall and another later the same day when a fake gun was pulled during a road-rage incident.
The RCMP say calls about imitation firearms like BB guns, pellet guns and airsoft rifles are dangerous for the person holding the weapon, which police have to treat as real until proven otherwise.
"Calls that involve weapons prompt a heightened police response for both public and officer safety," says Insp. Neil Kennedy. "Imitation firearms can pose significant problems as it can be difficult for the public and police officers to distinguish the difference between real and imitation."
Article content
Rules on licensing, registration, storage, display and transportation of high-powered air guns are the same as for conventional firearms. Less powerful air guns aren't considered firearms for licensing and registration purposes but can be considered so under the Criminal Code if they are used in a criminal or negligent way.
Investigations remain open in these two cases:
On June 23 at about 6 p.m., officers were called about a young man threatening another with what looked like a silver handgun at a busy mall. Police inspected the realistic-looking gun and found that the cylinder and cartridges were imitation.
Later that evening, police were called to a road-rage incident in which a man pulled down his car window and pointed a gun at another driver. A suspect was pulled over and a BB gun that looked like a Glock handgun was found in the vehicle.
Charges haven't been laid in either case but the investigation continues.
Police say imitation guns should only be used in designated areas, gun ranges or on private property. They should be kept out of sight and locked in a secure case "to prevent misunderstandings, accidents or thefts."