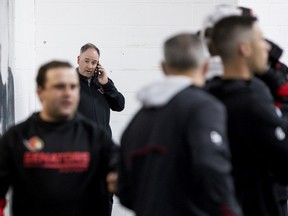 Article content
Pierre Dorion has had his work cut out for him when the calendar turned to July.
Article content
He has wasted no time getting down to business and he's done yeoman's work in the process.
As the first day of National Hockey League free agency wrapped up Wednesday, the Ottawa Senators' general manager crossed another task off his list by signing unrestricted free-agent forward Claude Giroux to a three-year deal.
Article content
That followed on the heels on the massive trade that sent the Senators' top selection in the first-round of last Thursday's NHL draft in Montreal to the Chicago Blackhawks for two-time 40-goal scorer Alex DeBrincat, and then two more trades.
Underachieving goaltender Matt Murray was sent to the Toronto Maple Leafs with a couple of draft picks and some retained money to get his contract off the books. Just for good measure, the Senators dealt goalie Filip Gustavsson to Minnesota for veteran Cam Talbot.
Article content
If that wasn't not enough already, Dorion is still trying to acquire a right-shot defenceman either through trade or free agency, but he wanted to set all that aside Wednesday to focus on the acquisition of the 34-year-old Giroux, who can help this team get to the next level.
Dorion started a news conference Wednesday by thanking the three-person board to whom he has been reporting since owner Eugene Melnyk passed away in March — Sheldon Plener, Larry Zeifman and John Miszuk — for their support, along owners Anna and Olivia Melnyk.
One of the goals during this off-season was to reinvigorate the brand and help the Senators get to the next level, pushing for a playoff spot next season. The moves made in the past week improve their chances, if everything falls into place.
Article content
"When you get a chance to get someone of this talent into the organization, it's a no-brainer," Dorion said. "The board and Anna and Olivia were a great support in everything we've done, but I think they're really excited about this one."
No, this isn't it for Dorion by any stretch. He has more i's to dot and t's to cross before training camp opens in late September. There are negotiations to be done with restricted free agents Josh Norris, Mathieu Joseph, Alex Formenton and Erik Brannstrom.
Dorion wrapped up Wednesday by trading winger Connor Brown to the Washington Capitals for a second-round pick in 2024. Ideally, the club would have liked to have acquired a defenceman for Brown, but there will be other opportunities.
Article content
Dorion has kicked tires on virtually every defenceman available for trade, including the likes of Florida's MacKenzie Weegar, Arizona's Jakob Chychrun and San Jose's Brent Burns.
Burns was dealt to the Carolina Hurricanes on Wednesday in the midst of the free agency signings.
It has been widely reported that Pittsburgh defenceman John Marino is on the market. He has five years left on his deal, which gives certainty with a cap hit of $4.4 million, but Dorion has other players to sign and may not want to take on that kind of term.
The free-agent market isn't completely cleaned out, either. Local product Calvin de Haan remained available after Day 1 as well, and there are lots of options.
"We're always going to try to get better, and I've stated the fact that almost every team in the league is looking for a top-four defenceman," Dorion said. "If we go into the season with the group we have now, we feel comfortable, but, if we can get better, we'll always look at it."
Article content
Stabilizing the goaltending position by getting Talbot was a strong move. The 35-year-old was a starter for the Wild last season until that club acquired Marc-Andre Fleury, and Talbot will be part of a strong tandem with Anton Forsberg.
The Wild had cap issues and the Senators didn't want to pass on the chance to get Talbot.
"It's a position we felt we need to upgrade," Dorion said. "Anton was great for us last year. We just felt that we have Mads Sogaard, Kevin Mandolese and Leevi Merlainen that all have an NHL ceiling, whether it's as a starter or as a quality backup. We feel they'll be NHL goalies.
"Getting Cam, who only has a year left on his contract, but who's hungry, led Minnesota to the playoffs the last two years and was great for them, we knew we were giving up some upside on Filip Gustavsson, but we just felt having that tandem was something to pass up on."
The Senators also added depth forwards Scott Sabourin and Jake Lucchini and defenceman Kristians Rubins to play with the American Hockey League affiliate in Belleville on Wednesday.
The key to all of these moves is the Senators are a better team, and we'll find out in training camp just what kind of steps they have taken.
Twitter.com/sungarrioch
Giroux signing helps bring a new Sens of optimism in the city

GARRIOCH: Claude Giroux will be the hometown hero for the Ottawa Senators