"Anything's possible if you just believe in yourself," 6-foot-4, 238-pound undrafted defenceman Arber Xhekaj says.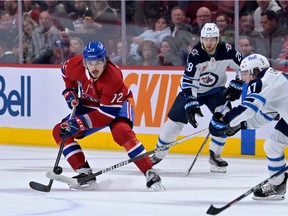 Article content
Arber Xhekaj has a real swagger — on and off the ice.
Article content
On the ice, the Canadiens defenceman is a bit of a throwback to the old days of Rock'Em Sock'em Hockey, which earned him the nickname "The Sheriff" while playing junior for the Kitchener Rangers and Hamilton Bulldogs after not being selected at the OHL draft.
Article content
Off the ice, the 21-year-old has a flashy fashion sense that includes cool suits and hats.
The 6-foot-4, 238-pound Xhekaj wasn't selected in the NHL draft, but he managed to earn a spot in the Canadiens' opening night lineup Wednesday at the Bell Centre against the Toronto Maple Leafs.
Nick Suzuki still remembers the first time he played against Xhekaj (pronounced Jack-eye) in the OHL when the new Canadiens captain was with the Owen Sound Attack.
"He was a rookie," Suzuki recalled. "All I remember from when I played against him was he didn't play much, but he was chirping the guys. In warmups, he was trying to get in our heads. Honestly, no one really knew who he was.
Article content
"It's great to have him now on the (Canadiens)," Suzuki added. "He's worked extremely hard and he earned his spot here, so it's pretty impressive."
Xhekaj also remembers the first time he faced Suzuki in the OHL.
"I was new to the league. I was just trying to make a name for myself … kind of the same type of thing here, but I play a little bit more now," Xhekaj said with a grin. "I ended up chirping guys on his team, chirping him. Messing with him in warmup a little bit, trying to do something to get under his skin because they were a good team.
"I didn't really know how to play defence," Xhekaj added. "I had never been taught actually how to play defence."
That was only four years ago.
Article content
Two years ago, when the OHL was shut down because of COVID-19, Xhekaj was working at a Costco in his hometown of Hamilton and figuring he'd become a fitness trainer in the future.
Now he's playing for the Canadiens with a contract that pays him US$820,000 in the NHL and US$70,000 if he is sent down to the AHL's Laval Rocket.
"It feels like the hard work is starting to pay off now," Xhekaj said. "But, obviously, you're never safe here and you could get sent down at any moment, so you've got to earn your spot every day and keep going.
"I think it shows that you're never really done until you're done," Xhekaj added about his unlikely journey to the NHL. "I think if you put your mind to something and you keep going, then you can reach anything. Anything's possible if you just believe in yourself. I think I proved that for a lot of kids because I wasn't drafted in junior or here (in the NHL). But I think if you just keep your mind to it and believe in yourself, good things can happen."
Article content
Xhekaj impressed veteran goalie Jake Allen with his performance during the preseason, which included getting under the skin of the Ottawa Senators during a Kraft Hockeyville game in Gander, N.L., and dropping the gloves with Austin Watson.
The first thing Allen noticed about Xhekaj was how big his hands are.
"He's been great," Allen said about Xhekaj. "He's come in as advertised. I watched him in the Memorial Cup this year and knew he's part of our system. He's come in here and opened some eyes. I think you have to make an impression and he's done that. He's obviously thrown his body around and his fists around. But I think more than that he's proved that he's played a fairly stable, stay-at-home game, not trying to do too much. He's got a little bit more offensive instincts than I first anticipated, so he's going to be a good prospect for us."
Article content
Fighting has become less a part of the NHL, but intimidation is still a factor. There was a game late last season in New Jersey when the Devils were targeting Suzuki and Cole Caufield and it was Chris Wideman — all 5-foot-10 and 180 pounds of him — who came to their defence.
Now there's a new Sheriff in town.
"You can't really teach how to fight until you get punched in the face," Xhekaj said. "Either you like it and you're going to hang in there, or you don't like it. It can go two ways. I just kind of taught myself."
Where did his eye for fashion come from?
"I don't know," Xhekaj said. "I just really like suits. I usually don't have the same pants and jacket … I like to mix it up and I like to put on some cool hats. Anything that pops out or is unusual, I'll usually buy that suit. That's kind of the way I go."
Canadiens fans could really fall in love with this guy.
Canadiens season preview: Slafkovsky makes the cut | HI/O Show

Stu Cowan: The future starts now for the Canadiens

Pat Hickey: Habs season preview — the good, the bad and the ugly