It's unfortunate that Montreal fans never really got to know the captain of a team they love so much.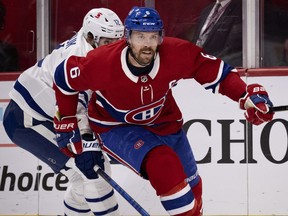 Article content
More than two months after the Canadiens traded P.K. Subban to the Nashville Predators, I wrote a column that started with: "Where's Shea Weber?"
Article content
It seemed strange in early August 2016 that Weber had yet to step foot in Montreal — or even do a conference call with the media — since the blockbuster trade that brought him to the Canadiens. Subban had already made his first trip to Nashville a few weeks earlier, meeting the media and fans while embracing his new city, even going on stage at the famous Tootsie's Orchid Lounge to sing a Johnny Cash song.
It was P.K. being P.K. with a personality so many Canadiens fans fell in love with.
It would be hard to find two more different personalities than Subban and Weber. Former Canadiens GM Marc Bergevin believed Subban's personality had become too big for the locker room and jumped at the opportunity to acquire Weber before Subban's no-movement clause in his contract kicked in.
Article content
The Predators, on the other hand, were looking to trade Weber's contract more than the player. Weber was four seasons into the 14-year, US$110-million deal the Predators matched after he received a ridiculous offer sheet from the Philadelphia Flyers.
Last week, the Canadiens were able to trade the final four seasons of Weber's contract to the Vegas Golden Knights in exchange for Evgeny Dadonov. Meanwhile, Subban's eight-year, US$72-million contract has expired after three seasons with the New Jersey Devils and he will become an unrestricted free agent.
So, who won the blockbuster trade?
Well, both teams made it to the Stanley Cup final once after the trade — and lost — and both teams got what they wanted. Now that the Canadiens have been able to get rid of the final four seasons of Weber's contract, let's call it a draw.
Article content
A couple of months after the trade, I reached out to Adam Vingan, who was covering the Predators for the Nashville Tennessean, to find out what Weber was like, since he had yet to show up in Montreal. Vingan was one of only three reporters who covered the Predators on a daily basis — and two of them worked for the team website.
"He's a great guy," Vingan said. "He loves baseball … he has a fantasy baseball team and he loves to talk about that. He's a very personable guy when you're chatting with him, but when the recorder comes on or the camera comes on he can get a little bit — with respect to Shea, and for lack of a better term — a little bit robotic. I'm not sure if he's uncomfortable with the attention."
Vingan added it would be difficult for Weber adjusting to life in Montreal's bright spotlight and that was definitely the case. He didn't embrace it like Subban and didn't seem to realize that being captain of the Canadiens is different than being captain in Nashville.
But Weber's teammates thought he was a great guy and that was the most important thing for the Canadiens. The young players called him "Dad" and he was definitely a father figure. The reaction from Weber's teammates on the ice after what turned out to be his final game in last season's Stanley Cup final spoke volumes.
Article content
Unfortunately, Montreal fans never really got to know Weber and he left the city as quietly as he came in.
The most memorable interview I had with Weber during his time with the Canadiens was early in the 2017-18 season when the team and Max Pacioretty, who was captain, were struggling.
"How am I going to go tell my teammates that we got to be better when I'm the worst one on the ice?" Pacioretty asked a day after a 5-1 loss to the Kings in Los Angeles.
The next day in Anaheim, I had rare chance to sit one-on-one with Weber in the locker room following a morning skate and ask him about Pacioretty's comment.
"I think we're all hard on ourselves … that's why we're at the level we're at," he said.
Weber admitted he had a conversation with Pacioretty, but added: "I don't think there's any point in me saying it to you. Obviously, that's for us to talk about and we have talked. He'll get through it … it's a tough stretch for all of us and we've all got to get through it and we've got to stick together."
Article content
I also had a chance during that rare interview to ask Weber what leadership qualities he had learned from his parents — James and Tracy. His father worked in a B.C. sawmill and his mother, who passed away from brain cancer at age 47 in 2010, ran a hair salon while they were raising two boys. Their main message was that family and hard work come first.
Weber never forgot that. During his time in Montreal, he seemed to only really care what his family, teammates and Canadiens management thought about him.
That's admirable in many ways, but it would have been nice getting to know Weber a little better.
Especially since he was captain of a team so many fans love dearly.
Jack Todd: Good as he was, Shea Weber never connected with Montreal

What the Puck: Shea Weber never quite fit the bill with Canadiens