Winners of Kraft Hockeyville contest get to see NHL preseason game in New Brunswick and also get $250,000 in much-needed repairs to arena.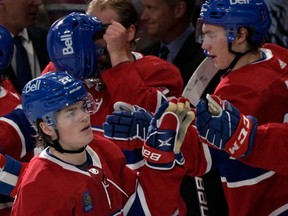 Article content
BOUCTOUCHE, N.B. — Malian Levi had a hard time speaking about what it means to her that the Elsipogtog First Nation won the Kraft Hockeyville contest that brought Saturday night's NHL preseason game between the Canadiens and Ottawa Senators to New Brunswick.
Article content
"I get so overwhelmed … it means a lot to me personally because …. I can't even talk. Jaime, can you talk?" Levi said while fighting back tears as she waited in front of the J.K. Irving Centre for the bus carrying the Canadiens players to arrive for their morning skate.
Article content
"It means a lot to us personally," said Jaime Carpenter, taking over for her cousin. "Our grandfather built the arena (at the Chief Young Eagle Recreation Centre in Elsipogtog First Nation) in the 1970s. He was chief for 25 years and that was his vision to build an arena within our community."
The arena at the Chief Young Eagle Recreation Centre opened in 1979 and became a big part of the community for hockey, meetings, dancing and boxing events. Sadly, the arena was severely damaged by a fire two years ago, leaving it inoperable.
Article content
Malian and Jaime's grandfather, Albert Levi, was once a professional wrestler who went by the wrestling name Chief Young Eagle.
After the fire, Malian and Jaime got together with Sharona Levi, another grandchild of Albert's, and friend Kylie Francis to put together what turned out to be the winning bid for the 2021 Kraft Hockeyville contest. The NHL preseason game was delayed for a year because of COVID-19.
As winners of the contest, the Elsipogtog First Nation also received $250,000 for much-needed repairs to its arena and $10,000 worth of youth hockey equipment from the NHLPA's Goals & Dreams fund.
Article content
Work is still being done on the ice surface at the arena in Elsipogtog First Nation, but it is expected to be back in operation within the next 3-4 months.
"After his career in wrestling, my grandfather came back to the community and was elected chief and was chief for 25 years," Malian said after she was able to get her emotions under control. "During those 25 years he wanted to build a rink in the community. So him and a group of volunteers came together and they raised $3 million in a few years and they built the rink. The rink is actually the first rink to be built in a First Nation community, at least in New Brunswick. The fire happened two years ago after my grandfather had passed away and we found out about Kraft Hockeyville, so then we took the initiative.
Article content
"My grandfather didn't get to see it restored," Malian added while holding back tears again. "We just opened the (arena) doors yesterday for the public to see it."
Many other members of the Elsipogtog First Nation were among the large group of fans outside the J.K. Irving Centre Saturday morning to greet players from the Canadiens and Senators, while getting autographs and photos.
Buffy Ward was there with about half-a-dozen friends and family members, including her husband, Robert, and their one-year-old grandniece, Amirah
"This is wonderful," Buffy said. "It's a great opportunity for our community and for us to get together like this."
Article content
Buffy screamed loudly when she got to meet the Senators' Claude Giroux, her favourite player.
Walter Bernard was there with a group of friends and family members while wearing a Jonathan Drouin Canadiens sweater.
"I'm a Habs fans in general, but I like Drouin because if he can score he can score," Bernard said. "I like his style.
"This is a great thing for our community after our arena burnt down — especially for the children," added Bernard, who showed up two hours before the Canadiens players were scheduled to arrive so he could get a good spot.
Article content
Bernard's son, Colton, was wearing a David Pastrnak Boston Bruins sweater.
"Sorry about that," Bernard said with a laugh.
When Colton was asked if he'd be cheering for the Canadiens against the Senators Saturday night, he said: "No. Never."
Abram Peter Paul, who was part of Bernard's group, was wearing an old P.K. Subban Canadiens sweater and said he's still a big fan of the defenceman who announced his retirement last month.
"This is a good feeling here," he said about the atmosphere outside the arena.
Article content
Abraham Marshall, also part of Bernard's group, was wearing a Josh Anderson Canadiens sweater.
"I like his game," Marshall said about Anderson. "Speed, power, can score and he can fight. Not much to dislike about him."
Marshall said he doesn't have high expectations for the rebuilding Canadiens this season, figuring they will finish below .500, but has hopes they will be able to land the No. 1 pick again at next year's NHL draft and pick Connor Bedard, who is considered to be a generational player.
"Not a lot of people here get to experience an NHL game … I've never been to one before," Marshall said. "So to have this chance to come here and have it so close to home and having our arena rebuilt, it's just a fantastic opportunity for us."
Stu Cowan: Canadiens embrace small-town vibe on special day in Gander

Canadiens receive a very warm welcome from fans in Gander