At 5-foot-8 and 151 pounds, the second-round draft pick was able to steal the show with a couple of highlight-reel goals during scrimmage.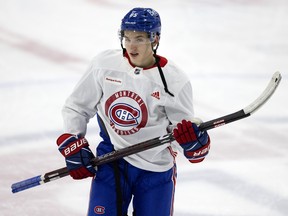 Article content
The Canadiens finally held a scrimmage Wednesday on the final day of their evaluation camp in Brossard, and Lane Hutson stole the show.
Article content
All 5-foot-8 and 151 pounds of him.
Juraj Slafkovsky, the 6-foot-3, 227-pound left-winger who was the No. 1 overall pick at the NHL Draft last Thursday, scored his first goal in a Canadiens sweater only 20 seconds into the scrimmage, but it was Hutson's talent that really stood out during the four-on-four game.
Hutson was like a little ball of fun as he flew up and down the ice with great skating, vision and passing skills. He scored a couple of highlight-reel goals and was also able to poke the puck away from Slafkovsky during a one-on-one battle as the giant winger tried to drive hard toward the net.
Heading into the NHL Draft, Hutson was ranked 25th among North American skaters by Central Scouting and the Canadiens were able to get him in the second round with the 62nd overall pick.
Article content
In 27 games last season in the USHL with the USA Hockey National Team Development Program junior team, Hutson had 6-26-32 totals. In 60 games with the USA Hockey U18 team, he had 10-53-63 totals.
"He was projected to go higher by most rankings," Nick Bobrov, the Canadiens' co-director of amateur scouting, said after the draft about Hutson, adding he was the best defenceman on the American U18 team.
Article content
Hutson will need to gain some weight before he's ready to play in the NHL, and the Chicago native is headed to Boston University next season. He also wants to develop more of a shot mentality to keep opponents on their heels and work on closing plays defensively at the right time instead of getting too excited.
"This kid has a big brain," Bobrov said. "His hockey sense is very interesting. He has a chip on his shoulder that is very real. The size does not deter him, and when you need him I think you get a sense and a flavour for what's inside. What he does on the ice, oftentimes it's highlight reels, it's power play, it's thinking, finding seams, finding plays, lanes. So you have to go after these types of defencemen, because they're hard to find. We have big hopes for him."
Article content
Marie-Philip Poulin, the best female hockey player in the world, who was recently hired as a player development consultant with the Canadiens, was also impressed with what she saw Wednesday from Hutson.
"The way he moves the puck, the way he sees the game, I was very impressed," Poulin said after the scrimmage. "We all know his skill is very fast, but he just always competes. You could see the back-check, coming back, he's always first on the puck. He wants to be there, he wants to make a difference and I think that was very impressive."
Poulin was also impressed by the skill level of Sean Farrell, the Canadiens' fourth-round pick (124th overall) at the 2020 NHL Draft. Farrell also stood out during the first two days of on-ice sessions at the development camp, which featured very fast-paced practices.
Article content
Farrell led the USHL in scoring during the 2020-21 season when he posted 29-72-101 totals in 53 games with the Chicago Steel. Last season the 5-foot-8, 174-pound forward had 10-18-28 totals in 24 games as a freshman at Harvard University, which is where he will play again next season.
What Hutson and Farrell lack in size, they make up with huge talent — just like 5-foot-7, 166-pound Cole Caufield, who flourished last season after Martin St. Louis took over as Canadiens head coach. He scored 22 goals in 37 games.
St. Louis had a Hall of Fame playing career despite being only 5-foot-8 and likes players with big hockey brains, something Hutson and Farrell both have.
"I know I can get bigger, stronger, faster and even taller," Hutson said after the Canadiens drafted him. "That's something that will come as I get older. I think either way, I'll be able to play the game the way I've been playing. It's all about how you play the game, not how big you are or strong."
Article content
Two NHL defencemen Hutson looks up to — or maybe I should say eye-to-eye with — are 5-foot-9 Torey Krug of the St. Louis Blues and 5-foot-11 Adam Fox of the New York Rangers, who won the Norris Trophy as the NHL's best defenceman for the 2020-21 season.
The NHL will be a big jump for Hutson, but he has been able to succeed at every level so far by using his skating and a good stick to his advantage — just like he did when he took the puck off Slafkovsky during Wednesday's scrimmage.
"I use my leverage on the bigger guys," he said. "Something that I really pride myself in is my defending, and then I feel like I've got offensive ability to help the team create chances."
We certainly saw that on Wednesday — and it was so much fun to watch.
Canadiens would only trade Petry in a deal 'advancing our interest,' Hughes says

Artturi Lehkonen signs five-year deal to stay with Colorado Avalanche