Habs will get a taste of Newfoundland's warmth and kindness in the first of two Kraft Hockeyville games to end their preseason schedule.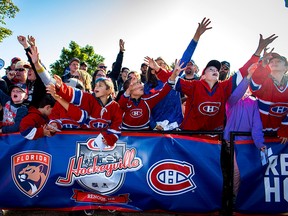 Article content
The place with the nicest people I have ever met in all my travels is Newfoundland.
Article content
My first trip there was to St. John's in April 2016 to cover the end of the IceCaps' season when they were Montreal's AHL farm team and the NHL season had already ended for the Canadiens, who had missed the playoffs.
Article content
It was a trip I will never forget, mainly because of the people.
From the taxi driver who took me from the airport to my hotel, to the woman working behind the counter at Starbucks who called everyone "darling" to the elderly woman who refused to let me sit alone at the Shamrock City Pub and insisted that I join her and her family, there was such a beautiful charm and friendliness from people everywhere I went.
The Canadiens will get a taste of Newfoundland's charm — and I will get my second taste — when they play the Ottawa Senators Thursday at the Steele Community Centre in Gander (6 p.m., TVA Sports, TSN 690 Radio, 98.5 FM).
Article content
More than two years after being named the winner of Kraft Hockeyville 2020, the small fishing village of Twillingate (with help from Gander, which is located just over 100 kilometres away) will finally get to play host to an NHL preseason game.
Gander made international headlines following the Sept. 11 terrorist attacks in the United States in 2001, when 38 planes carrying approximately 7,000 passengers were ordered to land unexpectedly at tiny Gander International Airport. Residents of Gander took in stranded travellers and housed and fed them during the week following the attacks. The incredible story of warmth and kindness was turned into a hit Broadway musical titled Come From Away.
As part of winning the Kraft Hockeyville contest, Twillingate received $250,000 for repairs to the George Hawkins Memorial Arena, which was formerly an airplane hangar in Gander before it was moved and converted into an arena in 1968. Problems with the ice-making equipment, along with some structural and mechanical issues, had put the future of the arena in doubt before Twillingate won the contest. The work to fix the arena is still being completed.
Article content
COVID-19 forced the postponement of the last two Kraft Hockeyville games.
Elsipogtog First Nation in New Brunswick won the 2021 contest after a fire caused significant structural damage to its arena and left it inoperable. Elsipogtog First Nation will play host to its Kraft Hockeyville game on Saturday when the Canadiens and Senators meet again at the J.K. Irving Centre in Bouctouche, N.B. (6:30 p.m., TVA Sports, TSN 690 Radio, 98.5 FM).
Seating capacity at the rink in Gander is only 1,100, so this won't look anything like a regular NHL preseason event inside or outside the arena.
There was a community celebration event planned outside the George Hawkins Memorial Arena from 4-7 p.m. on Wednesday with former Canadien Stéphane Richer and former Senator Chris Neil on hand to sign autographs, followed by a public display of the Stanley Cup.
Article content
On Thursday, the Canadiens and Senators players will receive the red-carpet treatment when they arrive for their morning skates at the Steele Community Centre and then there will be a Q&A session in the afternoon with selected players answering questions from local schoolchildren.
The Canadiens took part in the 2019 Kraft Hockeyville game in Bathurst, N.B., beating the Florida Panthers 4-3 in front of a capacity crowd of just over 3,500 at the K.C. Irving Regional Centre.
Only three Canadiens players who took part in that game — Jake Evans, Joel Armia and Jonathan Drouin — are still with the team.
Article content
Head coach Martin St. Louis said the Canadiens rosters for these two Kraft Hockeyville games will be close to the one he will use for the season opener next Wednesday when the Toronto Maple Leafs visit the Bell Centre.
St. Louis knows these two games will mean a lot to the people in Gander and Bouctouche.
"I remember when I was at the University of Vermont my first year there the Hartford Whalers came in for like a week or something and it was so awesome to see NHL players," St. Louis recalled on Tuesday. "And then the following few years it was the New York Rangers. There was a big buzz around town that they were around. It's special for these small communities. Some people don't have the means to take a trip to Montreal and come watch their idols. We're bringing the show to them, which is kind of cool for them. So I'm looking forward to it."
Article content
So is defenceman David Savard.
"I think it's going to be nice for them to be able to see some NHL games and it's good for us to go see the kids," he said. "I think that's what those games are all about, playing for those communities a little further out. I think it's going to be a fun time for us as a team to get a road trip in and kind of bond together before the end of camp."
Newfoundland is a fantastic place to do that.
Montreal Canadiens sign Logan Mailloux to entry-level contract

In the Habs' Room: St. Louis kept young forwards busy against Senators

Canadiens lose sixth straight preseason game with 5-4 loss to Senators