"I'm excited to see how the young players do and how they deal with life as a professional athlete," he says.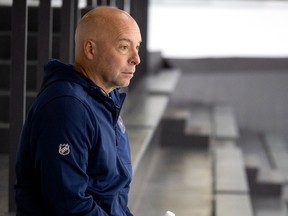 Article content
Canadiens general manager Kent Hughes is an optimist.
Article content
That's a good thing with the massive job he has taken on trying to rebuild the Canadiens after they finished with the worst record in the NHL last season.
Article content
"I think everybody's excited, you can see it," Hughes said when he met with the media Wednesday afternoon at the Bell Centre ahead of the season opener against the Toronto Maple Leafs. "It's the start of a new season and the story hasn't been written yet. There are always teams that are going to surpass expectations and those that are going to probably disappoint whatever those expectations are. I'm an optimist, so I'm excited about the start of the season.
"I go into it believing everybody will be better than we expect them to be," Hughes added. "I know that's probably not the case, but I'm excited to see how the team grows. I'm excited to see how the young players do and how they deal with life as a professional athlete."
Article content
Three Canadiens were making their NHL debuts Wednesday night — Juraj Slafkovsky, the No. 1 overall pick at this year's draft, along with defencemen Kaiden Guhle and Arber Xhekaj.
Hughes said that Xhekaj — who was never selected at the OHL junior draft or at the NHL draft — is a perfect example of the culture he wants to build within the Canadiens.
"I love the notion that we don't fold up a tent," Hughes said in the media room at the Bell Centre. "That you persevere through things. I think everybody here in this room's probably had moments in their life where things weren't exactly what they hoped they would be. Some crawl up and some get up — and that's Arber.
"If we look at the career of our coaches, that's just about everybody in our coaching staff," Hughes added. "That's what we want. What kind of resiliency is a term that we want from all our players and it's great to have those examples around. I think a guy like Arber Xhekaj in this market, it's great for young kids."
Article content
Canadiens head coach Martin St. Louis was never selected at the NHL draft before going on to have a Hall of Fame career. Assistant coach Alex Burrows was never drafted, but played 913 regular-season games in the NHL. Assistant coach Trevor Letowski was a seventh-round pick at the draft and played 616 NHL games. Assistant coach Stéphane Robidas was also a seventh-round draft pick and played 937 NHL games.
Hughes isn't going to measure success in wins and losses this season. Instead it will be measured in how the individual players and the team grow together while creating a winning culture for the future.
"We need to see growth in the collective," Hughes said. "How we play. If we look at our preseason, we lost most of our games by one goal. How much of that is inexperience, how much of that is details in our game? So we want to see growth in that area. We want to see a growth in culture.
Article content
"It's not easy," Hughes added about developing players. "I always felt that the demands of a professional athlete are more mental than physical. If a guy goes out and plays 15, 16 minutes a night, 82 nights of the year — there's 60-, 70-year-olds running ultra marathons. So these players are often tired because of the mental stress and pressure that comes with the job. So we'll see how the veterans start to learn how to manage that situation better and I look forward to seeing how our young guys do."
No young player will face more pressure than Slafkovsky. Hughes liked the way the 18-year-old progressed through development camp, rookie camp, training camp and the preseason games. That's why the 6-foot-3, 238-pound left-winger is starting the season in the NHL on a line with veterans Christian Dvorak and Brendan Gallagher.
Article content
"I think we've seen the start of a process to adjusting from hockey in Europe to hockey in North America," Hughes said about Slafkovsky. "Where he's playing a little bit north-south more, a little bit more physical, and we like that. If we think that he can continue in that direction, then that's great. If he does that and continues to make strides, then he could be here for the full season. And if at any point in time we feel that's no longer the case — or we can't get him enough ice time and that he needs to be somewhere else — then at that point in time we'll make that decision and we'll send him to Laval.
"But I love giving young guys an opportunity to show: Hey, I'm going to get better day-by-day, I'm going to push myself and I'm going to deal with these pressures in a controlled environment," Hughes added. "He's going to have to do that. All of them have to do that."
Hughes is optimistic that they can.
Stu Cowan: There's a new Sheriff in town for the Canadiens

Canadiens Notebook: A very inexperienced blue line for season opener

Jonathan Drouin a healthy scratch for Canadiens' season opener