New director of hockey development Adam Nicholas's goal is to improve players' hockey sense and how they view the game.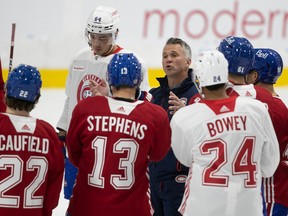 Article content
When Jeff Gorton was hired last November as the Canadiens' executive director of hockey operations, the first thing he wanted to do was bring the franchise into "modernized hockey."
Article content
That included building an analytics department — something the Canadiens never had — and really focusing on player development.
Article content
Gorton hired Christopher Boucher to head a new analytics department and brought in Adam Nicholas as the director of hockey development.
To say Nicholas — who wore red-rimmed glasses and matching tie Wednesday when he met with the media at the Bell Centre — is passionate about hockey development would be a huge understatement.
The first question Nicholas was asked was whether he believes hockey sense is something that can be taught.
He responded by talking non-stop for almost four minutes in explaining why he "absolutely" believes it can.
Nicholas said he used the COVID-19 shutdown to learn more about how the brain works, noting that hockey sense is built through environments and environmental knowledge — how a player views the game — and instance rates. He described how the brain works in cues and reads, so you have to build environments where the brain can "fire recall."
Article content
"When the brain can actually understand the environment, the body starts to move free," he said. "And then when the body moves, then you really have a beautiful sequence when the brain can understand the situation and then respond accordingly."
A lot of the terms Nicholas uses might have old-school hockey minds like former Canadiens GM Marc Bergevin shaking their heads.
When asked to explain what he means by "environments" Nicholas said it could be the neutral zone, a zone entry, the front of the net or the corner.
"There are players in this league that are elite entry players, but they haven't learned the offensive-zone nuances and reads and those type of situations," he added.
Nicholas said he likes to watch the game through a "principal lens" as a way to teach players how to create time and space on the ice physically and cognitively. He added that players need to work together to do that, opening "neuro pathways" so that they're thinking the same way.
Article content
"Once we have shared cognition, we're on the same page," he said. "We now can move beautifully."
He wants to focus on teaching players how to move when they're away from the puck, which is a reason why there are so many mini three-on-three games during practices.
Nicholas said players are used to simply doing physical repetitions during practices, adding development is not about being able to shoot 20 one-timers in a row. He said that detaches the brain from the exercise and only values the biomechanics "and it's not good enough."
Nicholas also believes that development is infinite and that a goal-scorer can always keep working to improve his shot.
Before joining the Canadiens, Nicholas spent three years working as a skills development coach consultant with the Toronto Maple Leafs. He also held similar roles with the USHL's Chicago Steel and the University of Massachusetts at Lowell. He is also the founder and owner of Stride Envy, a company that specializes in skill development, specifically skating techniques.
All these modernized hockey terms Nicholas uses can seem confusing and one of the challenges he will face is getting players to understand exactly what he's talking about.
Article content
The Canadiens' Josh Anderson is a big believer in what Nicholas is selling, saying he has helped him tremendously this summer. Captain Nick Suzuki said the same thing.
Head coach Martin St. Louis said Nicholas looks at the game similar to the way he did as a Hall of Fame player. St. Louis said he was ahead of the time as a player as his game evolved despite the "old school" style of play back then.
"How I sell it to them is through video," Nicholas said. "But I didn't play the game. I played Division 3 … I barely played."
He added: "I probably should have a degree from the University of YouTube in the amount of YouTube video I've watched to educate myself on a lot of things that are actually going on around the world in other sports."
Article content
Nicholas said basketball, soccer and lacrosse are basically the same as hockey when viewed through a principal lens. All that's different is the domain.
"I have to coin it so it makes sense for them," Nicholas said about working with the players. "I don't want to be speaking jargon because if you're inherently the smartest person in the room, sometimes you become the dumbest because nobody can understand you. So I got to make sure that I'm not sitting there and talking above them all the time with these things.
"But also letting them know that I am prepared, I do know what I'm talking about and it's going to work," he added. "That's really the selling piece. That's to me how I build relationships with players, plus I really love every single player in that room. I truly, generally love them and as you guys can see me on the ice, I have energy."
There's no doubt about that — along with a booming voice that bounces around the Bell Sports Complex in Brossard when Nicholas is running a practice.
"We are on the right side of the curve when it comes to player development in the National Hockey League," he said. "We are — and I firmly that."
Kaiden Guhle looks ready for NHL as Canadiens lose 4-3 to Jets

Stu Cowan: Jeff Gorton's path to Canadiens began as a Bruins intern

Jeff Gorton says he was surprised to get job offer from Canadiens