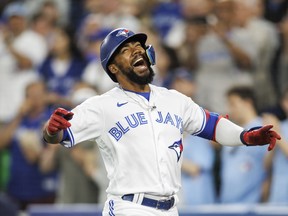 Article content
The John Schneider era has begun with resounding success.
Article content
Even to the least trained baseball eye, there was nothing different about the Jays who took to the field Wednesday from the group Charlie Montoyo managed before he was sacked earlier in the day.
They were aggressive at the plate, stuck with their defensive shifts and still did what ball players do as part of their daily routine.
Article content
It helps when early leads are manufactured and when an energy level is sustained.
Vladimir Guerrero Jr. and Teoscar Hernandez each took Philly starter Zack Wheeler deep as the visiting Phillies found themselves in a hole that only got deeper.
Wheeler wouldn't make it out of the fifth inning, leaving the game with one out and the Jays leading 6-0.
Overall, the Jays were quite good on this night, earning Schneider his first win as manager as Toronto swept its mini two-game set by downing Philly, 8-2, at the Rogers Centre.
Article content
Well before opening pitch, the Jays announced the move to replace Montoyo with Schneider on an interim basis.
"These guys know how to play and they know how to have fun,'' said Schneider. "I don't want to get in the way of that."
For obvious reasons, athletes tend to have more fun when their team is winning.
But despite Tuesday's 4-3 win over Philly, the Jays had lost nine of 10 games and were not playing up to the expectations many had envisioned.
Montoyo paid the price for the underachieving Jays.
The only sign of duress for the Jays on Wednesday arrived in the top half of the seventh inning when Toronto starter Ross Stripling induced a grounder to short.
Bo Bichette caught it cleanly, but his throw to first hit the dirt and went off the glove of Guerrero to put a base runner at first.
Article content
Bichette was charged an error.
Bryson Stott would take Stripling deep with two outs by belting a two-run bomb.
Until that errant throw, the Jays were clean and the beneficiaries of superb pitching from Stripling.
Winners now of two in a row and with an underwhelming Royals team about to crack open a four-game series, Toronto is well-positioned to enter the all-star break on a winning streak that could reach six games.
Stripling went seven innings, striking out six and surrendering just two hits.
Jose Berrios went six innings in the series-opening win Tuesday when he struck out 13 in his second quality start.
Stripling was just as good.
Hernandez ignited the bats by going deep twice en route to a four-RBI evening.
WHEELER DEALER
There haven't been many pitchers as dominant as Wheeler, who took an 8-4 record and 2.46 ERA to the mound at the Rogers Centre.
Article content
He pitched two clean innings to open the game, punctuated by back-to-back strikeouts of Hernandez and Lourdes Gurriel Jr.
Stripling was no slouch himself, retiring the Phillies in order in their first at-bats.
Combined, the two starting righties threw 17 pitches in the first inning, including 14 for strikes.
Stripling went through the order without yielding a single base runner.
The game's first base-runner was Matt Chapman, who worked a leadoff walk to begin the third inning. He came around to score the game's first run on a force out.
The Jays did far greater damage in the fourth inning when three runs would cross the plate.
ROYALS FLUSHED
Philadelphia played its two-game series minus four players, catcher J.T. Realmuto, infielder Alec Bohm and pitchers Aaron Nola and Kyle Gibson because Canada requires a vaccine to enter the country.
Article content
With Kansas City coming to town to open a four-game series, the Royals will be without 10 players.
No reason was given, but suffice to say vaccination is at the root of the issue.
The list of 10 is highlighted by all-star outfielder Andrew Benintendi, first baseman Hunter Dozier, second baseman Whit Merrifield, outfielder Michael A. Taylor, outfielder Kyle Isbel catchers MJ Melendez and Cam Gallagher and pitchers Brad Keller, Brady Singer and Dylan Coleman.
Merrifield and Taylor are injured and weren't in the lineup Wednesday when K.C. defeated Detroit, 5-2.
To fill the 10 roster spots, the Royals will turn to the minor leagues where a handful of players aren't on the team's 40-man roster.
"We're really looking forward to providing an opportunity for some of our players that we want to continue to look at and that we think are a big part of our future anyway," team president Dayton Moore told reporters. "And so we're looking at this as a really important opportunity for them and us."
Players making the trip who are not part of the 40-man roster will be able to return to the minors without fear of exposure to waivers, said the Royals.
Either way, the Royals will be undermanned when they come to town.