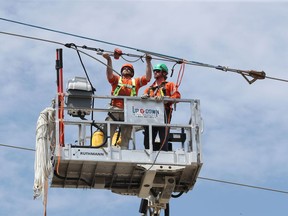 Article content
The number of Hydro Ottawa customers still off the grid following the devastating May 21 storm to 300 on Wednesday evening, Hydro Ottawa tweeted, down from 1,400 earlier in the day and from 2,300 as of Tuesday night.
Article content
For those still not connected to the grid, the continued outage is due to factors including tree contacts and damaged equipment, a Hydro Ottawa spokesperson said earlier in the day.
"The good news is, we still have crews working around the clock, with the support of our contractors and other utilities, so our hope is still to have the power back up for all of our customers who sustained an outage as a result of the storm by the weekend," Josée Larocque, manager of media and public affairs, said in an email.
The utility's outage map is back online, so customers can see an estimated time for their power to be restored. Anyone who doesn't have power, but doesn't see their street on the map should report it at 613-738-0188 or online.
Article content
Customers with power may experience temporary outages as electricity is restored in their neighbourhood or on nearby streets.
While 98 per cent of the city's electricity grid had been restored as of Tuesday afternoon, work on the remainder is proving to be "long, hard and laborious," Hydro Ottawa CEO and President Bryce Conrad said at a briefing.
The situation on the ground was still chaotic and dynamic as crews discover more damage than expected or in some cases are able to restore power more quickly, he added. Houses with damaged electrical systems need repair before power can be restored to them, Conrad said.
"We have people standing by to assist in that case."
The utility issued a safety warning Tuesday reminding that crews "are working under trying and difficult circumstance."
Article content
Give crews space to work safely, follow their direction and signage — equipment can pose hazards even when workers are not present. Walk in designated areas and ask for help if feeling unsafe or uncomfortable, Hydro Ottawa said.
If driving, stick to designated areas, slow down near crews and keep a safe distance.
"Crews operate day and night in all weather conditions when responding to emergencies," Hydro Ottawa said, warning residents to be extra careful when it's dark or in bad weather. S
Showers with the risk of thunderstorms are forecast for Ottawa Wednesday.
The City of Ottawa is running four community support centres from 10 a.m. to 7 p.m. at the CARDELREC Recreation Complex at 1500 Shea Road, François Dupuis Recreation Complex (2263 Portobello Boulevard), Howard Darwin Centennial Arena (1765 Merivale Road) and Hunt Club-Riverside Park Community Centre (3320 Paul Anka Drive).
Article content
Find more City of Ottawa resources on storm recovery online.
If you were cooking when the power went out, turn off the stove, oven or or other appliances, Hydro Ottawa warned. Turn off all lights, unplug appliances and electronics, and turn down heating system thermostats to avoid a power surge when electricity is restored.
The utility is asking residents to conserve energy and avoid turning on all electronics and appliances to avoid straining the supply.
The number of bus routes rerouted due to storm damage dropped Wednesday with routes 9, 11, 61, 80, 187, 199, 670 remaining on detour, OC Transpo said.
-with files from Jacquie Miller
Article content
Read more coverage of the Ottawa storm: