Tasya Teles and Harlan Blayne Kytwayat talk about the hockey comedy and how they mastered the dialogue.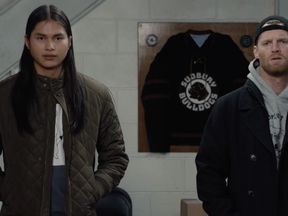 Article content
Shoresy, the foul-mouthed fan-favourite character from Letterkenny, now has his own show — titled, appropriately, Shoresy. And, we finally get to see his face.
Article content
The hockey comedy centres on Shoresy as he joins the struggling Sudbury Bulldogs, a Triple A-level team in the Northern Ontario Senior Hockey Organization (The NOSHO). Jared Keeso, who created both Letterkenny and Shoresy, stars in the titular role.
All six episodes are now streaming on Crave. Tasya Teles, who plays general manager Nat, and Harlan Blayne Kytwayat, who plays Shoresy's friend and fellow Bulldogs player Sanguinet, spoke about the show.
Q: Did you have any expectations about the show going in?
Kytwayat: Honestly, I expected it to be like Letterkenny 2.0.
Teles: I think I just approached it with curiosity. I remember I spent the first little while observing in awe just how high functioning the unit was of the cast and crew.
Q: What did you do to prepare for it?
Kytwayat: It was just a lot of watching Letterkenny and Shoresy's scenes and the Best of Shoresy compilation on YouTube.
Teles: And getting familiar with that tone, too. I watched Letterkenny non-stop when I was in Vancouver prepping for the role of Nat. And when I needed time to focus without the audio, I would just let the show play, just to have an understanding of how the shots came — the quick dialogue and edits and stuff like that. But when we arrived on set, it was a whole other thing of getting ourselves in the culture of the characters, being in Sudbury, Ont., and figuring out how to carry the tone of the show.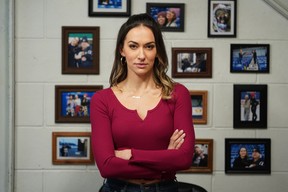 Q: Letterkenny is known for its dialogue. How did you get a handle on it?
Article content
Kytwayat: Being a fan of Letterkenny, it was funny and fun at first — like, "I can't believe I'm saying this" — but there were a couple of tonguetwisters in there and you have to say the line quickly, like, 15 words in one sentence.
Teles: It's so punchy, though. I love the challenge of trying to wrap your mind and mouth around all of that dialogue. And Jared sets up all these great verbal things, like alliteration and where you get to hit Ts and pop Ps.
Q: Did you spend a lot of time filming on the ice and in the arena?
Kytwayat: From what I remember the first two-and-a half weeks, we were in the arena. A lot of it was on the ice, and it was cool seeing all these ex pros and Keeso in action like that.
Teles: We went to some Sudbury Wolves games when we were there. It was really great to come together as a cast. We would have the hockey players talk about hockey to us as we were watching a hockey game.
Q: Were there any injuries?
Kytwayat: There were no injuries on ice, but I ended up in the hospital from a fight scene. I just got picked up and released in the wrong direction. I lost my footing, fell my butt on the cement and bruised my tailbone for a couple of days.
This interview has been edited for length and clarity.
Shoresy is now streaming on Crave.