Tailback was the CFL's leading rusher last season before being seriously injured June 9. "It's exciting. It's a blessing to be back."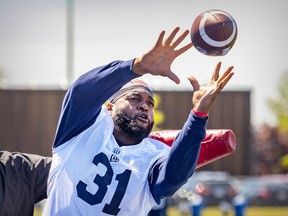 Article content
Only two more sleeps until what many consider to be the Alouettes' most-dangerous offensive player makes his much-anticipated return to the roster.
Article content
Tailback William Stanback, who hasn't played for Montreal since suffering a fractured ankle in the opening game of the regular season, is expected to return Monday afternoon (1 p.m., TSN1, TSN3, TSN4, TSN5, RDS, TSN Radio-690, 98.5 FM) against the Ottawa Redblacks at Molson Stadium.
Article content
"It's exciting," Stanback said following Saturday's practice. "That's the same word I use all the time. It's a blessing to be back, getting the first-team reps.
"Every day, I'm building my confidence. I know what I'm capable of. My team knows what I can do and bring to the table. It's just about me having that confidence going into the game."
The Alouettes, who are on a season-high three-game winning streak — and with victories in five of their last six — would clinch a home playoff date with a win, ensuring they can finish no lower than second in the East Division.
Article content
Stanback was the CFL's leading rusher last season, along with the division nominee as most outstanding player. But it appeared his season might be over — along with the Montreal's aspirations at the same time — when he suffered the horrific injury that required surgery on June 9 at Calgary.
The best-case scenario had Stanback returning for the playoffs, and when Montreal started the season with a 2-6 record, that looked like a pipe-dream. But the Alouettes' fortunes have reversed, and the 28-year-old Stanback is returning slightly ahead of schedule with four games remaining.
Following three successive practice days, all that remained was for Stanback to receive medical clearance to dress against the Redblacks withMontreal having already activated him earlier in the week. And that appeared to be a formality.
Article content
But with Montreal playing two games in five days against Ottawa, management will be prudent in how Stanback's utilized. He expects to be on the field for between 15 and 20 plays, according to general manager and interim head coach Danny Maciocia.
"I have no clue what's in store," Stanback said. "All I know, whenever my number's called, I'll be ready. If it's one carry or if it's 10. As long as we come out on top and keep the ball rolling.
"We have to be smart about it. We're in a great position right now and we want to stay healthy, do the right things and make sure we continue this (run) so we go into the playoffs strong."
This would be Montreal's third consecutive playoff appearance after the team went four successive years, between 2015-18, failing to qualify. Maciocia mentioned to his players what was at stake earlier in the week, saying he sees no reason to revisit history prior to the opening kickoff.
Article content
"The players are cognizant," he said. "Anything I say regarding that issue, I'm just stating the obvious — and I don't want to state the obvious. These guys are fairly intelligent. They can read the situation.
"It would be very gratifying considering, not too long ago, we weren't even in that discussion, let alone make the playoffs. There's more pride than satisfaction with this group, I'd say."
While the Redblacks (3-11) are last in the division and have lost three straight, they did defeat Montreal on Sept. 2 — the last win recorded by former Ottawa head coach Paul LaPolice. He was fired last Saturday, replaced on an interim basis by special teams co-ordinator Bob Dyce.
While teams generally play with renewed vigour following a coaching change, Montreal lost its first game under Maciocia last July after former head coach Khari Jones was fired.
Article content
"So much is made out of that in all sports — the team has a tendency to respond a bit differently," Maciocia said. "I'm more worried about how we respond."
Meanwhile, linebacker and special teams member Tyrell Richards, the first overall draft choice this season, has an elbow injury that's expected to sideline him between four and six weeks. Injuries have limited him to seven games this season.
Zurkowsky: 'My life stopped that day,' Alouettes' Dequoy, on losing mom

William Stanback's return to practice bodes well for Alouettes offence

Alouettes lose game, but injury to star tailback William Stanback is bigger loss