The century-old building is being converted into the Maison de la chanson et de la musique du Québec.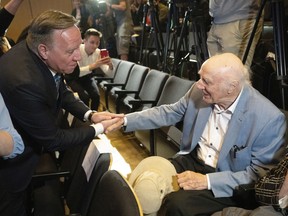 Article content
The historic Bibliothèque St-Sulpice on St-Denis St. south of Ontario St. will be converted into the Maison de la chanson et de la musique du Québec, which will celebrate Quebec music and be run by the Bibliothèque et Archives nationales du Québec.
Article content
The century-old building, which has been the subject of several failed revamp attempts over the years, will undergo extensive renovations as part of the $50 million project, Premier François Legault and Culture Minister Nathalie Roy announced Thursday.
The province and city are contributing to the funding, and the BAnQ is ceding land to Hydro-Québec to get the project rolling. When completed in 2026, the building will have an annual budget of $7 million. The announcement was made in the presence of several notable Quebec singers, including Gilles Vigneault, who at the age of 93 is considered one of the giants of Quebec songwriting, having penned the tunes Mon Pays and Gens du Pays.
Legault evoked national pride several times. "I know there are those who say it's annoying to always talk about this. … The pride of a people, it happens through its culture. Culture is what we are, it's what distinguishes us from other nations of the world."
Article content
Quebec music, he said, "sings our history, our territory. Music makes us proud of what we are."
While all the speeches celebrating Quebec music only mentioned French-language singers and composers, Legault told reporters after the announcement that his version of Quebec culture also includes contributions by those who express themselves in other languages.
"Quebec culture is unique, and one of the reasons it's unique is because of French. But Leonard Cohen is part of our culture. Definitely. I love him," Legault said.
He added that despite a policy by organizers of Montreal's Fête nationale concert not to permit English, he has no problem with that idea.
"In Montreal, they may decide only to concentrate on French songs, but I don't oppose (English songs)," Legault said. "But there is an official language in Quebec, and it's French, so it's important that a good part of these shows are in French."
Article content
Écho sonore president Monique Giroux was emotional in describing how the project she has been leading for 20 years is finally coming to fruition.
"We want through this to interest youth and share the richness of our musical culture throughout the territory," she said. "We want to work together to create an inclusive space that will teach the children of Quebec and new arrivals to discover, to better understand our culture, our language, to love them, to frequent them through song and music."
The magnificent building built in the Beaux-Arts style has sat empty since 2005. It will hold artifacts related to Quebec music from the Bibliothèque et Archives nationales du Québec (BAnQ), said its president and general manager Marie Grégoire. "We really have a collection that is so deep, whether it's posters or concert programs," she said.
Article content
But beyond being a repository of musical heritage, it will also become a vibrant space for meetings and creation for musical artists. Plans include studios, workshops, spaces to welcome artists in residence and renovation of an existing concert hall.
Grégoire also announced that it will house a musical playlist created with input from the population. "We'll ask Quebecers to select the 50 songs that they consider the songs that make the soundtrack of Quebec," she said. "From there we'll take 50 video clips that will be made available on the web."
Presse Canadienne contributed to this report.