"It's hard to trade a player when he's coming off a season where he was minus-20, he was terrible and then you throw in an injury history."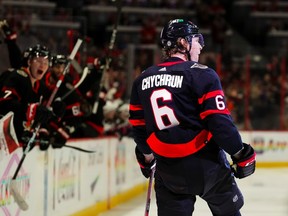 Article content
Bill Armstrong came to his own defence on his decision to trade his top defenceman to the Ottawa Senators in exchange for draft picks.
Article content
Speaking on the St. Louis-based Cam and Strick Podcast, the Arizona Coyotes general manager told hosts Cam Janssen, a former NHLer, and Andy Strickland the deal Armstrong made with the Senators for blueliner Jakob Chychrun was the best available.
The Senators acquired Chychrun on March 1 in exchange for a conditional first-round pick in 2023, a conditional second-round pick in 2024 and second-round selection in 2026. Talks between these two teams had been going on for several months.
Article content
Many were shocked Ottawa general manager Pierre Dorion wasn't forced to give up any of the club's top prospects. It's believed the Coyotes had asked for Mads Sogaard, Shane Pinto and Ridly Greig at various points during the talks.
Article content
Armstrong told the podcast that those who criticize the trade don't know the whole story.
"It's interesting because I was reading an article on how we buffooned this, the big saga, how we blew this and it just went on forever," Armstrong said this week. "But, again, people skim that, and they don't really understand that Jakob was injured for eight months. He asked for a trade (in November 2021) and got injured at the deadline (in 2022).
"It's hard to trade a player when he's coming off a season where he was minus-20, he was terrible and then you throw in an injury history from before, and then you throw in an injury history now and he's out for eight months. People are saying we dragged this through the mud. No, we were trying to get the value."
Article content
This sounds a little like sour grapes from Armstrong, and though the two sides parted on good terms when the deal was made there was clearly frustration with the situation.
Chychrun returned from off-season wrist surgery in late November and was solid. He had seven goals and 28 points in 36 games before being dealt to the Senators. He went into the game against the Oilers on Tuesday night in Edmonton with two goals and four points in four games.
"We had one team that would have traded for Jakob at the draft and Jakob didn't want to go there," said Armstrong. "That made it extremely awkward because the team didn't want to put out some assets and get a player that didn't want to go there."
Postmedia reported last year that team was the Columbus Blue Jackets, and it's believed the two sides had the framework of a deal in place before it died on the draft floor in Montreal. The Jackets weren't about to close the deal if the club didn't see Chychrun as fully committed.
Article content
"That saga dragged out, but it dragged out but mostly due to the eight months of injury and people have to remind themselves," Armstrong added.
Armstrong said the deal with the Senators was the right fit because Dorion didn't ask the Coyotes to take any money back. Ottawa had been able to get defenceman Nikita Zaitsev's $4.5 million contract off the books by sending him to the Chicago Blackhawks a week earlier.
"People talk about the value we got back. We could have crushed it and we would've gotten two late first-rounders and we would have had to take money back; from $3.1 million to $5.1 million back. Why would we do that for two late firsts?" Armstrong said.
"With the deal we made with Ottawa, we're going to pick somewhere between No. 11 and No. 15, and if lucked out we'd pick at No. 6. Plus, we didn't take any money back. The value of the pick we got is high value. People skim and think that every first-round pick has the same value. It doesn't; this one (from the Senators) has a higher value.
Article content
"We got two great second-round picks and no money attached. That allows us to sign free agents in the summer or get more bad contracts to create more assets."
Both sides are happy, and that's what matters most in any trade.
SALE STUFF
As Postmedia reported Monday, Rocco Tullio, the owner of the OHL's Oshawa Generals, has submitted his own bid to purchase the Senators, but he does have partners.
He had discussed a bid with Toronto billionaire Michael Andlauer, but in the end they couldn't come to an agreement. Tullio, a Windsor-based billionaire, wants to be the majority owner if he's successful in his purchase of the Senators.
The talk is Tullio has a United States-based backer who has helped him put together his bid. Don't forget, he offered to buy the Senators from the late Eugene Melnyk before he passed away from a lengthy illness in March 2022.
Article content
Also, we're told at least one of the five bids this newspaper has confirmed made an offer that has put the whopping sum of more than $900 million on the table for the franchise. Remember, though, this is a non-binding bid and the rubber will meet the road when the groups are shortlisted.
A league insider noted Tuesday all the huge bid will do is "drive up the asking price" for the serious parties who may not have gone there yet. Galatioto Sports Partners is going over the bids with the NHL's head office and there will be a shortlist in place soon.
Twitter.com/sungarrioch
GARRIOCH: Oshawa Generals' owner Rocco Tullio makes his own bid for Senators

GARRIOCH: The Senators take another hit with Thomas Chabot out against Oilers