"He's a calming presence. When the going gets tough, he'll be the same as he is when the going is good."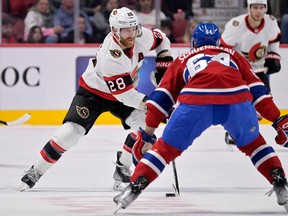 Article content
BUFFALO — Claude Giroux has felt right at home in his new home.
Article content
That doesn't mean there won't be nerves when the club's alternate captain pulls on an Ottawa Senators jersey with the familiar No. 28 on the back Thursday night against the Buffalo Sabres at the KeyBank Center in the season opener.
Article content
The 34-year-old Giroux has suited up for 1,018 games in his NHL career, but this one will be special because it's first since signing a three-year deal with Ottawa in July.
Article content
"It doesn't matter how many games you play, (there's) always (nerves)" Giroux said Wednesday. "That's one of the best parts and that's why you play the game. It's the excitement, it's about not knowing what's going to happen during the game or the year. I like it."
The whole city was excited when Giroux signed with the Senators in the summer and the transition has been pretty simple.
Article content
"It's been a little too easy," he said. "Guys are pretty fun, they like to joke around and that's my kind of locker room. It's been a lot of fun to come to the rink."
Giroux' teammates enjoy being around him.
"He's a calming presence," said coach D.J. Smith. "When the going gets tough, he'll be the same as he is when the going is good. That's purely because he's been around and he's seen the ups and downs of the NHL.
"You just go back to work in the morning and if you just keep doing things right all the time with the right talent, then you're going to come out on the right side of things. That's where he's going to help, he's not going to ride that roller-coaster that young guys ride."
DOWN FROM THE MOUNTAIN
The Senators spent 24 hours promoting togetherness at Mont-Tremblant.
Article content
The club held a golf tournament at Le Maitre on Tuesday afternoon after making the short trip there from Ottawa and then skated Wednesday morning in the small town of Saint-Jovite.
Smith felt that, after a long training camp and pre-season, this was a necessary step.
"We feel good. Today is probably the best legs we've had. Yesterday was a great mental day off for the guys have to some fun in Tremblant," Smith said. "The guys had a blast; it's an outstanding golf course and guys were just able to have some fun for a day.
"We looked dialled in out there and we look ready."
Smith is a big believer that it can't be all about hockey all the time.
"I don't think enough is given to the mental health side of it and how people are feeling. When you're feeling good, you're going to play well," Smith said. "If you're not feeling good, you're not sharp and you're stressed, it's hard to feel good.
Article content
"That's part of coaching that's sometimes missed. There's the strategy and talent part, but a big part going forward is how guys feel and how do you get them to feel their best? The key is these guys were able to turn their brains off and they'll be at their best (Thursday)."
STARTING TOGETHER
Artem Zub was back on the ice Wednesday and is expected to play against the Sabres.
He missed Monday's skate in Ottawa with an undisclosed ailment, but didn't look any worse for wear skating with Thomas Chabot in Saint-Jovite.
That's good news because the duo has been together since the start of camp and have done a good job developing chemistry.
"He looked good to me. I assume there'll be no issues and he'll be good to go," said Smith.
Article content
Zub is solid defensively and the Senators are hopeful he'll be able to complement Chabot.
"We played a little bit together last year. Just the way he plays the game, he's so strong defensively, he can move the puck and I'm a guy who likes to have the puck a little more," Chabot said. "That's what we're trying to find, a match where maybe I'm making more offensive plays and him being solid defensively.
"I've learned a lot from him, the way he closes guys in our own zone and the way he reads the game is amazing to see. We're feeding off each other."
It looks like veteran D Nikita Zaitsev will be a healthy scratch in Buffalo, but we'll see what happens in the morning skate before making any final determination.
THE LAST WORDS
As noted in a pre-season one-on-one this newspaper did with Smith this week, the club is expected to switch its top two centres to start the season.
Article content
That means Josh Norris will skate between Alex DeBrincat and Giroux while Tim Stutzle will be with wingers Brady Tkachuk and Drake Batherson.
"With the puck I didn't see a whole lot of chemistry there," Smith said. "It wasn't away from the puck, it was with the puck.
"I thought everybody wanted to pass. … You need someone to shoot the puck. Timmy has proven he can play with those guys, not that we wouldn't switch it in the middle of the game, but I think Norris has fit in nice with those guys.
"He's a bit of a net presence for them. He can win draws on the left or right. There'll be juggling as the year goes on, but we're going to start this way."
Twitter: @sungarrioch