In Praise of Home Cooking: Reasons and Recipes by Liana Krissoff is a good read — and the recipes work well, too.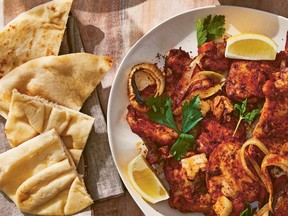 Postmedia may earn an affiliate commission from purchases made through our links on this page.
Article content
If you enjoy reading cookbooks as much as cooking from them, In Praise of Home Cooking: Reasons and Recipes by Liana Krissoff (Abrams/Canadian Manda Group, $33.50) will give you double the satisfaction.
Article content
The Pittsburgh cookbook author provides more than 85 favourite recipes, interspersed with essays about food, cooking, how to make a pot lifter, sharpen a knife or make bread and why we develop certain food tastes.
Article content
Reading its copiously illustrated pages is like sharing tips with a foodie friend on such topics as safe foraging, the proper way to brown meat, or how to make your own sauerkraut. Step-by-step drawings show you, for example, the correct way to measure flour, light a charcoal grill, drain pasta and use up pastry scraps. Her best-loved cookbook list is instructive. The book is a good read and the recipes work well, too.
Tangy sumac chicken
Serves 4
2 tablespoons (30 mL) fresh lemon juice, plus lemon wedges
Article content
1½ teaspoons (7 mL) paprika
½ teaspoon (2 mL) ground cumin
Pinch ground cinnamon
1 to 1½ teaspoons (5 to 7 mL) Kosher or coarse salt or to taste
¼ cup (60 mL) plus 1 tablespoon (15 mL) olive oil
6 boneless, skinless chicken thighs
1 medium onion, sliced thickly
1 teaspoon (5 mL) sumac, or more to taste*
Fresh, chopped, flat-leaf parsley
*  Substitute ground coriander
In a large bowl, use a fork to whisk together the lemon juice, paprika, cumin, cinnamon, salt and ¼ cup (60 mL) of the oil.
Using a sharp knife or scissors, trim away globs of fat on chicken and dangling skin. Coat chicken on all sides in lemon mixture. Use a fork to poke a few holes in the chicken so the marinade penetrates the meat. Cover bowl and refrigerate for 2 to 4 hours.
Article content
Have ready a rimmed baking sheet. With oven rack in the centre of the oven, preheat to 450 degrees F (230 C). Arrange chicken in a single layer along one side of the baking sheet. Spread onion slices on the other side and drizzle with the 1 tablespoon (15 mL) oil, then sprinkle with a little salt.
Roast in preheated oven for 25 minutes.
Turn broiler to high and broil chicken for 5 to 7 minutes, until chicken is lightly browned.
Remove pan from oven and use tongs to turn thighs over. Return pan to oven and broil for 5 minutes more, or until second side is browned and sizzling.
Sprinkle chicken with sumac and serve chicken and onions with the lemon wedges and a sprinkling of chopped parsley.
Savoury galette features onion and blue cheese

Vermont cheddar soup you can take to the bank

Six O'Clock Solution: Asparagus with labneh