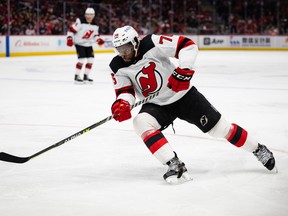 Article content
From the time he was four years old, when September came around P.K. Subban knew what team he was going to be playing for.
Article content
In his early years in the GTHL, there was annual demand for Subban's immense talents. The phone calls were many. The annual recruitment was heavy. And then he became an NHL player, a legend of sorts, a magazine cover waiting to happen, a Norris Trophy winner, a philanthropist, a Stanley Cup finalist with a frightening slapshot and a contract that paid him among the highest salaries in the game.
Article content
And now September is halfway over and Subban is nowhere to be found.
I called his agent and family members and friends and former general managers and all five of the numbers I had for him on my phone list. None of the numbers was his. One polite woman on the phone apologized for P.K. not having that number anymore. A few people said they would get him to call; he didn't.
Article content
NHL training camps open in just a few days. Rookie camps have already begun. And as of now, as far as we know, the 33-year-old defenceman has neither a place to play nor an invitation to any camp. No doubt he will wind up somewhere. He may not be a star anymore, but he's not finished as a player. Thirty-three is almost young for a defenceman who can think the game and shoot it the way Subban can. But right now, there are no Subban sightings. If there is a place for him to play, an opportunity, he isn't sharing that information.
This is the first time in a magnificent hockey life for Subban to face this kind of uncertainty, this time of unknowns.
THIS AND THAT
I don't cheer for athletes, I cheer for people. In my mind, I always cheered for Roger Federer. He won Wimbledon five times in a row, and won the U.S. Open five times in a row. No one has ever done that before, no one will likely ever do that again … Tiger Woods won five Masters, but it took him 22 years to do that. And he owns just three U.S. Opens titles … Put this list in order: The biggest stars of Toronto sports today: Auston Matthews, Mitch Marner, Vladimir Guerrero Jr., Bo Bichette, Alek Manoah, Scottie Barnes, Pascal Siakam, Fred VanVleet, Lorenzo Insigne, and Jordan Romano … Honourable mention to George Springer, John Tavares, and Morgan Rielly … This in a city in which Dave Keon was voted the greatest Leaf of all-time … The Maple Leafs will honour Team Canada '72 prior to the pre-season game against Montreal later this month. And that afternoon, several players will host Alan Eagleson for lunch. He may be banned from so many places but at 89 years of age he is still held in some esteem by those he worked with in 1972 … Leafs goalie hopeful Ilya Samsonov could have signed elsewhere in free agency for more than the one-year deal he signed with Toronto, but he wanted the one-year deal to do a VanVleet. He wanted to bet on himself, making a comeback of significance … From an ex-NHL coach: If you can't decide who you're starting goalie is, then you don't have a starting goalie. And that's not good … Shohei Ohtani was a consensus pick as American League MVP a year ago. This year, it's Aaron Judge's turn to get similar appreciation. He leads the AL in just about every category. He has scored 35 more runs than Bichette, who leads the Jays in runs and has 29 more home runs than Guerrero.
Article content
HEAR AND THERE
Remember when NHL owners wouldn't interrupt their schedule for players to participate in the Winter Olympics because it wasn't economically feasible? Now, they're planning to interrupt their schedule for a World Cup of Hockey. Why? Because they're in on the profits. What a shame it will be if Connor McDavid, Auston Matthews, and Cale Makar never get a chance to play in an Olympic Games … General managers I've covered who impressed me the most: Bill Polian, Bill Torrey, Masai Ujiri, Lou Lamoriello, Alex Anthopoulos, Pat Gillick, John Schuerholz, Ken Holland, Cliff Fletcher, Harry Sinden, Kelly McCrimmon, Pierre Lacroix, David Poile, and Serge Savard … Hockey Canada seems to be carrying on as if nothing is wrong and all is well. Somebody from the government, somebody with some kind of power, somebody with sponsorship clout, needs to unseat the board of directors and replace the senior executives without much delay. Otherwise, it will just be same old, same old … The lesson from Week 1 and the Cincinnati Bengals is you can never be too prepared. Their long snapper got injured in the game against Pittsburgh. The backup long snapper messed up twice, costing the Bengals the win. The loss isn't on him, it's on management for not making certain they weren't better equipped in that area … The best reason you don't want to play the Cleveland Guardians in a wild-card series: Their bullpen. You don't want to go anywhere near closer Emmanuel Clase, who has 36 saves and a 1.23 earned run average.
Article content
SCENE AND HEARD
The Blue Jays are playing .632 baseball since John Schneider took over as manager. Over a 162-game schedule, that equates to 102 wins. When Charlie Montoyo was fired as manager, the Jays were on pace for 84 wins … Even with injuries to Lourdes Gurriel Jr., George Springer playing hurt, Alejandro Kirk on the limp, Teoscar Hernandez not 100%, Schneider has done nice work manipulating the lineup and paying particular interest to defence and speed with Jackie Bradley Jr. and Bradley Zimmer as replacement parts … Schneider should have a 6-6 rule for Yusei Kikuchi. He gets to pitch, but only if the Jays are up by six runs or down by six runs. In basketball, they call that garbage time. Had Kikuchi not been saved by some generous — or myopic — strike calls Friday night, who knows how many runs he might have relinquished in his two innings pitched … Finishing first among wild-card teams is important for two really strong reasons. One, you get all the wild-card games at home. And, two, if you win the first round, you get a playoff series against the New York Yankees, not the Houston Astros … Albert Pujols is going to do it. As of Saturday afternoon, he only needed two home runs to hit the 700 mark. To put the 700 homers into some kind of perspective, consider this: Carlos Delgado is the Blue Jays leader in home runs, all-time. He hit 336 in Toronto and ended up with 473 in his career. Fred McGriff hit 493 homers. Joe Carter just 396. Jose Bautista, with most homers in a Jays season, ended his career with 344, less than half of Pujols' total … Credit to the Blue Jays Social Media team. Bo Bichette dominating this month and turning an average season into a great one, they came up with the headline: SeptemBo.
Article content
AND ANOTHER THING
The highlights of Ricky Ray's Hall of Fame career. He won four Grey Cups as a starting quarterback, that's one more than Doug Flutie, Warren Moon, Russ Jackson or Anthony Calvillo had. He had a season where his completion percentage was an astounding 77.2%. Tom Brady's best completion season was 68.9%. And maybe the topper of all is what Ray left behind: The starting quarterbacks in Toronto, Winnipeg, Montreal and Saskatchewan all studied under Ray as his backup with the Argos. If that's not a legacy, what is? … It's very possible that the all-star quarterbacks in the CFL this season, East and West, McLeod Bethel-Thompson and Zach Collaros, began as backups to Ray … Go figure tennis. Canadian Felix Auger-Aliassime lost in the first round at the U.S. Open. Teenager Carlos Alcaraz won the Open. On Friday, Felix beat Alcaraz in Davis Cup play, in Spain … About your NFL Survivor Pool: I'm sorry. Mine too … If you have Aaron Rodgers or Patrick Mahomes as your quarterbacks, both all-time greats, isn't it a touch irresponsible to not have better wide receivers on your roster? … When Serena Williams played her final match at the U.S. Open, she set a record for tennis on television in the U.S. Then came Sunday Night Football. Five times more people watched one game of Week 1 football than watched Serena's finale … Has life gone overboard when you're getting online play-by-play of the Leafs rookie tournament games from Traverse City? … Just wondering: what did I do and how did I get there before I had a GPS in my car … What an embarrassment of a season this has been for Toronto FC … That wasn't very nice or smart of the Winnipeg Jets to strip Blake Wheeler of his captaincy without telling Mark Scheifele, who was at an NHL media event doing promotional interviews and was asked about something he knew nothing about … If I ever want to punish someone, I will make them listen to the music that comes on during AppleTV baseball broadcasts in Canada, subbing for commercials … Just about every GM I've spoken to lately says the same thing: The Ottawa Senators won the summer. Now the question is: can they win the winter? … Happy birthday to Auston Matthews (25), Alex Ovechkin (37), Darryl Sittler (72), Sheldon Keefe (42), Patrick Mahomes (27), Michael Bunting (27), Peter Stastny (66), Phil Jackson (77), Serge Ibaka (33), Marcus Semien (32), Orlando Cepeda (85), Manny Arceneaux (35), Billy Sims (67) and Ryne Sandberg (63) … And, hey, whatever became of Dioner Navarro?
Article content
[email protected]
twitter.com/simmonssteve
WHICH VLADDY WOULD THE JAYS BE GETTING?
Vladimir Guerrero Jr. has now gone on the record and made it official: He wants to stay with the Blue Jays long-term. What he didn't exactly say was: He wants to sign one of those giant contracts that are going around Major League Baseball these days.
Ross Atkins, the general manager, has already gone on record as saying there have been discussions with Guerrero's people about him signing long-term in Toronto.
So here's the question: Which Vladdy Guerrero would the Blue Jays be signing, assuming this is something that happens in the off-season?
The Guerrero of last season, who absolutely dominated the American League offensively, is not all that different from how Aaron Judge has dominated this season.
Article content
Or the Guerrero of this season, whose numbers have dropped in almost every conceivable category and while he is hitting fine — big picture — he is nowhere near the dominant player he was a year ago.
Clearly, American League teams have adjusted in how they are pitching to Guerrero. So much of what he faces seems down and away. And Guerrero has not adjusted similarly, with more meek infield ground balls than he hit at any time during previous seasons. Guerrero is hitting .225 in September with one home run and an almost embarrassing OPS of .591.
Soon, there will be a chance to see Guerrero in the playoffs — and view how he adjusts to that large stage.
No doubt, he will be paid a lot of money. But the Jays have to be cautious here, having witnessed one season of brilliance followed by another of sound play, but not all-time great kind of stuff. Which Guerrero is the one for the long term? The version of last year or the version of this year or another one, somewhere in between?
Article content
That's what Atkins and Mark Shapiro must determine between now and next season when Guerrero is likely to be tied up long-term.
TAVARES AND NYLANDER MUST ELEVATE EACH OTHER
John Tavares and William Nylander likely will start the season with the Maple Leafs as two-thirds of the club's second line — which on paper seems nice, but in reality raises some questions.
Tavares has morphed into a sound second-line centre in his time in Toronto, not the offensive force the Leafs had hoped for upon signing him, but a more rounded player, the kind teams like to play behind first-line superstars.
Nylander has superstar talent and demonstrates that on occasion. The question is always, which occasion and what night will he be a difference maker? We know who Nylander is and what he does, and he's not about to change at this stage of his career.
Article content
The question for coach Sheldon Keefe and for Tavares and Nylander is this: Can these two players co-exist on a line and be effective in playing together? Or are they like dancing partners lacking in rhythm, who create offence but not necessarily for each other?
Keefe experimented last season with Nylander on the third line and that didn't exactly work. It was reminiscent of what the Pittsburgh Penguins did in their Stanley Cup seasons, moving Phil Kessel to the third line rather than having him play with Sidney Crosby or Evgeni Malkin. It worked for both Kessel and the Pens. It didn't work for the Leafs.
The challenge now as training camp begins on Wednesday — for Keefe, for Tavares, for Nylander — is for each of them to make the other more dangerous.
Check out our sports section for the latest news and analysis. Care for a wager? Head to our sports betting section for news and odds.