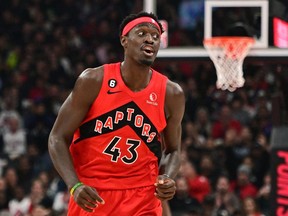 Article content
Another night passes, another night of watching the fascinating Toronto Raptors push so many buttons and so many players – and push themselves to levels they've never known before – and you wonder to yourself, why can't the Maple Leafs be more like this?
Article content
Why is it that one Toronto team under the same ownership of Maple Leaf Sports and Entertainment seems so much more resourceful, more exciting, full of energy and enthusiasm, while the other team, of similar records really, seems so much the opposite, somewhat flawed?
Article content
It is easy in the early season to fall in love with everything the Raptors are doing – even at 3-2 – and how every game goes down to the final minutes no matter the circumstances. This is the kind of team that makes you care, that pulls you in, that does what sports do best, and that makes a city proud.
Article content
The Maple Leafs, 4-2, are filled with doubt from inside and outside. Do they have the right general manager and the right head coach? Can Ilya Samsonov really be this good a goaltender for an entire season with Matt Murray already out? Can the second pair of defenceman, Justin Holl and Rasmus Sandin, hold up and perform at the level needed for a second pairing? What's wrong with the stars, Auston Matthews and Mitch Marner, both of whom are off to statistically slow starts to their season?
Article content
And really, if not for the terrific play of Samsonov, captain John Tavares and their best player to date, William Nylander, would the Leafs still be 4-2 with a starting schedule against four of six teams who didn't make the playoffs last season.
The Raps are 3-2 – three games on the road, two at home – against playoff teams from a year ago. One record seems impressive with one fewer win: The other, just so.
You open your eyes on Basketball Night In Canada – that's whenever the Raptors play, and you see Pascal Siakam doing things he's never done before. Good as Scottie Barnes and Fred VanVleet can be, Siakam is clearly the Raptors star. He's travelled to this place from winning an NBA championship, losing himself in the bubble, fighting back to find his career and now this, taking a step to another level.
Article content
A level everybody almost everybody in the NBA is talking about and believe me, it isn't often when everybody in the NBA is saying anything about Toronto at all.
As Matthews looks to find his scoring touch and Marner looks to recapture 100-point form – and those numbers will come – Siakam has bolted out of the gate to begin this NBA season, sprinting past so many of his peers around the league.
When teammate Chris Boucher was asked Thursday what position Siakam plays, he answered with numbers.
RECOMMENDED VIDEO
"One, two, three, four, five," said Boucher. In other words, he plays all of them. Nikola Jokic in Denver does the same many nights and he's won the MVP two years in a row. That would be equivalent to Matthews scoring the most goals – which is still expected – and leading the NHL in scoring, which is not expected. And then playing on defence.
Article content
The Siakam of today seems like a complete recreation of the player who lost his confidence against Boston in the Orlando bubble. The Siakam of today has become a show in itself.
"I'm not sure he has a position," said coach Nick Nurse, who has clearly established himself as one of the best in the NBA. "His level of engagement from the moment the season ended last year, workouts at a high level, great concentration and desire in him. He's playing both ends of the court with great desire.
"He looks comfortable with the ball out there. People who have seen us a little bit, not as much as you guys, say he looks a lot different this year. I would echo that."
Through five games, Siakam has led the Raptors in scoring three times, in rebounding twice, and in assists twice and that includes his impressive 20 points and a remarkable 13 assists – four of them on three-pointers – give him an overall total of offence at 50 points.
Article content
Which is shake your head impossible. But the Raptors seem capable of that.
Gary Trent Jr. scored 27 on Wednesday night against Philadelphia. Precious Achiuwa came off the bench to pick up 22 rebounds against in former team in Miami. VanVleet, not shooting enough yet, is hitting on 52% of his shots, a crazy-high 48% from three-point range. The team is working from all sides.
Your heart beats loudly when you watch this team. They carry you into the game and keep you there.
They have as deep a starting five as you will find in the NBA and then the energy of Boucher and Achiuwa from off the bench. And they have yet to find Otto Porter Jr. healthy enough for him to start hitting jumpers.
SIMMONS: Borje Salming has an advocate and confidant in little-known former Leaf Mark Kirton

SIMMONS: This is Astros time to win a World Series without an asterisk

SIMMONS: Blue Jays' '92 World Series team was one for the ages
Article content
They don't have everything – nobody does – and could probably use another guard with VanVleet and Siakam running the offence, one of them 6-foot-1, one of them 6-foot-9 – but there is time for all that to play out.
The Maple Leafs are considered one of the best teams in the NHL, a Stanley Cup contender that has yet to win a playoff round. Their top-end talent is truly without question. But so far this season, it's been all about expecting more.
No one really sees the Raptors as NBA contenders. Not yet, anyhow. But here they are, grabbing your hearts, pushing the limits, playing strong defence, and shooting better than ever.
Being everything you want the Maple Leafs to be.