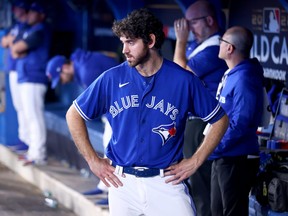 Article content
The refrain of every baseball manager everywhere — that you win with pitching and defence —
proved to be absolutely true for the still-haunted Toronto Blue Jays.
Article content
They lost with pitching and defence on Saturday night, or to be more precise, a lack of pitching and a lack of defence.
Article content
That is just the beginning of the unravelling of the horrific collapse of Game 2 against the Seattle Mariners: They didn't just lose the series and Game 2, they beat themselves in so many different ways.
Article content
You start with pitching and defence and early on, Kevin Gausman was throwing a no-hitter and George Springer had made a spectacular running catch in centre field. The start could not have been better for the Jays: They were up 8-1. They were on their way to Sunday afternoon.
And then manager John Schneider made what he thought was a sound decision. Or someone upstairs made what they thought was a sound decision. With the bases loaded and two outs in the sixth inning and with Gausman going through the Seattle lineup for the third time — heaven forbid — Schneider pulled Gausman and brought in the normally reliable Tim Mayza to face switch hitter Carlos Santana.
Article content
Gausman had just retired the previous two batters rather easily. He was still on his game. He was still throwing filth Santana hits much better statistically against left-handers than right-handers. Gausman was pulled, Mayza arrived and instantly threw a wild pitch to Santana, scoring Ty France from third base.
An execution miss right off the bat.
Then Mayza followed that up by serving up a home run ball to Santana. Suddenly, the 8-1 game was 8-5 heading to the bottom of the sixth. The Blue Jays actually went up 9-5 in the seventh, with Teoscar Hernandez scoring his third run of the night, all of it starting with the reliable Alejandro Kirk beginning the inning with a base hit.
Score was 9-5. There were two innings to go and a victory all but certain.
Article content
By then, Schneider had gone through Gausman, Mayza and Yimi Garcia, two of his three most reliable relief pitchers and his most mature starter. He turned to Anthony Bass, picked up at the trade deadline as a reasonably priced addition to a bullpen in need of depth.
Management didn't exactly hit the deadline home run and it's one of the reasons the Jays are now eliminated. They nibbled at the deadline. They played it super safe and conservative. Safe in sports, as John Tortorella used to say, is death.
Bass immediately gave up a double to Eugenio Suarez, then a single by Cal Raleigh that scored Suarez. And then another hit, this one to Mitch Haniger. Three batters for Bass. Three hits given up. And Schneider again went to the bullpen.
Article content
What he didn't do was go to his bench. The Jays were up 9-6. They picked up Jackie Bradley Jr. because he's a superior outfielder, a veteran presence and left him on the bench. He should have been playing centre field for the final two innings. They could have moved Springer to right or left and Hernandez to the other field. You pick up defensive players to protect leads.
Schneider didn't move on Bradley until he was forced to. Until a bases-loaded pop-up hit by the No. 9 batter, J.P. Crawford, between second and centre field fell as Bo Bichette overly aggressively tried to make a catch that Springer wasn't likely to make while sliding. The two collided. Springer left the game.
If Bradley was in centre field, would the catch have been made? I believe so. And if not, the Crawford pop would have been a single, scoring one run, not three.
Article content
That came after Schneider went early to Jordan Romano, his closer. He wanted two innings from the great Canadian. He's gotten long saves before. Bass gave up three hits against three batters and Romano would have gotten out of it had Bradley been in centre field, where he should have been.
Romano didn't have his best stuff in the ninth inning, giving up a double to Raleigh and a series-winning double to Adam Frazier, whomever he may be. That was it for the Jays and for Romano. That was it for the season.
The decisions made by Schneider and whoever else makes Blue Jays decisions in game didn't work out at all. They took Gausman out too soon. They had a lefty pitching to Santana. They had a trade deadline bullpen pickup who allowed three earned runs and registered no outs. They didn't go with their best defensive lineup when it was necessary – especially considering what a mediocre fielder Raimel Tapia happens to be. They didn't have a lineup like Seattle had, with right and left-handed batters.
Article content
One more batter for Gausman may have meant a third game on Sunday. Bradley in centre field to start the eighth inning might have changed the outcome completely. Better pitching from Mayza, Bass, Romano – the relievers you're supposed to trust – could have changed the game. And the defensive decision-making of Bichette and Springer on Crawford's fly ball was aggressively inept.
It's almost impossible to lead 8-1 in a playoff game and lose. It's less possible at home. The Jays managed to do it, mostly doing themselves in, with dubious decision-making and dubious performance.
This loss was on everybody: The manager, management, everybody not named Kevin Gausman or Teoscar Hernandez. This one will linger for a very long time.