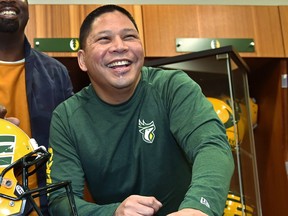 Article content
For this Friday night in Edmonton, in between days of the Western Conference hockey craziness, the new man in charge of the Edmonton Elks came up with a rather brilliant idea that every team in the Canadian Football League should consider.
Article content
Victor Cui is holding a 'Stand With Ukraine' night for the Esks pre-season game against the Calgary Stampeders. He is holding this at Commonwealth Stadium in a city that has a greater tie to war-torn Ukraine than any other place in Canada.
He is probably holding this at the wrong time. A regular-season game would make more sense to me. But the thought behind this concept, the cause, the chance to pack a stadium at a lowered ticket price, the opportunity to bring in a new audience to an old game, that is something worth building around.
Article content
Almost as important is establishing a trust between a community and its community-owned team that has been severed over time.
Yes, we know the CFL needs help at the gate and the last place it usually needs help is in Edmonton. But this kind of event — a chance to raise money for the Canadian Ukraine Foundation, a chance to do something we all would like to do, an opportunity to send funds and food and other human needs to a country now in need of everything — is a cause worth getting behind.
Article content
Would you pay $20 or $30 or $50 for an Argos ticket at BMO Field for their home opener against Montreal on June 16 if you knew some of the money — or better yet, all of the money — was going to Ukraine?
There are 350,000 people of Ukrainian descent living in and around Edmonton today. There are more than 370,000 people of Ukrainian background, according to the census of 2016, living in Ontario.
It isn't up to them to necessarily buy these tickets. It's for you and for me and anybody with a heart, a brain and a conscience. And a disgust for war of any kind.
Herein is the problem of doing anything like this in today's rather confounding world. If you raise money or awareness for Ukraine, what about other countries? What about other causes or political stances? You will hear that.
Article content
Where do you draw the line on doing what seems right, or even defining what is right?
Maple Leafs Sports and Entertainment purchased the Argos just before the 2017 season and, to date, we're not really sure why. They haven't really done a whole lot of anything with the franchise other than turn a blind eye to it.
Attendance dropped last season to an embarrassing franchise-low of 8,603 a game, after the year without Canadian football. It dropped in a stadium that's near perfect for football: Venue be damned, people just don't care to go any more. And in the sports world, there is nothing more difficult than selling tickets to a disinterested public.
That's among the reasons, especially in the large Canadian markets, why the Victor Cui idea should be passed around the CFL, franchise to franchise. No city in this country has been more welcoming to Ukrainian refugees than Montreal. You would think they need fans after averaging just 13,063 in attendance last season.
Article content
And this isn't about gaining fans as much as it is about doing the right thing, about showing people you care, about giving an opportunity to those who otherwise would never consider going to a CFL game. There was a connection between Canada and Ukraine before the bombing decimated cities: There has been for years.
In Edmonton, the ticket prices are $15 for the 'Stand With Ukraine' night. That seems a little low but it is a pre-season game which, frankly, no one should ever be exposed to. And the idea probably wasn't given enough time to percolate in a hockey-obsessed community at this time.
But if you steal Cui's idea — and this is worth stealing — you can go coast-to-coast with this, as much as the CFL goes coast-to-coast. Why not start in Vancouver, then Calgary, then Regina, then Winnipeg, and then work your way to Ontario with a Stand With Ukraine game?
Article content
Why not interrupt those annoying gambling ads that we are exposed to every night for just a moment and get TSN behind this?
A network. A league. Starting with the Elks in Edmonton. And then the baton being passed, CFL city to CFL city.
"As a community-owned team, we have a responsibility to lead this city when there are issues that are highly relevant in the world or relevant to the city," Cui told Terry Jones of the Edmonton Sun. "I've been looking to lead in a way that only the EE can. We're the only organization in the city than can bring 56,302 people together in one day, in one stadium for one cause that's highly relevant to our community."
Why not nine days? Nine stadiums. One cause. Highly relevant to the community and to the country. Why not, CFL?
[email protected]
twitter.com/simmonssteve