Article content
Silvera for Seniors is celebrating 60 years as a trusted leader in providing a diverse selection of safe, affordable housing and services for independent older adults. But the history goes back even further — in the 1950s, citizens sought to address the need for low-cost rental retirement homes and formed Bow Valley Lodges Foundation and opened its first facility.
Article content
The named was changed in 1962 to the Metropolitan Foundation and on its 50th anniversary became Silvera (Silver-Era), starting a new generation of residences to help older people live healthier and more engaged lives.
Article content
On Wednesday, Silvera will celebrate the grand opening of its newest supportive living community, Gilchrist Commons, in the northeast community of Pineridge.
It will provide 115 barrier-free and air-conditioned apartments adjacent to the two established Silvera buildings that are now connected into one space in a seamless way, allowing for all residents to enjoy the many amenities and become a larger neighbourhood.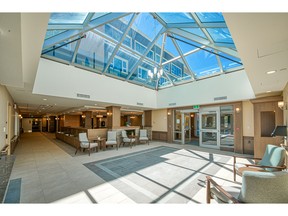 Funding for Gilchrist Commons was 100 per cent provided by the Alberta government, and the City of Calgary helped transfer residents from the closed Confederation Lodge, which was built in the 1960s but became out of date with too many infrastructure limitations.
Article content
Forty-nine residents of that former location are now moved into the new facility, what CEO Arlene Adamson refers to as a best-in-class design by Abugov Kaspar Architecture and built by Dawson Wallace Construction.
"We have a deep commitment to offer seniors an environment where they can be stronger, healthier, have new learning experiences and become more engaged with others, instead of just sitting around in their homes watching TV and not getting the right nutrition," Adamson says.
Gilchrist Commons features a spacious, bright dining room with high vaulted ceiling, corner store, grab-and-go bistro, hair salon, multiple outdoor balconies, rooftop patio and landscaped outdoor courtyard area. Chef-inspired daily meals provide healthy food, while snacks and beverages are also available 24/7.
Article content
Another big plus is the location of Gilchrist Commons — nearby facilities include the Village Square Leisure Centre, Calgary Public Library and grocery stores, plus restaurants and shops, and a very good neighbour in the Robert McClure United Church.
As a connected under-one-roof community, the campus now brings together residents of 225 apartments to share all of the amenities, and the benefits of participating in active aging programs to support their physical, social and mental well-being.
Adamson, in her 12th year as CEO of Silvera for Seniors, is also president of the Alberta Seniors and Communities Housing Association (ASCHA), showing a deep commitment to ensure the elderly are given every opportunity to keep their health, embrace life with new adventures and thrive in a safe environment.
Article content
Silvera currently has buildings in 28 communities in all four quadrants of the city, serving more than 1,700 tenants who are served every day by a dedicated and caring staff of 400.
The number of Canadians over the age of 65 is increasing rapidly, and many on fixed incomes will need to be housed where there are no barriers to living a full life.
Silvera has proved to be a successful manager of supportive living and independent living in affordable housing. It is already in the final planning stages for a new facility in the Livingston community north of Stoney Trail, while further expansion is also planned at its Glamorgan campus and another new residence farther south within the city.
Notes:
Shachi Kurl, president of the Angus Reid Institute, will be the keynote speaker at the interactive first annual Women's Leadership Forum, to be held at the BMO Centre on Nov. 9. Presented by Axis Connects — a Calgary non-profit that was established to connect, collaborate, champion and provide career development resources for gender diverse professionals — its mandate is to unite more than 100 organizations focused on women's initiatives in Calgary. Axis reports that 45 per cent of employees at Canada's largest firms are women, but female representation diminishes considerably up the leadership ladder. "The advancement of women into key decision-making roles has been slow, therefore our primary objective of the forum is to accelerate progress, break down barriers and create opportunities for women to take on leadership roles," says board chair Heather Culbert.
David Parker appears regularly in the Herald. Read online at calgaryherald.com/business. He can be reached at 403-830-4622 or by email at [email protected]