The moves come as public health officials and infectious diseases experts warn of a potential seventh wave of the COVID-19 pandemic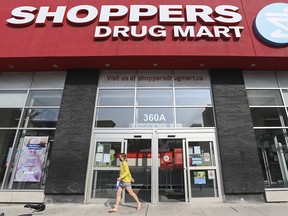 Article content
It's just alarming because people (customers) are coming in sick
While masks aren't required for customers, the company said pharmacy staff are still required to wear masks while other employees are "encouraged" to wear them.
Shoppers is one of a number of retailers to remove or roll back COVID-19 protocols introduced during the peak of the pandemic, as government-mandated restrictions have eased across the country.
The moves come as public health officials and infectious diseases experts warn of a potential seventh wave of the pandemic, driven by subvariants of the Omicron strain. Last week, Quebec's public health director and Ontario's top doctor both declared the seventh wave had arrived in their provinces.
Fast food chain Tim Hortons said, unless mandated otherwise by a local health unit, acrylic shields are now currently optional in their restaurants and employees "may choose whether to wear a mask."
"COVID restrictions have been rolled back in recent months according to changes in local public health standards," Tim Hortons said in an email.
Article content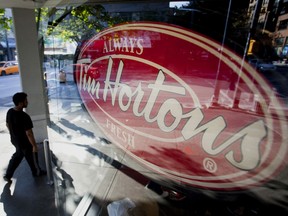 Those using postal services by Canada Post Corporation can also expect to be greeted by maskless employees and fellow customers.
The Crown corporation said in an email that employees, contractors and visitors are no longer required to wear face coverings in Canada Post facilities as of June 16.
"In recent months we have gradually rolled back temporary COVID-19 health and safety measures in accordance with Public Health Agency of Canada guidelines," said spokesman Phil Legault.
And while the Canadian postal operator continues to use floor markers and plastic barriers to encourage physical distancing at all of its corporate post offices, these are optional for postal outlets in a host business.
"With health and safety as our top priority, we continue to lift some measures after careful consideration," Legault said.
Face masks are also optional for franchisees and staff of The UPS Store locations in Canada, as of June 30, the United Parcel Service subsidiary said in an email.
The shipping service said it has "not instructed our network as a whole" to remove safety barriers or plexiglass shields it provided all locations in Canada.
The Retail Council of Canada said COVID-19 protocols, like keeping masking, plexiglass barriers or directional arrows in place, all depend on the retailer.
"Retailers make these decisions while keeping in mind the potential impact of these decisions on employees and customers," said national spokeswoman Michelle Wasylyshen.
She said in most provinces, businesses are still required to have a Communicable Disease Plan in place along with a mitigation strategy to protect workers. As a result, many of the council's members still have barriers, daily self-screening and high-touch-point cleaning policies to which they adhere.
Some retailers are even replacing and renewing barriers that are showing signs of wear, said Wasylyshen, noting that plexiglass tends to become opaque overtime from cleaning chemicals.
Article content
Amazon's Prime Day sale likely to disappoint deal-hungry shoppers

Unilever sells Ben & Jerry's Israel after West Bank dispute

DoorDash teams up with Loblaw as ultrafast delivery rivalry with Instacart heats up
They do this "as they anticipate they will be required for another wave during the late summer or fall," she said.
Companies like Dollarama Inc. said plexiglass at cash counters remain in place for their thousands of stores across the country.
"We have not removed any plexiglass barriers from our stores nor are there plans to do so," said supermarket Metro Inc. in an email.
Loblaw, for its part, said the measures it had introduced only applied to Shoppers, not its other chains, such as grocer Loblaw's.
United Food & Commercial Workers Canada, a private sector union representing employees from major companies such Loblaw, Metro, Sobeys and more, said it's making sure that any concerns union members raise about pandemic protocols are properly addressed by employers.
• Email: [email protected] | Twitter: denisepglnwn