As downtown Calgary looks to revitalize, there are success stories to learn from south of our border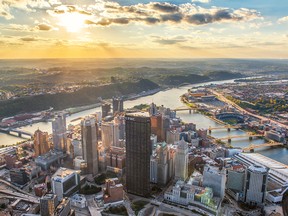 Article content
When staring up from the bottom of a mountain, it is hard to know how hard the climb will be or to even imagine the view from the summit.
Article content
Reimagining a city's downtown provides a similar mountainous challenge. For many Canadian centres, revitalizing their cores has proven challenging and the task can become even more demanding for a city like Calgary that is also undergoing an economic transition and an identity evolution.
There are success stories and lessons to learn, however, particularly when looking south of our border.
"Is there one blueprint that we can copy? No. But there are certainly bits and pieces from each of those playbooks that we can take from," said Greg Kwong, a regional managing director for CBRE in Calgary.
The key is a concerted effort from government and private industry — as well as patience. Success stories are often written over decades. In the case of Denver and Pittsburgh the process has been ongoing since the 1990s, but both offer insightful lessons.
Article content
Rocky Mountain similarities
If Calgary can draw direct similarities to a market, Denver might be as close as it gets.
The Colorado capital was settled in the mid-1800s and late in that century transitioned from being a gold rush centre to an agricultural hotbed, complete with the nickname "cow town." In the 1930s and '40s, Denver was given new life as a military town, until the 1950s hit and oil was discovered.
Oil and gas dominated until the bottom fell out in the 1990s. Tired of the boom and bust cycle of energy and its effect on the city's life — and an empty downtown — Denver began a revitalization process that continues today.
The city has diversified its economy with an emphasis on government and financial services along with professional and business services, while technology and startups have taken off. In 2010, the latter category represented 5.3 per cent of downtown employment — by 2020 it accounted for 12 per cent. Denver is the fourth-fastest-growing tech hub in the U.S., behind Tampa Bay, Kansas City and Austin.
Article content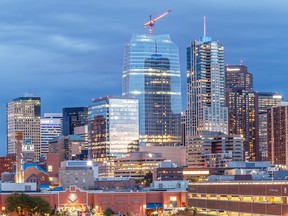 Pre-pandemic, 150,000 people were working in Denver's downtown, with 40 million square feet of office space.
"We've seen . . . a real investment in companies moving their headquarters from the coast to capitalize on the great talent that Denver's attracting, and also the quality of life, (and) slightly lower cost of living — all of those pieces that have attracted these high, high-tech companies to Denver," said Kate Barton, executive vice-president of the Downtown Denver Partnership.
Denver focused on arts and culture as a catalyst for its redevelopment and then dove into a massive investment on professional sports facilities, beginning with the construction of Coors Field to attract a Major League Baseball team. It worked — the Rockies have been a mainstay and provided an anchor for summer traffic to the district since 1995. By the turn of the millennium, the city added new homes for the NHL's Avalanche and NBA's Nuggets with a new arena, and a new stadium for the NFL's Broncos.
Article content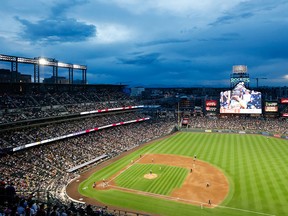 Kroeneke Sports and Entertainment — which owns the Avalanche and Nuggets — recently announced a 20-year plan to redevelop the land around Denver's Ball Arena as continued investment in the downtown.
"Continuing to make these investments in our centre city just signals to the market that the fundamentals here are really strong, but also creates vibrancy and nightlife and attracts people to our core that may not necessarily be coming but for these games," said Barton. "You absolutely cannot underestimate the investment that these arenas have had in our downtown revitalization and continued success and growth."
This planning has helped turn Denver's downtown into a fast-growing residential area. It has found a way to move beyond the nine-to-five workday and is unlocking its live-work-play potential. In 2000, roughly 7,500 people called the downtown home; as of 2020, that number had grown to 28,000. The goal is to get it to 35,000 by 2050.
Article content
The growth has been accomplished by turning the downtown into a place where people want to live and where companies want to invest in such necessary services as grocery stores, restaurants and other amenities, or residential buildings. The city has in turn invested in green spaces and schools, arts and culture, a roller rink and other recreational facilities.
"We've been able to really create this full picture of what it's like to work in Denver," said Barton. "How do you have a great job where you can walk or bike or take transit to it, nearby your home, where there's also a vibrant restaurant, retail and nightlife scene?"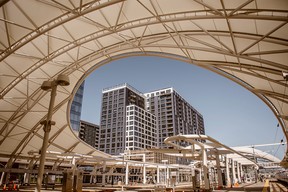 The state and city have also made it easy to get to Denver's downtown through a private partnership to develop the FasTracks regional train system. Local residents are connected with the capital through a rail line that is planned to reach as far as downtown Longmont — akin to Calgary having a commuter train to downtown Airdrie — and most importantly to the city's airport.
Article content
"Being able to bring the entire region together through a connected transit system was really one of those examples of investment that has led to the economic vitality of the city and the region," said Barton.
A renaissance in the Steel City
Pittsburgh is viewed by many as setting one of the gold standards for revitalization of a downtown.
The city has actually gone through multiple reimaginings of its downtown — an area referred to as the Golden Triangle, where the Allegheny and Monongahela Rivers converge into the Ohio River.
The first renaissance occurred between the 1940s and '70s. According to Bill Flanagan, chief corporate relations officer for the Allegheny Conference on Community Development, it was focused on cleaning up the environment after years of heavy pollution from the steel industry.
Article content
When steel went bust in 1982, the city dove into a second rebirth.
The mentality was to make the downtown as appealing as possible for more than just business.
Council first turned to arts and culture with a new district on the south side of the Allegheny, and turned Pittsburgh into a hub for performing arts by restoring Benedum Center for the Pittsburgh ballet and opera, moving the Pittsburgh Symphony into the Heinz Hall, and centralizing several other theatres and museums. The plan bolstered the restaurant and bar scene, and started to define the downtown.
Helping to lead this revitalization was Jack Heinz, chairman of the HJ Heinz Company, through Heinz Endowments. Flanagan, a former reporter with KDKA-TV, recalls an interview he had with Heinz early in the process. Heinz pointed to the importance of concentrating the theatres, which would lead to more restaurants, which would then require hotels and the return of retail.
Article content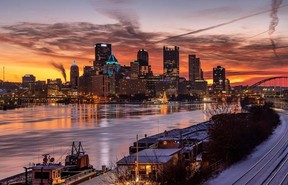 "Then he said, 'And then someday, someday, people will actually want to live here and you will see apartments and condos,'" recalled Flanagan. "He told me that in the mid-to-late '80s and it took about 25 years, but he was right. It has pretty much unfolded just the way he described it."
The district is now managed by the Pittsburgh Cultural Trust, ensuring a vibrant scene with everything from touring Broadway acts to local theatre.
Jeremy Waldrup, president and CEO of the Pittsburgh Downtown Partnership, said the city managed to do this while preserving the history of the downtown.
"Our architecture is stunning, many of it 120 years old," he said. "There was a real focus on ensuring that through co-ordinated investment strategies the downtown remained intact, which I think a lot of North American cities are unable to do."
Article content
The next big step was coming to terms with the Pittsburgh Pirates and the Pittsburgh Steelers regarding new stadiums across the Allegheny, connected to the arts and culture district by walking paths and bridges. This allowed for a natural flow of people through the downtown for a bite and beverage before or after a game, and then an easy path to the stadiums. PNC Park opened in March 2001 and is still considered one of the top stadiums in MLB, with vistas of the downtown prominently visible beyond the outfield fences. Heinz Field opened later that year and helps drive traffic through the fall months.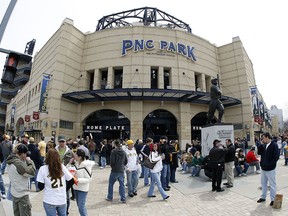 Part of the agreement with the teams was that they would attract development and partnerships to a rundown district of warehouses and light industry, on a stretch of land along the Ohio River. This has proven to be a success, and part of that development includes the world-renowned Andy Warhol Museum.
Article content
The NHL's Penguins joined in the pro sports facility push a decade later with PPG Paints Arena on the east side of the core, keeping the downtown vibrant year-round with sports fans.
"And those are economic drivers," said Waldrup. "They support the hotel and hospitality industry in significant ways. And those industries contribute to downtown and the fabric of downtown 365 days a year.
"There's an argument of you shouldn't make these big public investments in what are really private assets from the team's perspective, but I think it has really made downtown Pittsburgh what it is today."
Revitalization has, however, not just been about sports and culture.
Following the collapse of the steel industry — U.S. Steel still has its headquarters in Pittsburgh's downtown — local retail also left for suburban shopping malls, leaving large swaths of the Golden Triangle vacant.
Article content
This presented an opportunity for health sciences to move in and grow, while financial services also took a stronger foothold and became the largest employment sector in the downtown. In 2020, there was $1 billion of investment in its tech sector while Class A office vacancy was at 15.2 per cent and Class B was at 17.5 per cent.
Just before the COVID-19 pandemic, the core was set to fully embrace technology and robotics innovation, and remains in good shape to pick up where it left off.
Pittsburgh's downtown is one of the least car-reliant cores in the U.S. with an emphasis on public transportation and biking, while 51 per cent of all residents walk to work or school.
Flanagan said they began a third transformation in 2015, which was side-tracked — as most things were — by the pandemic.
Article content
The Pittsburgh Downtown Partnership will focus on more residential opportunities as part of this next evolution, and as of 2021 had more than 1,500 residential units under construction. Currently, just under 19,000 people live in the Golden Triangle.
The challenge is to make it a more inclusive downtown by creating policies that encourage equitable growth.
"I think the pandemic has forced us to really double down on those efforts," said Waldrup, noting that continuing to increase housing through conversions of outdated office buildings may be cost-prohibitive. "One of the conversations that we're also having is how do we create a neighbourhood that's not just for the affluent community; can we create workforce housing? . . . How do we ensure that folks that are working in those places can afford to live in the core — and those things cost money."
Article content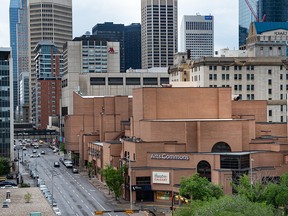 Calgary's path forward
At least in planning, Calgary appears to be leaning in some of the same directions in which these cities have found success.
At the centre of Calgary's revitalization plan is the Arts Commons redevelopment (a $450-million project with a 173,000-square-foot expansion), the $120-million transformation of the Glenbow Museum, and a renewed focus on economic diversification and residential development, including office-to-apartment conversions.
Meanwhile, the city continues to have an off-again-on-again relationship with the concept of a new home for the Calgary Flames and an events centre. To that end, a third party has recently been engaged to facilitate a new arena deal between the city and Calgary Sports and Entertainment Corp.
Article content
Calgary has also scored some recent big victories with its emerging tech and startup sector, which is seeing record levels of investment.
The pandemic has put every major jurisdiction in a similar spot, trying to figure out a path forward amid a changing work environment with evolving demands, while enticing people to the downtown with increased residential pushes.
The challenge now is getting all parties on the same page and exercising the patience to pull together and implement a well-connected plan.
Twitter: @JoshAldrich03
---

Downtown Turnaround: A special series
Calgary's downtown is at an important crossroads. The core needs to be revitalized as the city recovers from the pandemic, an economic downturn, labour shortages and unprecedented office vacancy rates. In this special report, Postmedia Calgary looks at the downtown dilemma, potential solutions and transformative successes.
Tuesday, June 21: Farming in the Calgary Tower — new ideas envision a different downtown for city
Wednesday, June 22: The towering problem of office vacancies
Thursday, June 23: Boosting downtown safety
Friday, June 24: Learning lessons from other cities
Saturday, June 25: Two dozen Calgarians share their thoughts on the core
To see more related content and videos, go to calgaryherald.com/downtown.
What are your ideas for revitalizing the downtown? Tell us at [email protected]