The Canucks' injury crisis is forcing some season-opening roster decisions.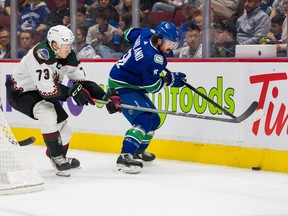 Article content
Pre-season is over, and the Vancouver Canucks still have a handful of things to take care of before their National Hockey League season starts on Wednesday in Edmonton.
Article content
Setting the roster is usually a pretty straightforward thing, but as is so often the case with the Canucks nothing is as simple as it seems.
Article content
The Canucks went 2-4 in the pre-season, but more importantly they now have as many as six players dealing with injuries.
---
NEXT GAME
Wednesday | Season opener
Vancouver Canucks vs. Edmonton Oilers
7 p.m., Rogers Place. TV: Sportsnet. Radio: AM650
---
The injured
Before Friday's 4-0 win over the Arizona Coyotes, it was clear there were five players dealing with injuries: Tyler Myers (lower body), Brock Boeser (hand), Ilya Mikheyev (knee), Travis Dermott (concussion) and Phil Di Giuseppe (lower-body).
During Friday's game, Conor Garland left with an undisclosed injury. The Canucks didn't have an update post-game.
Article content
Rookie Linus Karlsson also took a knock during the game, appearing to hurt his right shoulder after taking a hit in the third period. But after being assessed at the bench, he returned to action.
The Garland injury, on top of the others, surely has the Canucks' brass nerves fraying even further. If he can't play on Wednesday, setting the Canucks' roster is going to be very, very challenging.
Setting the roster
The Canucks have to finalize the season-opening roster by Monday at 2 p.m. PDT.
They can have up to 23 players, including at least two goalies, on the roster they submit to the NHL. They must also be compliant with the salary cap of US$82.5 million.
Teams going on longer road trips out of their farm team's time zone tend to carry two extra defencemen and an extra forward, but that's not a hard and fast rule and it's also dependent on which players require waivers in order to be sent to the minors.
Article content
In the Canucks' case, there's a strong chance they'll have to start the season with just the minimum 20 players on the roster, because of the expected recovery timelines of their injured players more than anything.
Centre Sheldon Dries and defenceman Christian Wolanin were both put on waivers on Saturday and if they clear Sunday, they'll likely be sent to AHL Abbotsford.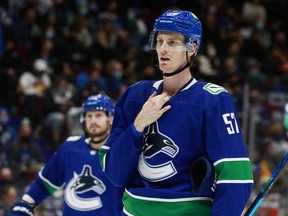 Who goes on IR and LTIR
Because of the Canucks' cap situation, unless they make a big trade and are able to move a contract out, they'll have to shuffle the bulk of Micheal Ferland's US$3.5 million cap hit on to the long-term injured reserve list. Concussions have ended Ferland's career, even if he hasn't officially retired.
When teams are using LTIR they can't accrue any cap savings, although the money shifted to LTIR also doesn't count toward the team's salary cap.
Article content
Dealing with Ferland's contract is the easiest injury-related task Canucks management will have to take on.
Having five, or maybe six, players injured is never easy. Having those players injured at the start of the season is a challenge. That one of them is defenceman Tyler Myers, with his US$6 million cap hit, makes things even more complicated.
The Canucks confirmed Friday that Myers will be out two-to-four weeks with a lower-body injury.
He could be moved on to LTIR as well, but you can't be activated from that list before 24 days and 10 games have passed.
The Canucks can put a roster together to open the season with Myers on regular injured reserve, but it would mean that newly-acquired Riley Stillmann — the Canucks added him in a trade on Friday — would dress as the team's sixth defenceman over Jack Rathbone, who would have to be sent to the minors because of the cap.
Article content
That's assuming that neither Brock Boeser, who had hand surgery nearly two weeks ago, nor Ilya Mikheyev, who is believed to be recovering from a knee sprain, is able to suit up in Edmonton.
Canucks coach Bruce Boudreau was optimistic on Friday about Boeser, saying he believed the scoring winger would be a full participant in practice on Sunday. If Boeser is able to go, that would allow the Canucks to send Linus Karlsson to the minors instead of Rathbone.
If Garland isn't able to play — and Boeser isn't ready to return — the Canucks are almost certainly going to have to get very creative and look at using an emergency recall, which is a tricky proposition at the best of times.
Putting a player on basic injured reserve, as may happen with Travis Dermott, who is recovering from a concussion, and Phil Di Giuseppe, who Canucks GM Patrik Allvin said Friday is dealing with a lower-body injury and will be out for two-to-four weeks, doesn't bring cap relief, it only creates a roster spot.
Article content
Players must stay on IR for at least seven days.
Setting the scratches
If Boeser is able to play and Garland isn't seriously hurt, will Karlsson be kept around as an extra forward? He's waivers-exempt and can be sent to the minors immediately.
Might Dries, who has NHL experience, be a preferred option to Karlsson if the Canucks are able to carry a spare forward on their opening road trip?
Or would the Canucks bring Rathbone into the fold, instead of Karlsson, if they can only carry one extra skater? The smooth blueliner had a very good training camp but is a very different player from the rugged Stillman, who Allvin apparently views as a strong option for the Canucks' third pairing and thus a rival for playing time with Rathbone.
Wolanin would also be a recall option to serve as a seventh defenceman.
Optimism reigns supreme as Vancouver Canucks prepare to embark on a new season

Canucks trade for Riley Stillman