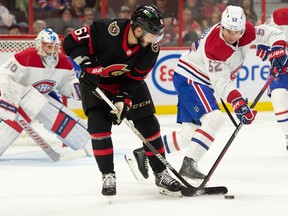 Article content
When the Ottawa Senators wrapped up their pre-season with a 3-2 overtime win over the Montreal late Saturday night in Bouctouche, N.B., coach D.J. Smith left everyone in suspense about the most intriguing question.
Article content
That would surround veteran centre/winger Derick Brassard, who saved his best for last while attending training camp on a professional tryout camp.
Article content
After stepping up into a top line role in the final game, he scored a power play goal and also set up Drake Batherson for the extra time game winner, also on a powerplay.
Article content
Before the Senators return to the ice Monday morning at Canadian Tire Centre, general manager Pierre Dorion will huddle with his management staff to decide Brassard's fate.
The slew of expected cuts late Saturday night included placing forwards Scott Sabourin and Jayce Hawryluk, defenceman Jacob Larsson and goaltender Antoine Bibeau on waivers, for the purposes of assigning them to Belleville of the American Hockey League.
Article content
An additional move saw Jacob Bernard-Docker, a 2018 first round selection, go back Belleville, leaving the Senators with 25 players in camp.
They must cut down to a maximum of 23 to start the season.
"We'll talk with Pierre and he'll talk with his staff and make that decision," said Smith. "I'm going to coach the guys and they'll make the decision on who makes the team."
If the Senators opt to keep the 35-year-old Brassard and sign him to a contract, it likely means 23-year-old Mark Kastelic will also be sent back to Belleville.
"It's always hard," Smith said of the final roster decisions. "It's a lot closer than you think. For some guys, it's about development … some guys, we've got to make hard decisions on. It's the NHL. It's a hard league to make and we'll make those hard calls."
Article content
Reading between the lines, it might be hard for the Senators to look past Brassard's experience and versatility.
At one point late in Saturday's game, he was on a line with Shane Pinto and Dylan Gambrell. That could be the type of unit Smith would employ with the Senators nursing a late game lead.
Training camp also served to positively answer any question marks regarding young defencemen Jake Sanderson and Erik Brannstrom.
With top tandem Thomas Chabot and Artem Zub sitting out Saturday as healthy scratches, Sanderson and Brannstrom —playing the right side — performed well while being given a bigger chance to showcase themselves.
Smith all about confirmed that Brannstrom will start the season on a third pairing with Nick Holden.
Article content
"He continues to play well," said Smith. "He was good in his own zone tonight. He's not a guy who is on the bubble. He's here."
All of which makes Nikita Zaitsev's future cloudy. He doesn't figure into the top six, which includes Chabot, Zub, Sanderson, Hamonic, Holden and Brannstrom.
Zaitsev received a $2.5 million signing bonus in the summer as part of his contract and owns a salary of $2 million for 2022-23 season.
He's also due to receive a total of $4.5 million for 2023-24.
The Senators couldn't work out a summer trade with Zaitsev, meaning he could be placed on waivers.
As for Sanderson, the fifth overall draft pick in 2020, he turned in his best game of the exhibition schedule on Saturday.
"It feels good," Sanderson said of receiving the coach's confidence to play as part of the top pairing Saturday.
Article content
"It's just rising to the occasion. Playing with (Brannstrom), I thought we did a great job and were talking before the game about building that chemistry and I thought we did that."
Sanderson, 20, hasn't been intimidated by the situation.
"My whole life, I've kind of played in every situation, so whether it's the power play or penalty killing, I'm not really out of my element. I feel comfortable wherever."
There has been some learning along the way, recognizing how important the little things are.
"Just the details are so important," he said. "Playing with team structure and just playing as one — five guys in the defensive zone and all that. But at the end of the day, you've just got to compete. It's hockey, so it's not anything we haven't done before."
Article content
KELLY FINDS HIS GAME: The best way to tell if Parker Kelly is having an impact is to see how often he gets chirped by the opposition.
There was no question that he was in living in the heads of the Canadiens Saturday night, getting their attention for his hitting — including a solid open ice connection on Brendan Gallagher — and in the after the whistle scrums.
Before the pre-season finale, Kelly had been relatively quiet through training camp.
"I felt this was my best game of the pre-season," he said. "I kind of felt back to myself and being more effective."
Kelly strives to establish himself as early as possible in games.
"The way I kind of like to go at it is…the first shift, you either get rocked or rock a guy. It was nice (Saturday), early and often and it felt good."
Article content
Kelly, who has played a total of 42 games with the Senators during the past two seasons, says the Senators found their focus as camp went on.
"The group is getting tighter and we've been down in numbers for the past week here," he said. "It has been good team building (on the East Coast) and it was a lot of fun."
He thoroughly enjoyed the small-town enthusiasm while playing in Bouctouche and in Gander, Nfld., on Thursday.
"I have never been to New Brunswick before, so to put on a good show for the fans, I think it was fun for all of us," he said. "Just to be out here and see the scenery and see the fans and it's kind of nice to get back to these small rinks and the crowd feels right on top of you."