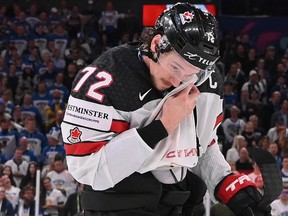 Article content
Team Canada refused to go down without a fight Sunday.
Article content
After erasing a two-goal deficit to send the gold-medal game of the 2022 IIHF world hockey championship in Tampere, Finland, to overtime, the Canadians dropped a 4-3 decision to Finland.
Finland's Sakari Manninen scored at 6:42 of the three-on-three OT with Ottawa Senators' alternate captain Thomas Chabot in the box for hooking. The call was questionable to say the least and left a sour taste in the mouths of the defending champs, who were forced to settle for silver.
Article content
Sure, the Finnish fans were thrilled to see their team win on home-ice, but as Team Canada makes its way home Monday morning it will do so with a bad taste in its mouths. The way the country fought back made this loss a tough one to swallow, and the penalty made it worse.
Article content
"The way it ended was unfortunate and it's not something you want to see," Chabot told TSN's Lindsay Hamilton. "Just the way we battled all game, we've got to be proud of that.
"It was pretty obvious the guy threw himself (down), but at the end of the day my stick was in there and I put myself in that position. It's a hockey call and everything happens quick but I think everyone can agree that it was a bit of dive."
This was disappointing for Chabot, who played the role of captain at this tournament, and the rest of his Senators teammates. Winger Drake Batherson and defenceman Nick Holden were on the Canadian roster while head coach D.J. Smith was an assistant on the staff.
The call didn't make a whole lot of sense and left the Canadians confused.
Article content
"It sucks," Canadian forward Pierre-Luc Dubois told TSN. "I mean, you work so hard and for it to be decided like that it sucks. We know when we come into these tournaments it's different rules but that's not the point. It's frustrating.
"You don't even know the rulebook anymore."
With three minutes to go in the game, it looked pretty bleak for Canada. Head coach Claude Julien pulled the goaltender Matt Tomkins twice and Canada scored with the extra attacker both times to send it to the extra period.
Max Comtois tied it up with 1:24 left in regulation and Zach Whitecloud of the Vegas Golden Knights brought the club to within one. At that point, it felt like Canada had all the momentum going into overtime and it didn't look like the club could be stopped.
Article content
"The fact that we were able to come back in two big games shows how much character this team has. We never gave up, we believed in ourselves, and obviously it is difficult to come up short like we did," said Chabot. "We have to give Finland a lot of credit, because they are a great team. They play well together and that is a big reason why they were playing against us today."
Still, the players who took part in the tourney can learn from this experience.
The Senators were there because they missed the playoffs for the fifth straight year and this was an opportunity to play some more hockey on an international stage. This version of Team Canada had to battle back more than once just to make it to the final.
The club was down 3-0 to Team Sweden in the quarter-final and came back to win 4-3 in OT when Batherson scored the OT winner. He went to this tournament because he wanted to play more hockey after missing several weeks with a high-ankle sprain and had a strong effort.
Article content
"It's the fight in our team," centre Cole Sillinger told reporters in Tampere. "We never give up. We pushed them till the end, and it's unfortunate that there was another penalty in overtime and they capitalized. They played a great hockey game, and congratulations to them."
Still, the Canadians will leave Finland with good memories.
"I like to win, and that is why I wanted to represent Canada," Dubois said. "It's an honour to represent your country, and this team was unbelievable. We gave it everything we had, we went through the ups and downs, but we stuck with it and we were so close to taking home gold."
Julien said he liked this team because it refused to throw in the towel.
"We had great character on this hockey club. Two big games [against Sweden and Finland] where we were down by two goals, and we were able to tie the games in the final two minutes," said Julien, who grew up in Orleans. "That shows the type of team we had. I am proud of our guys that came over here to represent Canada, and I am so proud of how hard they played all tournament."