With the start of the NHL regular season looming, key roster decisions remain to be made.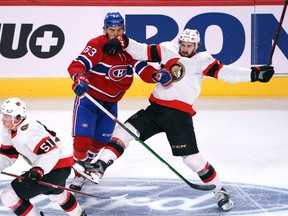 Article content
BOUCTOUCHE, N.B. — Mark Kastelic was a long, long way away from his home in Phoenix, Ariz., on Saturday night, but he wouldn't have wanted to be anywhere else.
Article content
The towering 6-3 centre went into the Ottawa Senators' pre-season finale against the Montreal Canadiens knocking on the door to be part of the roster for the opening-night roster next Thursday in Buffalo.
Article content
While the Senators opted to sit out several stars to avoid last-minute injuries, there was a message in the presence of Kastelic in the lineup.
Article content
There's no love lost between the Senators and Canadiens, considering Saturday's contest was the fourth consecutive between these National Hockey League clubs — Senators head coach D.J. Smith wasn't pleased with Montreal's targeting of centre Tim Stutzle during Thursday's game in Gandler, N.L. — and Kastelic brings a physical edge to the party.
"I think I bring a little different aspect of hockey," said Kastelic, who was expected to start the game on a line with likely opening-night fourth-liners Parker Kelly and Austin Watson.
Article content
"We have a good group up front, and I think I can add a little bit of physicality and presence out there."
Kastelic has worked hard in the off-season to improve the pace of his skating to NHL standards, but there's no question his size offers the Senators an intriguing option in the fourth-line centre debate that also involves Dylan Gambrell and Derick Brassard.
He has some punch, too, as illustrated by his fight with the Canadiens' Arber Xhekaj in Tuesday's contest in Montreal.
"I'm a big boy and (hitting hard) just comes with being a bigger guy," Kastelic said. "It brings more to the table if you can bring the physicality aspect along with some skills and other things. It just rounds out a complete game."
Sunday is to be an off-day for Senators players, but not for management facing the difficult choices about who to keep and who will be part of the squad that will head to Mont-Tremblant for a team-bonding retreat on Tuesday and Wednesday.
Article content
"He's as close as you can get," Smith said before the puck dropped Saturday. "He has done everything that we have asked him to do. He has gone above and beyond with his training, with his physical play, and now it's just his touches, his touches through the neutral zone. His play away from the puck in the defensive zone has been good. He holds on to pucks in the offensive zone."
There's a strong NHL family history. Kastelic's father, Ed, played 220 games with Washington and Hartford. His grandfather, Pat Stapleton, skated in 635 games with Boston and Chicago and was part of Canada's 1972 Summit Series squad.
Clearly, Kastelic, chosen 125th overall by the Senators in the 2019 NHL draft, has learned all about how to grind to make it to the big leagues.
Article content
He played 16 games with the Senators in 2021-22 and cemented his status in the organization late in the year with his commitment. The night after scoring the first two NHL goals, along with a fight, he returned to Belleville to help the American Hockey League Senators secure a playoff spot.
As for the past week, he relished everything about the Senators' trek to Newfoundland and New Brunswick.
"It brings back a lot of memories, just minor hockey and in junior, where in the pre-season we played in a lot of barns like this," he said. "It's my first time out to the East Coast. It's a different kind of lifestyle out here and we've been meeting different people."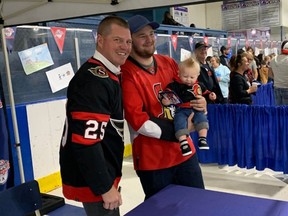 SELLING HOPE: On the topic of meeting people, former rugged Senators winger and current vice-president of business and community development Chris Neil has a sore hand from the thousands of autographs he signed this past week.
Article content
From Twillingate to Gander to Moncton to the Elsipogtop First Nation to Bouctouche, Neil was a major part of the NHL representation for Kraft Hockeyville events, only too happy to talk about the goals — and yes, fights — he registered in the NHL.
"I got to see the facial expressions from the kids and all their excitement and the upgrades that are going into their arenas is fantastic," Neil said. "It goes such a long way in these communities."
On Friday, Neil was in the Elsipogtop First Nation with Hall of Famer Bryan Trottier and John Chabot, the ex-NHLer who continues to inspire hope in remote, underserved communities through his First Assist charity.
"There are different struggles in those communities," Neil said. "You find out what access to sports means in general. It keeps the kids out of trouble, helps them get involved, and they learn how to interact with people."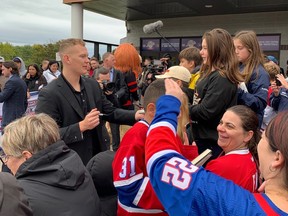 Neil says it's a two-way relationship because he gets plenty out of the exchanges, too.
"It was great to be able to partner up and do stuff with John and Bryan Trottier, a legend of the game. He brings his Stanley Cup rings and lets the kids try them on. He's so great with them."
Twitter.com/Citizenkwarren